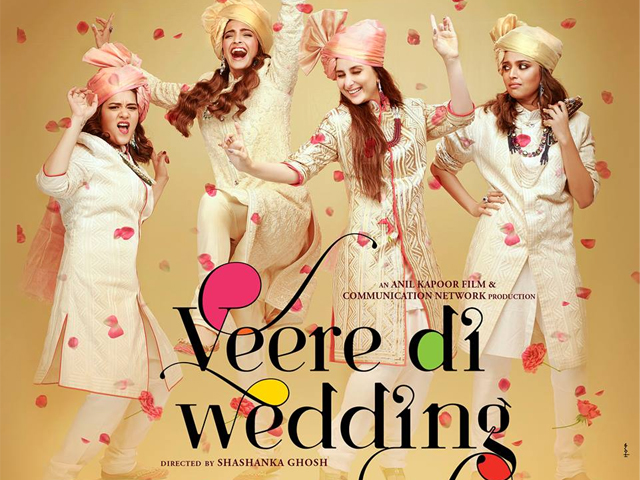 ---
Veere Di Wedding: A film of the women, by the women, for the women
A chock-a-block with sarcasm, foul language and jocularity, this romcom will make you chill out with your girlfriends.
---
The much anticipated trailer of Veere Di Wedding is out and after the first viewing you can tell that it's a film of the women, by the women and for the women. A chock-a-block with lots of sarcasm, foul language and jocularity, this female buddy romcom will definitely enthuse you to chill out with your girlfriends.

Director Shashanka Ghosh's latest venture has gone viral after its trailer became an instant hit among moviegoers. The theme is about the age-old concepts of proposals, marriages and how 21st century women, particularly close friends, love to chitchat about relationships and freely express their inner feelings with each other.




The trailer shows four characters, who are close friends, share their life and relationship experiences with each other. All the four friends are facing personal crisis in their lives and are gathered at the wedding of Kalindi. Among the famous names, Kareena Kapoor Khan is the bride-to-be but is looking for a way to stop this shaadi waadi (wedding), while Sonam Kapoor is playing the role of an uncommitted individual who has set her bars too high.




Their two other friends are also in a whirlpool of watershed. Swara Bhasker is on the verge of divorce, while Shikha Talsania is a mother who is not happy with her intimate life.




They exchange their know-hows, pithy expressions and question why life is considered unaccomplished without a marriage certificate, all in a funny and engaging way. This is truly an innovative concept for Bollywood. It is another attempt to bolster feminism and women liberation. However, the cuss words in dialogues are not helping but making it harder to digest the colloquy.

Veere Di Wedding would remind you of Sex and The City and the middle class mothers of Bad Moms (2016). Sometimes, you would relate it to Bradley Cooper, Ed Helms and Zach Galifianakis starrer The Hangover (2009), friends who travel to celebrate the bachelor party of their friend's forthcoming marriage. However, this Bollywood story is a little bit different as it shows the female leads breaking the conventional theories, which shackle women from doing or getting involved in certain affairs purely due to gender inequality.




A huge segment of South Asian women can relate to these characters, who are lamenting and mocking against social set-ups. The dialogues, such as "no matter how well educated you are, your life is incomplete until you have a 'mangalsutra' (sacred jewellery worn by a married Hindu woman) in your neck", are very close to the hearts of many young women.

Screenwriters Nidhi Mehra and Mehul Suri tried to put forward the hypothesis of frank behaviour and thought process of modern educated women. The characters are showing their dislikes, unwillingness and reluctance towards notions of relationships, marriage, extravagant weddings and misogyny, which is due to social marginalisation, gender discrimination, antagonism, and of course, androcentrism.




Producers Ekta Kapoor and Rhea Kapoor's Veere Di Wedding is indubitably a subject-oriented film, jam-packed with amusement. So if you have those feminist instincts for women rights and social equality of the sexes, then you should not miss attending this wedding.

The movie releases on June 1, 2018.

All photos: Screenshots