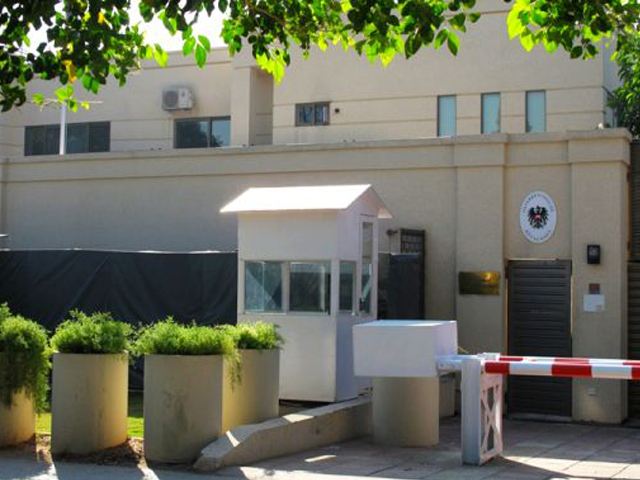 ---
Why working with the Austrian Mission in Pakistan was more than just another job
Though I was very uncertain of my place when I first joined the Embassy, the job felt like crossing a cultural bridge
---
A few years ago, I was distractedly skimming through a pile of newspapers when suddenly my cup of tea fell over the classifieds section. It was there that I saw a job vacancy at the Austrian Embassy in Islamabad, and my life changed for the better.

Seeing the ad took me back to my childhood, when my father was transferred to Frankfurt during the 90s. At the time, I was enrolled in a German school. Surviving on the streets of Germany without knowing the German language was a difficult task, especially during the early years of German reunification. But I did manage to quickly grasp the language, not knowing how it would aid me in the future.

As these memories came flooding in, I felt compelled to apply for the position as it required a strong grasp over the language (German is the official language in Austria). Fortunately, in addition to being called for an interview, I got selected for the position.

The official Austrian Mission comprised of a small staff and was located near the famous Margalla Hills. It was housed in a small residence, and the staff appeared friendly and helpful. The work environment also seemed quite different compared to the conservative environment I experienced in all my previous workplaces. The Austrian staff didn't treat me as an outsider because I was one of the very few locals employed there. Instead, I was always welcomed affably.

My first few weeks at the Mission weren't easy. My childhood knowledge of the German language couldn't compete with the more advanced German spoken at the Embassy. However, I somehow managed to cope with the pressure. My role was to assist the Consular section of the Mission, and on certain occasions I was also asked to assist the Ambassador's office.

Later on, I was also assigned to other roles, the toughest of which was working for the asylum section. In addition to being the capital of Austria, Vienna is also the third headquarters of the United Nations.  The city is housed with a number of civil societies, working under the umbrella of asylum, and other amnesties. Due to the ongoing war in Afghanistan, a number of displaced Afghans were moving to Austria as refugees. Naturally, it was a challenge to coordinate with them regarding asylum-related matters, for even though we had Afghan interpreters on board, the matter was always complicated when it came to their documents.

I also had to officially coordinate with different ministries on behalf of the Mission. Coordinating with the Pakistan Foreign Ministry was handled in a particularly diplomatic and technical way.

I also had the privilege of witnessing the farewell of then Austrian Ambassador Axel Wech. According to Wech, he had a wonderful time in Pakistan, which he thought was a beautiful country. Wech certainly proved to be a remarkable and outstanding Ambassador to Pakistan. The Deputy Head of Mission, Consul, Christian Wohlmuther, who voluntarily came to Pakistan for a second time, also claimed to be impressed by Pakistan and its heritage.

Dr Brigitta Blaha was then appointed as Austria's new Ambassador to Pakistan. With years of diplomatic experience, she was inclined to bring about organisational change for the whole Embassy.

I often got the opportunity to enjoy different diplomatic occasions hosted under the Austrian flag. One such fantastic event was a farewell dinner hosted by the Austrian Mission to honour its Police attaché, Günther Sablattnig, who was being transferred to Brussels. Another remarkable moment I witnessed was Austrian day, celebrated on October 26th. Historically speaking, Austrian day marks Austria's independence from Nazi Germany in 1945.

According to western media, Pakistan's global reputation has changed during the last decade. Because of this, I'll admit, I too was very uncertain of my place when I first joined the Mission. However, my experience changed any reservations or concerns I had harboured earlier. The Austrians working for the Mission viewed Pakistan positively and admired its traditions and cultural heritage. Pakistani food was also much loved by everyone. After working hours, I often saw my Austrian colleagues wandering around nearby restaurants, eager to explore.

The Ambassador also had a profound interest in art and visited different art circles across the country. Even official delegates who visited the Embassy saw the country in a positive light and exhibited a strong liking towards Pakistani music, culture and people.

Generally speaking, Pakistan enjoys good relations with Austria. Some notable Austrians supported Pakistan even as early as its independence, through the Pakistan movement. Of these, the most notable were Allama Muhammad Asad and Victoria Rekha.

Pakistan and Austria often form diplomatic agreements on issues and trade between the two countries is also strong. Pakistan's major exports to Austria have traditionally been cotton, leather products, clothing and sporting equipment. In turn, Austrian companies have also invested in Pakistani hydropower and alternative energy development. In fact, several Austrian companies are already working for the energy sector of Pakistan; of these, the most well-known are OMV, Red Bull and VA Tech International.

My experience with the Austrian Mission allowed me to inculcate a positive attitude towards work. It felt like a cultural bridge being crossed, rather than just another workplace or just another job. As such, I had the opportunity to not only work but also exchange different ideas and paths of life with others. The honour of working for the Austrian Mission gave me an understanding and insight into the diplomatic workings of the two countries, one that I will not easily forget or let go of.
Facebook Conversations
COMMENTS
Comments are moderated and generally will be posted if they are on-topic and not abusive.
For more information, please see our Comments FAQ