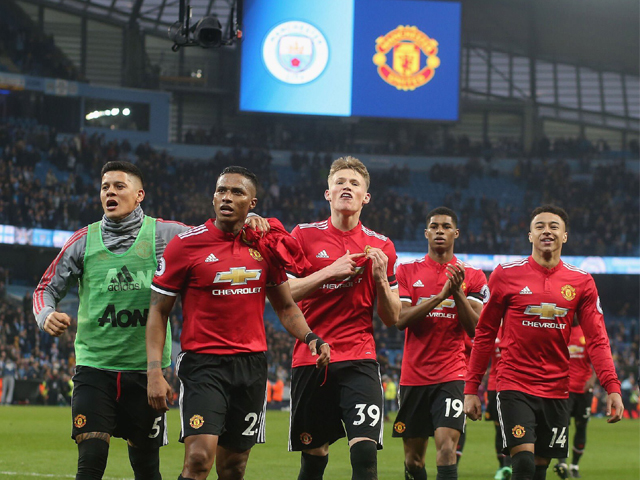 ---
Manchester bleeds red: The Citizens may take the title but bragging rights will stay with the Red Devils
The contrasting halves were baffling; it deserves special plaudits for flipping things around in an intense derby away
---
The half time whistle signalled the end of an appalling 45 minutes of football by Manchester United. A commanding display by the Blues had them on the verge of being crowned Premier League champions. The Etihad Stadium was buzzing with delight as a perplexed Sir Alex Ferguson watched on from the stands.

City had put two past David De Gea in a half where their opponents could not even manage a single shot on goal. Had Raheem Sterling been more efficient with his finishing, the match could have easily gone beyond the reach of Manchester United.




Jose Mourinho's instructions from the touchline had little impact as the home side carved open his team's defence time and again. By this moment, the placard in the crowd showcasing him as the 'finished one' was making even more sense.


📸

💀💀💀 pic.twitter.com/uYQjJzqcb3

— FourFourTwo (@FourFourTwo) April 7, 2018


The agony of surrendering the title against their arch rivals was already prevalent amongst Manchester United fans, but fortunately for the Red Devils, this is not how the story was scripted.

The turnaround

With the change of ends came a change in fortunes for the visitors as a radically different second half followed. They went about their business in a more aggressive intent, which brought about a shift in momentum.

And as we entered minute 53, the game was about to be turned on its head.

Paul Pogba's hairstyle and price tag has come under heavy scrutiny for reasons which make little sense, but he picked up the opportune moment to hit back at his critics. His 97 seconds of inspiration were enough to bring United back on level terms.




Few minutes later, it was Chris Smalling's moment of glory as he helped his team pull ahead for the first time in the match, leaving the home fans shell shocked. The centreback was at fault on Man City's first goal but he was quick to wipe the slate clean when the opportunity presented itself.




Pogba and Smalling might have bagged the goals but it will be a crime to ignore Alexis Sanchez's work in build-up play, which eventually led to the goals. It was only the second time in his Premier League career that the Chilean recorded two assists in a single game.

If it is still hard to comprehend the magnitude of this victory for Manchester United, a look at the expected goals (xG) stats should put things in perspective. City should have won by approximately three goals to one, as per xG, yet the result was massively different.




Manchester United's miraculous comeback story would be incomplete without mentioning De Gea. Like he often does, he denied City the equaliser after saving a shot from point blank range. It is quite simply unbelievable how he pulls out these stupendous saves week in and week out. In between those outrageous saves, the Spanish keeper also reached 100 saves for the entire season, which speaks volumes about how reliable he is in between the sticks.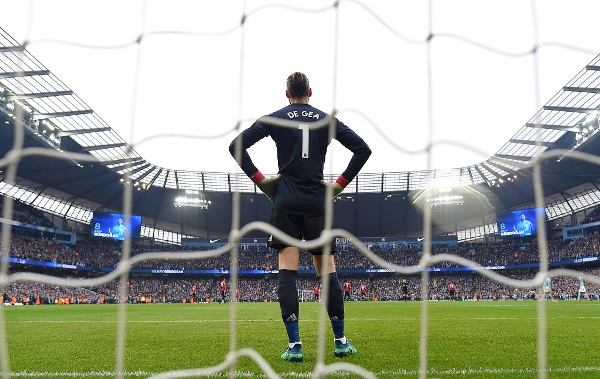 Pep Guardiola's food for thought

Manchester City's last couple of matches has left Guardiola in an unfamiliar territory. This is the first time a side managed by him has conceded three plus goals in two consecutive matches. Are his players burned out, at the back end of the season, due to the high intensity training drills and style of football or is this a sign of complacency? If he wants to build another great team like he did at Barcelona, the Catalan needs to come up with solutions sooner rather than later.

Guardiola's team look aesthetically pleasing when going forward but defensively they can be vulnerable at times. This has been particularly the case in the past couple of games. The backline seemed rattled, as soon as United and Liverpool shifted gears, which resulted in fatal mistakes. Guardiola will have plenty to think about as the UEFA Champions League (UCL) second leg against Jurgen Klopp's brigade looms around the corner.




One may argue that City was hard done by due to atrocious officiating from referee Martin Atkinson. Ashley Young was the greatest beneficiary of his decisions getting away with two strong penalty claims and possibly a red card.

With the way things started for the home side, this was supposed to be a match which would be remembered for Vincent Kompany's knack of scoring crucial derby headers and İlkay Gündoğan's magical 360-degree turn past Nemanja Matic, but an hour later, the match had an entirely different tale altogether.




The contrasting nature of the two halves was baffling to say the least. Mourinho's team deserves special plaudits for flipping things around completely in an intense derby away from home. Although an interesting caveat to their victory was wondering what the title race would have been like if they had played with this expansive approach more often.




Mourinho and his men have successfully avoided the prospect of their worst fear coming true, however, they only delayed the inevitable. City will most definitely be crowned champions in the upcoming weeks but for now, the Red Devils will take solace in the fact that they at least claimed bragging rights in Manchester.