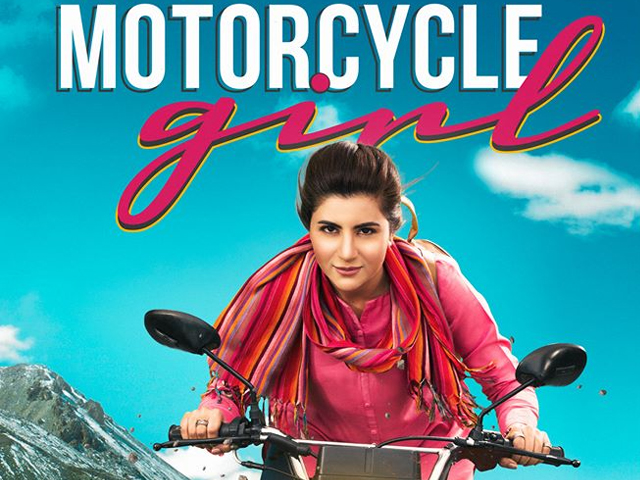 ---
With 'Motorcycle Girl' and #GirlsOnBikes, Pakistani women take a spin at reclaiming public spaces
Such thought-provoking women-oriented films & movements are the need of the hour to end decades-old gender stereotypes
---
Adnan Sarwar, the famed director cum musician of the biographical sports film Shah (2015), is back to mesmerise filmgoers with another biopic – Motorcycle Girl. This time, he dramatises the life of a young Pakistani woman whose real life motorcycle adventures were highlighted across the globe, and played a significant role in breaking the stereotypes surrounding women in a conservative society.

Although, Sarwar's directorial debut Shah, based on life-story of Olympian boxer, Hussain Shah, who won the bronze medal in the 1988 Summer Olympics, received mixed reviews upon its release in Pakistan, his latest venture has been much anticipated.

Produced by Jami, the breathtaking trailer garnered positive reviews. With Sohai Ali Abro as the leading lady, everyone is praising and applauding the efforts of the director and the lead actress for flawlessly portraying the courageous woman who broke all taboos.

Written and directed by Sarwar, the movie's main theme is one close to the heart of every woman. It will bolster the notion of women claiming public spaces, and reinforce the idea that women riding motorbikes is a normal routine – all in a sensitive yet entertaining manner.

As revealed by the trailer, Motorcycle Girl is based on the life of a 21-year-old woman, Zenith Irfan, played by Abro, who fulfilled her late baba's (father's) dream of travelling to Khunjerab pass on a bike. Encouraged by her mother, played by Samina Peerzada, she takes a 3,200 kilometres solo bike trip through the northern areas of Pakistan to reach the Pak-China border.




The preview opens with a disinterested Abro sitting in front of her husband-to-be, played by Ali Kazmi, who corrects her Urdu pronunciation. The daily struggles of Abro are further revealed in the trailer, which she faces while travelling in buses, rickshaws and vans. This everyday hullabaloo eventually persuades her to learn to ride a motorcycle to ease her life.




However, her boss, played by Sarmad Khoosat, harshly discourages her by telling her,

"We are part of a society system. From tomorrow, you will not come to office on a scooter or motorcycle..."


At first, she doubts her goal and suffers from low self-esteem. Soon, however, she emerges as an audacious woman who dusts off all the discouraging annotations. Concealing herself beneath a helmet, jacket and heavy boots, she starts her baba's motorbike and commences the unforgettable journey of the countryside – the serene Pakistan.




The cinematography looks very impressive, while the acting and dialogues mingle in the right proportion. It seems in the absence of a male lead, Abro, the Fair and Lovely Ka Jalwa diva, will now be in the limelight for an unglamorous role. Here she gets the opportunity to reveal her talent and deliver a powerful performance while playing a real-life character.




The two-minute trailer immediately catches your attention, as viewers are not only left awe-struck by the protagonist, but are also curious to find out more about Zenith's determination and her motorcycle journey. The film will not only show her backstory as she tackles day-to-day hindrances, but will cover other imperative issues pertaining to women in a conventional set up, and the fight against old-fashioned societal norms.




Such thought-provoking women-oriented movies are the need of the hour and can help submerge decades-old perceptions by curbing gender stereotypes.

A couple of years ago, Aneeqa Ali, a cyclist, was harassed and injured for riding a bike in Lahore. This episode sparked the formation of an annual bike rally by the Girls at Dhabas, with the aim to curtail hostile misogynistic behaviour and patriarchal norms by encouraging more women to ride their bikes or cycles.

The third annual bike rally recently held in Lahore, Karachi and Islamabad was appreciated by many, but also faced a backlash on social media. The hashtag 'GirlsOnBikes' showed mixed reactions, as questions were raised about the main agenda behind the bike rally in an Islamic country, as well as the socio-religious limitations.


What's going on people, what's the main agenda behind #GirlsOnBikes in an Islamic country? Can anyone explain?

— Dignitary Dani (@dignitarydani) April 1, 2018
Islam is the perfect religion in the world. First religion which give rights to women.That's why we should not try to follow western culture.we should also be careful about our limits...... I am not a girl but I don't support these type of things..... #GirlsOnBikes pic.twitter.com/hU6kn5VtuL

— Saqib (@TheSaqibMughal) April 2, 2018


https://twitter.com/yousufsameed/status/980861320387022848

Unfortunately, young women themselves were demoralising their gender, opposing the initiative of reclaiming public spaces by labelling it 'vulgarity'.


Exposing doesn't necessarily means to be naked. We all are Muslims and such act is highly absurd for a woman to be on streets like this. You never know what mindset the other people is looking at you with.

— Zaineb (@ZainebNayyer) April 1, 2018
This new trend #girlsonbikes is smh. Our generation is becoming so busy trying to prove that Women can do everything a man can do that Women are losing their uniqueness. Women weren't created to do everything a man can do. Women were created to do everything a man can not do.

— M (@mominarkhan_) April 1, 2018
Islam is the perfect religion in the world. First religion which give rights to women.That's why we should not try to follow western culture.we should also be careful about our limits...... I am also a girl but I don't support and like these type of things..... #GirlsOnBikes

— Hira Ali (@Hira_Ali001) April 2, 2018


In such a scenario, strong support for such a cause is much needed to hold back social stigmas and cultural taboos. If you are a person who believes in encouraging women breaking stereotypes and societal barriers, then this inspiring biopic is most definitely a must-watch for you!

Motorcycle Girl is scheduled to be released in theatres on April 20, 2018.

All photos: Screenshots
Facebook Conversations
COMMENTS (9)
Comments are moderated and generally will be posted if they are on-topic and not abusive.
For more information, please see our Comments FAQ