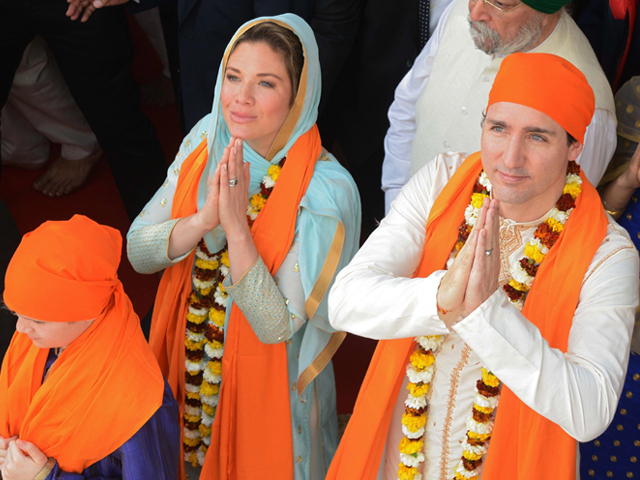 ---
Why did Modi not receive Justin Trudeau himself with his customary hug?
At a time when India had pressing concerns to discuss, Trudeau doing the bhangra seemed like forced euphoria
---
As liberal democracies and countries that don't have grating disagreements on international affairs, India and Canada should have historically shared a cordial relationship. Since the turn of the century, with India's ties with the US strengthening and a certain geopolitical convergence emerging, India and Canada had sought to transform their relationship to a strategic partnership.  


However, as Justin Trudeau's recent visit to India has shown, this relationship has been and continues to be strongly influenced by the Sikh diaspora in Canada.




Reports suggest that the disagreements with the visit began with the planning of the trip itself. While the Indians wanted a short trip focused on the bilateral relationship, Trudeau insisted on a longer visit with his family in tow. Indians wanted him to wrap up business first but Trudeau insisted on sightseeing first. When Trudeau landed in New Delhi, Narendra Modi did not receive him at the airport with his customary hug, which is how he receives guests of importance.




Much has also been said about Trudeau's sartorial choices with many saying that he came across as facetious. While leaders are allowed a certain leeway in bringing their personal touch to diplomacy, it was widely believed in India that at a time when India had pressing concerns to discuss, Trudeau doing the bhangra seemed like forced euphoria and suggested that he had misread the context.



International media picked up on the responses that Trudeau was getting in India for his gaudy 'costumes' that made him look like a caricature, with John Oliver asking what the Modi equivalent in Canada would look like. Social media was equally remorseless.


white people after one (1) yoga class pic.twitter.com/eGFf9RaOTe

— cornonil nitin mukesh (@nay_yeah) February 21, 2018
Just in: Justin to replace Saif in Mahi Ve, SRK impressed with look test! pic.twitter.com/sy9a5Bo1Ik

— Shilpa Rathnam (@shilparathnam) February 21, 2018
Can someone tell him Indians don't live like they are in a Bollywood set 24x7 @vidurkhanna

— Atirav Kapur (@atirav) February 22, 2018


Seeing as he was attempting to be Roman when in Rome, the criticism that he faced on this account was perhaps a bit churlish. Planning related disagreements are also only minor niggles that cannot entirely scuttle a visit at this level. But all of this only served to compound India's main gripe that Trudeau is an apologist when it comes to Sikh extremism.

When Canada's Defence Minister Harjit Sajjan Singh visited India last year, Punjab Chief Minister Captain Amrinder Singh refused to meet him, because according to the CM, Harjit was a Khalistan sympathiser. So when Trudeau visited with Sikh members of his cabinet including Harjit, the question was whether he would meet the chief minister or not. They eventually did meet and Trudeau reiterated his government's support for a united India. This was an important meeting as it was seen as one that mended fences. So at this point, half way into the week-long visit, despite other issues, the trip seemed to be going as well as it could have, given the circumstances. Trudeau may even have been able to make something of the visit from here and reduce the trust deficit between the two countries to some extent, but that is when someone quite literally photobombed the entire trip and left the Indo-Canadian relationship in shambles.

Jaspal Atwal is a convicted terrorist who attempted to assassinate an Indian minister, Malkiat Singh Sidhu, in Canada in 1986. As photos of Atwal with Trudeau's wife Sophie and other Canadian ministers at a reception in Mumbai along with an invite for another reception in Delhi started surfacing on social media, all hell broke loose.


Jaspal Atwal was found guilty of attempted murder in 1986 after shooting a Punjab state minister who was visiting Vancouver Island. Atwal lives in Canada, but travelled to India and attended a government function last night.

Here he is with Sophie Trudeau. pic.twitter.com/4vyJcTlJr1

— Candice Malcolm (@CandiceMalcolm) February 22, 2018
Atwal made the rounds last night and was photographed with several other high-ranking Liberal officials. Here he is with Liberal Infrastructure Minister Amarjeet Sohi. Remember, this guy is a convicted assassin and would-be murderer. pic.twitter.com/XmeWBfzygI

— Candice Malcolm (@CandiceMalcolm) February 22, 2018
And here he is with Brampton South Liberal MP Sonia Sidhu. Keep in mind, this guy is a former member of the International Sikh Youth Federation, a banned terrorist entity in Canada. This is beyond pandering. pic.twitter.com/iv0PEbH0op

— Candice Malcolm (@CandiceMalcolm) February 22, 2018


The media of both countries demanded an explanation. The Indian media was particularly vociferous given that Trudeau's perceived lack of sensitivity to India's point of view on Khalistan had been simmering under the surface all along. With Atwal's pictures, those perceptions which were suspicions for many until that point, were confirmed. The Indian media was scathing in its criticism of Trudeau and it was clear that the visit had only served to damage Indo-Canada ties and widen the trust deficit instead of addressing it.

How Atwal came to be there and how he received an Indian visa, are questions that are still being debated. The answers to these emerging questions are only further souring the bilateral relationship. A Canadian MP had apologised and had taken ownership for having extended the invitation to him. But then, the Trudeau government, in an attempt to exonerate itself from failing to vet the guest list, made the audacious allegation that Atwal's presence was an attempt by a section of the Indian establishment to scuttle his visit. India protested strongly, referring to the allegations as "baseless and unacceptable" and has now raised the import duty for chickpeas from Canada from 40% to 60% at a time when Trudeau had lobbied to have it reduced to below 40%.


Shame on Justin Trudeau, On What basis, Canadian PM saying India orchestrated Jaspal Atwal invitation?
1) What about your relations with Atwal?
2) What about Khalistan event you attended in Toronto?
3) What about sheltering Khalistan Groups?
4) What about these Photos with Atwal? pic.twitter.com/M5JA4HK4kS

— Anshul Saxena (@AskAnshul) February 28, 2018


Clearly the bilateral ties are in a tailspin.

It should not have come to this. While India certainly doesn't want to see the Khalistan tide rise again, it has every reason to repose enough faith in its own Sikhs to know that Punjab and Indian Sikhs have no secessionist aspirations whatsoever. There is no reason to be insecure on this account and allow that insecurity to affect bilateral ties.

Canada, for its part, must show greater sensitivity towards concerns regarding balkanising forces that flourish on its soil and work towards isolating them. The problem, however, is that bilateral ties are only rarely prioritised over domestic concerns and internal political expediencies. Therefore, it may well require a change in the fundamental circumstances (a conservative government in Canada, perhaps) for the Indo-Canada relationship to recover meaningfully.

Trudeau's visit is an important caveat and an example of how, in an era of globalisation, even relatively small but influential diaspora populations will influence bilateral ties, especially between developed and developing countries to a greater extent in the time to come.
Facebook Conversations
COMMENTS (21)
Comments are moderated and generally will be posted if they are on-topic and not abusive.
For more information, please see our Comments FAQ