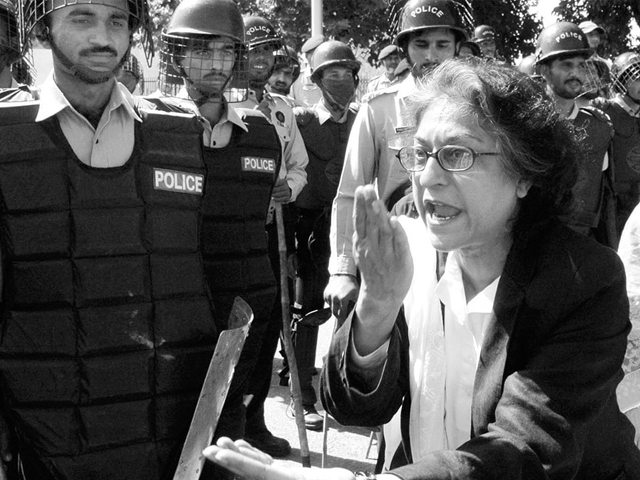 ---
There could only be one Asma Jahangir, Pakistan's valiant moral compass
She made me realise that introspection was a far greater virtue than phony hyper-patriotism.
---
Last year, I wrote an article praising a person who I consider to be my most favourite Pakistani, Ms Asma Jahangir. In that article, I wrote how courageous she was and how she had taken principled liberal stances throughout her life. Due to this, her support for any political party or institution was not constant.

She supported the judiciary during the lawyers' movement and was its fiercest critics later on when she found out that judiciary under former Chief Justice of Pakistan (CJP) Iftikhar Chaudhry was overstepping its constitutional authority. She supported Muttahida Qaumi Movement's (MQM) point of view with respect to extrajudicial killings and media blackout of its chief and yet never minced words regarding the party's violent character. I appreciated her immense bravery in defending people falsely accused of blasphemy and also fighting for women who marry out of their own choice. I lauded her liberalism and her ability to counter state-cultivated nationalism.

I ended the article in the following words:

"It is people like her who help see the other side of the picture. People like her are an asset to society, and as long as she is there fighting, there is no reason to lose hope."

When I was writing those words, I had absolutely no idea that fate would take this icon away from us in merely 10 months time. As long as she was alive, there was always that hope, that no matter how astray we go as a nation, she with her fearless voice would be there, acting as a moral compass for our collective self. Today, with her loss, I am losing hope. I should not as it is against what she stood for, but I can't help it.

For me, it's a personal loss on many levels. Despite the fact that I did not know her personally (I met her only once and that too at a funeral), she meant so much to me. My transformation from a sexist and textbook "nationalist" to who I am today, owes more to her than anyone else.

She was the one who jerked me awake from my ideological slumber and made me realise that introspection was a far greater virtue than phony hyper-patriotism. In fact, you show patriotism by being more introspective and by criticising those ideas which unfortunately underpin our misplaced nationalism. She taught me that hyper-patriotism built around imagined glory and misplaced hatred towards the outside world is actually one of the vices facing Pakistan.

She, more than anyone else, made me realise about the injustices meted out to women in this society and about the way religion is misused to achieve that end. Not only that, she also showed me, through her personal courage, that women could match and in fact outshine men in every field of life.

Her impact on me was enormous in every way and she was the one I tried to emulate, irrespective of the fact that she is so hard to emulate. After all, no matter how hard I tried, I could not rise to her level. Throughout her life and right till her death, she had always been in the middle of things. She braved Ziaul Haq's dictatorship, protesting for democracy despite obvious dangers and even went to prison for working with Movement for Restoration of Democracy (MRD). She defended a 14-year-old Christian accused of blasphemy despite the obvious dangers. She championed women's rights and spoke against controversial laws which affected them in a valiant manner. She criticised those who are above criticism and thundered about virtues of civilian supremacy. Even when I wanted to, I could not muster enough courage to do the same.

There could only be one Jahangir. Yes, I am her follower, but people like me are at best laptop warriors; though always trying to improve and wanting to reach a fraction of how she had been throughout her life.

Her courage, more than anything else, defined her and it is for that reason that it was easy and natural to admire her.

And yet, despite that courage, or rather because of it, many in our society, particularly the religious and political right-wing hated her. Throughout her life, she had to face their extreme loathing. For many of them, she was anti-Pakistan and anti-Islam and they often accused her of being on the payroll of the Indian spy agency, RAW.


These quarters always tried to malign her, but she never deterred from what she believed in. Those shameless individuals who always accused her of articulating the Indian point of view, never bothered to even acknowledge that Jahangir, while being critical of the Pakistani state, also regularly criticised heavy-handed tactics of the Indian state in Kashmir. For her, human rights had always been the prime consideration and she was never bowed down from criticising any state which indulged in violation of such rights.


Today, she is no longer amongst us, and while the world mourns and tributes pour in, many belonging to Pakistan's political right cannot rise above their third class pettiness. On social media, I have noticed extremely lowly comments from many so-called "patriots".


We have told you always...we will offer no apologies, give no quarter & show no mercy to the enemies who have spent their lives stabbing Pakistan & whose hands drip with blood of innocent Pakistanis.
We will celebrate the deaths of such enemies.
Lets raise the flag high today!!

— Zaid Hamid (@ZaidZamanHamid) February 11, 2018


https://twitter.com/Anabiyakhan01/status/962670227044651008


Congratulations to the people of Pakistan on the death of the biggest traitor #AsmaJahangir. A very big burden has been removed from Pakistani soil. May ALLAH grant her space in Hell. Thank God.

— Ali Khan (@FarisAliKhan2) February 11, 2018


These and countless other reprehensible tweets show how shallow and petty some of us are. We take pride in accusing those individuals of treason who in reality are way more patriotic than all of us. Perhaps we as a nation did not deserve such an outstanding personality like Jahangir.

As I remember her today, Abida Parveen's beautiful ghazal, "dhundo ge agar mulkon mulkon, milne ke naheen nayab hai hum (even if you try searching many countries, you won't be able to find me as I am so rare)" resonates in the background.

These beautiful words describe the late Asma Jahangir so well. Today, our society is much emptier than before as we have lost an outstandingly brave intellectual of our time. Pakistan needed her in these times more than any other and yet, unfortunately, she is no longer with us.

Rest in peace, Madam!
Facebook Conversations
COMMENTS (7)
Comments are moderated and generally will be posted if they are on-topic and not abusive.
For more information, please see our Comments FAQ