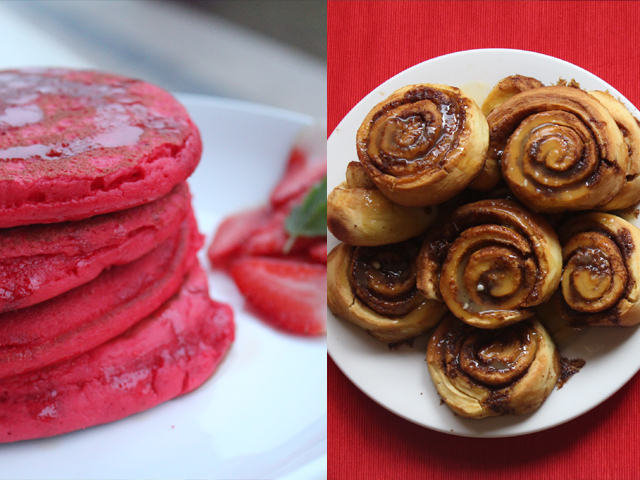 ---
This Valentine's Day, spoil your loved one with some perfectly chewy and gooey red velvet pancakes and cinnamon rolls!
Both these little pillows of deliciousness are easy to make; it's better to bake on your own and fill it with love!
---
This time around when I was writing this blog, for some odd reason, the only thing that kept coming to my mind was the phrase "spreading love". Last year when I visited the UK, I had a chance to watch the Lion King musical – an absolute breathtaking experience, which can never be replaced and is one of the highlights of my life.
"And can you feel the love tonight? It is where we are
It's enough for this wide-eyed wanderer that we got this far
And can you feel the love tonight? How it's laid to rest
It's enough to make kings and vagabonds believe the very best."

That last line really had an impact on me and made me realise afterwards that a little bit of love does do wonders.

Recently, when the earthquake struck Islamabad, I was driving around F-11 Markaz after work, and I saw this old Afghani lady sitting on the steps. I had seen her often but maybe it was one of those stress-induced days that I actually approached her. I went to OPTP next door, got some warm food, sat with her and asked her how she was. We talked for more than an hour about life in general, and then I bid her adieu and left. As I was driving away, I saw her in my rear view mirror and could see her toothless smile. I felt something, which I hadn't been feeling for quite some time. I felt happy.

Rather than repeating the same mantra of  making the day special for your significant other, family and friends, this year I would like to focus on people who need a bit of loving. Don't get me wrong, celebrating the day with your loved ones is by all means fun and exciting, but I wanted to spread a little happiness among people who can't fend for themselves.

See those beggars on the streets, those old people who don't have any family and have been neglected, maybe go sit with one of them. They have a lot to say and every person has a story to tell, so listen to them. Some though have nothing to offer except silent companionship. But sometimes, that is all one wants and needs.

Moreover, I would like to leave one very important message and I hope it doesn't fall on deaf ears.

If there is one thing I have learned in the past year, it is that always take people's feelings into account. The slightest of harsh words can leave a mark, so always be considerate of how you make people feel. They may not show you that they are hurt but trust me, it is hurtful. And always remember, karma is a real thing and it will come for you too if you hurt someone else. Avoid instigating those silent tears, which might become the anchor that pulls you down one day.

That was a bit too gloomy but alas rings true!

Moving on to happier things!

This Valentine's Day, I tried to do something different. I'll leave you with two desserts: Red velvet pancakes and cinnamon rolls – the former because hey, its Valentine's Day, and the latter because it's not mainstream pink and gooey. Both of these dishes are very easy to make, and when  cravings hit hard (especially in winters) and the nearest food saviour is just out of reach (even by Foodpanda standards), then its best to make these little pillows of deliciousness and have them with a cup of warm tea. Also, it's better to bake something on your own and fill it with love rather than throw money at marketing companies. You can experiment with the glaze that goes on top and even with the filling. Cream cheese, Nutella and sometimes even jam make for a great topping with these amazing fluffy, perfectly chewy and  gooey pancakes and cinnamon rolls.

Red velvet pancakes

Ingredients:

All-purpose flour: 2 cups

Cocoa powder: 3 tbsp

Baking powder: 2 tsp

Baking soda: ½ tsp

Salt: ½ tsp

Milk: 2 cups

White vinegar: 2 tbsp

Granulated sugar: ½ cup

Eggs: 2

Red food colouring: 1 ½ tbsp

Vanilla extract: 2 tsp

Salted butter, melted: ⅓ cup

Directions:

1. In a mixing bowl, whisk together flour, cocoa powder, baking powder, baking soda and salt, and set aside.

2. Measure out milk into a liquid measuring cup and whisk in vinegar, allow mixture to rest for two minutes.

3. Pour milk mixture into a separate large mixing bowl and add in sugar, eggs, red food colouring, vanilla and melted butter.

4. Whisk mixture until well combined. While whisking, slowly add in dry ingredients and mix just until combine. Butter griddle if necessary and pour about a ¼ - ⅓ cup.




5. Cook until bubbles begin to appear on the top surface of the pancakes then flip and cook opposite side until pancake is cooked through.




Cinnamon rolls

Ingredients for dough:

All-purpose/plain flour: 4 cups

Instant yeast: 2 ½ tsp

Granulated sugar: ¼ cup

Margarine or butter: ⅓ cup

Salt: 1 tsp

Eggs: 2

Warm milk: 1 cup

Ingredients for filling:

Packed brown sugar: ½ cup

Cinnamon: 1 tbsp

Margarine/butter, softened: ⅓ cup

Flour: 2 tbsp

Ingredients for Icing

Butter: 2 tbsp

Powdered sugar/icing sugar: ½ cup

Cream cheese: ⅛ cup

Vanilla extract: ¼ tsp

A pinch of salt

Method

1. Knead the dough with all its ingredients until nice and soft. If it's a bit sticky, don't worry about it. It will come together later on.




2. Put in a bowl, cover and let it rise in a warm place for about one hour or until the dough has doubled in size.




3. Preheat oven to 180⁰ C.

4. Roll out the dough on a lightly floured surface, until it is approximately 21 inches long by 16 inches wide. It should be approximately ¼ thick.

5. To make filling, combine the brown sugar and cinnamon in a bowl.

6. Spread the butter over the surface of the dough, then sprinkle the brown sugar and cinnamon mixture evenly over the surface.




7. Press down gently with your hand so the sugar sticks to the dough. Then sprinkle 2 tablespoons of flour using a sieve for light dusting. This will help absorb any extra moisture from the sugar as the cinnamon rolls are baking.

8. Working carefully from the longer side of the rectangle, roll the dough down to the bottom edge, like a Swiss roll.

9. Cut the dough into 1¾ inch slices, and place in a lightly greased baking pan.




10. Bake for 10-15 minutes or until light golden brown.




11. While the rolls are baking, combine the icing ingredients. Beat well with an electric mixer until fluffy. When the rolls are done, pour and spread the icing generously and serve warm! Leftovers warm up beautifully in a mini oven toaster or in the microwave.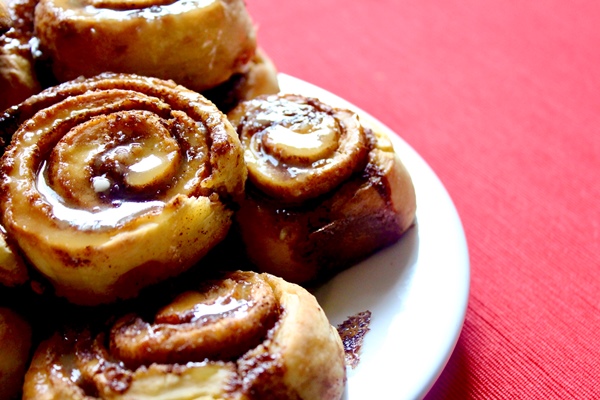 Enjoy these scrumptious recipes and keep spreading the love. Happy Valentine's Day!

All photos: Arhama Siddiqa
Facebook Conversations
COMMENTS (18)
Comments are moderated and generally will be posted if they are on-topic and not abusive.
For more information, please see our Comments FAQ