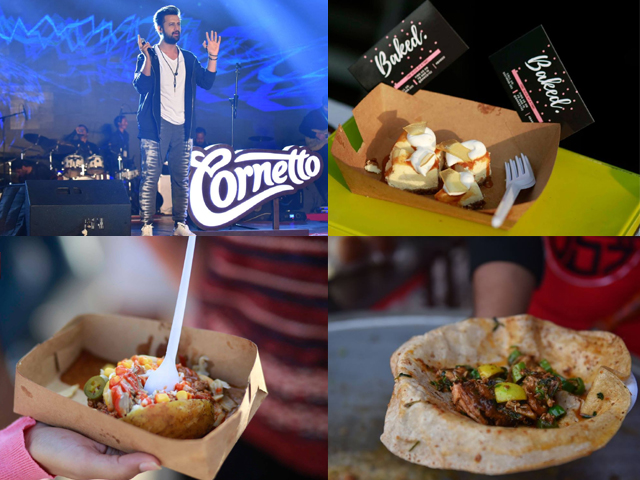 ---
From Donut Burger to Waffle Chicken, 6 inventions at Karachi Eat 2018 that made it worth the hassle!
Traditional outlets failed to garner the same level of attraction as these risk-takers, who'll surely be remembered.
---
Karachi Eat 2018 started and came to an end with a lot of hype, by being bigger than ever with over 100 food brands selling mouth-watering edibles. The event turned out to be the most hyped and crowded (and also rather elite) thus far – a good way to start 2018.

Though social media was full of rants against the mismanagement and long queues, there were many who expressed complete satisfaction with everything, especially once they got in. It seemed as if the secret to happiness with the food festival lay in the timings of ones entrance. Those attending till 4:00pm managed to get in hassle free and enjoyed a peaceful gathering beside the sea, while those who attended after 5:00pm had to face serious traffic jams, issues with getting the passes and long waiting lines for both, the entrance and for getting the food.




The jammers too caused inconvenience to an extent, as people couldn't use the wallet apps available to avail bulk discounts on food deals. The problems, however, were not great enough to dim the fun, and overall, the event was worth the wait.

Being one of the biggest food festivals of the country, Karachi Eat was graced by many celebrities. However, my personal favourite remained Bilawal Bhutto, who mingled with the public really well. It is very rare to see politicians exchanging lighter moments with common citizens and having fun mingling without security. What added to this was the presence and performance of Atif Aslam, whose concert attracted many and made the environment full of energy and colour, delighting the attendees.




Since it was all about food, and Karachiites love food, it would be remiss to let go of this opportunity to highlight what appealed the most to the taste buds and what deserves the most appreciation. I'm sure everyone will agree that every item was super affordable, and ranged between Rs50 to Rs300 maximum.

Moreover, this year, many entrepreneurs stood out by offering items that are not readily available in the general market. Their approach seemed to be breaking the traditional norms of Pakistani cuisines and was fused with something that is not locally available. Luckily, it worked out wonders for some of the risk-takers, who will now surely be remembered and grow as a trusted food brand through their success and popularity in this single event, paving ways for successful outlet launches in the future. In comparison, traditional outlets failed to compete or garner the same level of attraction. My personal list of the top stalls which did not fail to impress includes:

1. Donut Burger by 2 Guys 1 Grill

The idea was impressively irresistible, and something that was absolutely not available anywhere else. No one was able to get their hands on this grilled burger with an out-of-this-world juicy patty, green onion toppings and melted cheese. It became the highlight of the event, with long queues becoming a norm as everyone experiencing this burger revolution found it a steal in just Rs300.

The only drawback was their limited preparing grill and the bulk of orders which led to a waiting time of hours, not possible for everyone and definitely leading to many who attended this food festival and had to miss out on one of its best attraction.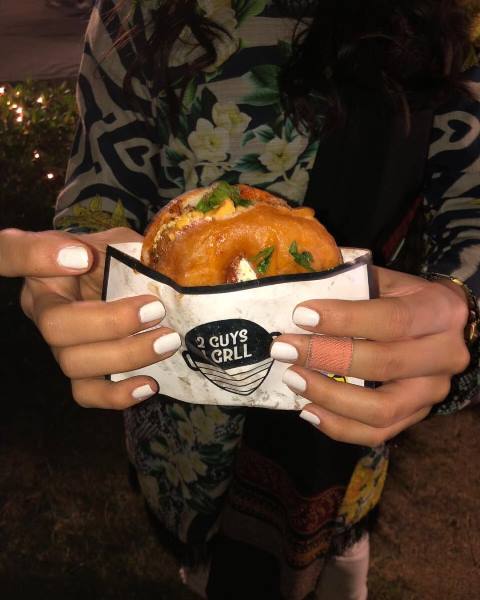 2. Chimney ice-cream by Café Praha

The chimney ice-cream was something we'd all only imagined having in Karachi, but Café Praha made it possible. The flavour of the baked chimney cone along with ice-cream blended really well and offered a burst of flavour in the mouth. This creative idea managed to gather a crowd of hundreds in a queue, all eager to get their hands on something that won't be available outside anytime soon.

However, there were some logistical issues, and the taste wasn't as class apart as should have been. Some people also complained about the cone being hot when served with ice-cream, which resulted in breaking the cone. Issues such as this could have been easily resolved, and hopefully it will be better once they officially operate.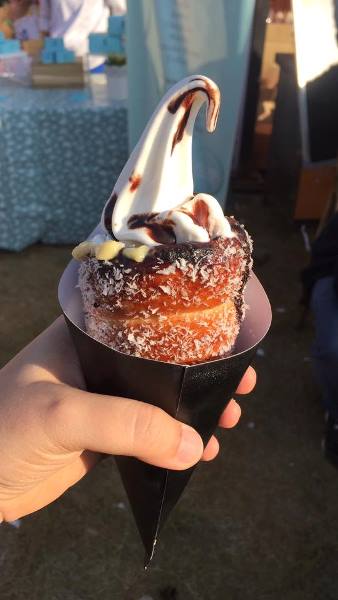 3. Nachos by Grill in the City

Grill in the City was bound to attract a massive crowd due to their immense social media following and constant marketing. Their product offerings were corn dogs, grilled prawns, Mac n Cheese and nachos. To me, the nachos remained the highlight of their menu. They were fully loaded with jalapenos, corns, olives and sauces, and served with tortilla chips. The serving was also quite generous in comparison to what others were offering for Rs300.

Unlike other stalls, however, the queue at this one was extremely mismanaged, resulting in some frustration amongst customers. However, when a brand is famous on social media and offering a product worth one's money, the crowd can obviously be expected to go crazy.




4. Pop Bar Popsicles

Pop Bar came out to be most affordable and an unexpected icy surprise to compliment the breezy festival. They had cherry, berry and cherry-berry flavours in combination along with some other fruity flavours. Cherry was almost sold out, as people loved it for being tangy with pinch of salt. It was a real treat in Rs140, which almost no one was willing to skip.

However, they ultimately ran out of change, so people had to pay either a certain amount extra for popsicles or wait for half an hour to get change, which was the only off-point for this stall.




5. The Poutine Fries by No Lies Fries

The makers just introduced what Karachiites had been looking for years: Poutine Fries. These were topped with jalapenos, cheddar cheese, and meat, along with sauce that made it seem just as good as it does abroad. The venture worked out really well, as crowds were gather around the stall constantly.

However, I personally believe that the makers should have worked on presentation a bit, as it looked very unappealing. The case of "looks can be deceiving" applied here, as these fries tasted heavenly but those who judged them visually and didn't try them would regret it later.




6. Waffle Chicken by Fry Guys

Fried chicken laden with Sriracha sauce and served in hot waffle was an offering that turned the eyes of every individual who passed by this stall. The combo made it just so exceptional that people didn't hesitate having it more than once.

The only drawback was that serving size was small compared to the price being charged, especially the size of the cone, which should have been bigger.




Overall, the event remained as promising as it was meant to be. Ditching the traditional Bun Kebabs and Biryani, there was a lot more to treat the taste buds with that could fulfil food fantasies of any and all foodies in Karachi. For the next year, however, the management should provide support to new entrepreneurs through their official pages, as we only got to know about the awesomeness they were selling when we reached there. More importantly, the management should introduce multiple (at least three) entrance points to manage the crowds and mitigate traffic jams, making it easy to reach the venue and enjoy such a great food festival fully without the hassle.

Here's to looking forward to the next Karachi Eat!
Facebook Conversations
COMMENTS (2)
Comments are moderated and generally will be posted if they are on-topic and not abusive.
For more information, please see our Comments FAQ