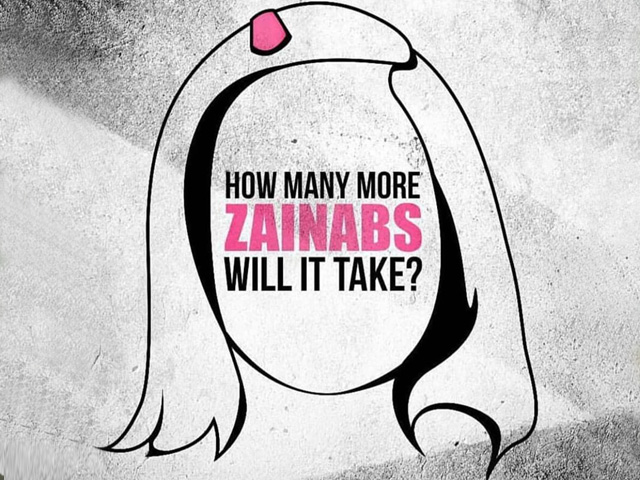 ---
Seeking #JusticeForZainab in a land where mindset might change but inherent nature will not
This is a hefty slap across the faces of those who put the entire blame of every sexual assault on the victim.
---
We all saw Zainab's funeral on our television screens. Some of us were there as well, witnessing her cold body wrapped in a white cloth with a green cloth bearing verses from the Holy Quran. Then we read the ticker on all news channels that informed us of her burial in a local graveyard.

All of this compelled me to envisage the pre-Islamic age of ignorance of which one of the prime features was burying newborn girls alive. Many believe that both of these are two isomers of the same ignorance that comprises philistinism, unawareness, barbarism, inhumanity and ruthlessness.

Although this is unfortunately not the first incident of child abuse that has been reported and covered by media. Zainab is not the first one, neither from Pakistan nor from Kasur. Shaan Taseer is absolutely right in conceding:


My Indian friends tell me with great concern that Delhi is the rape capital of India. With equal concern I confess that Kasur is the child-rape capital of Pakistan.

— Shaan Taseer (@ShaanTaseer) January 10, 2018


Many children hailing from the same city have been victims of sexual assault, blackmailing and murder. One such peculiar scandal was the series of child sexual abuse cases that involved filming forced sexual acts performed by 280 to 300 minors and selling the child pornography material to porn sites and customers that satiate their sexual appetite through blue films.

Unfortunately, over 720 incidents like this have been reported in the last three years in the same city, with Zainab's case being the 12th in one year in the same vicinity and eight of these victims carry the same rapist's DNA. It is gut-wrenching to think about what these innocent juveniles, hailing from Kasur, have been subjected to at such tender an age in which they were completely incognisant of terms such as rape, molestation and assault.

Sadly, time and again, girls and women in their 20s and above have been blamed by this society, for wearing provocative clothes and alluring and inviting men to rape them through their attire and gestures. It all finally came back to haunt them. All these preconceived notions were brutally challenged when girls as young as nine-months-old were subjected to sexual violation. The next generalised statement blamed the existence of girls as the sole reason behind tempting men to gain temporary pleasure at the cost of their victims' permanent damage. But now this lechery has crossed all plausible dimensions as we all are aware of the vulnerability of boys in their childhood and teenage years, who fall prey to lewd demons, the latest example being of 15-year-old Faizan who was abducted, sodomised and killed in Faisalabad and whose body was recovered from an open field.

All these examples are nothing but a hefty slap across the faces of all advocates of the conventional mindset that puts the entire blame of every sexual assault on the victim being in the wrong place, at the wrong time, in the wrong clothes.

Were Zainab's clothes provocative?

Was she seducing the perpetrator through an over embellished appearance?

Or was her rapist too naive to notice the innocence of a child on her face, or did he disregard that owing to the organ she had been born with? Are the males of human race entitled to rape girls of any age just because they have a piece of meat which they can use to seek brief pleasure out of other person's agony? Does the fact that Pakistan's female population is higher than that of male, capacitate the latter to use the former as sex toys and throw them away in the garbage as some disposable material? Was Zainab's smile replaceable, or was her existence substitutable?

And our media has commendably played the role of adding fuel to the fire. Why is our media irresponsibly interrogating her parents about their feelings? What could be the feelings of such parents who were seen off for Umrah by their daughter and were received by her violated corpse? What do you want to hear from such a mother, whose heart is wrenching, imagining every moment of pain her daughter sustained before being thrown like a used sex toy?

If that wasn't enough, Rana Sanaullah, the law minister of Punjab, added insult to injury by assigning the guilt to Zainab's parents.

"A child's safety is its parents' responsibility," he said.

But just for clarification, our respective lawmakers under the banner of democracy pledge to serve the people and guard their lives, honour and property just as a mother nurtures her child. This is pertinent to be noted here at this point because a state is synonymous to mother and elected representatives that to guardians. If a child is only its parents' responsibility, respected minister, then your security and your leader's security and his family's security is not our responsibility. Whose permission did you seek before engaging thousands of police personnel with them? Their salaries and the entire expenditure of all law enforcement institutions are provided by our contribution in the form of taxes. And when it comes to demanding a justified return, it is the child's parents who are responsible for its safety? What have you taken charge of if everyone is responsible for their own safety? If this is the case, would the law minister allow us to take law in our own hands and hang or electrocute the culprit in public when caught? Of what law is he, the minister, and to serve what people has this government been constituted if we are on our own?

It is not about one man anymore. It is not about one organised crime ring anymore. It is not about one Zainab or one Faizan anymore. It is about our attitude, our mindset and our belief system. The body found in the pile of garbage is not of Zainab's, but this society's. This is about the whole society, which includes every single man who hopes to protect his daughter from sexual harassment and assault but does not see his daughter's face in all the girls and women he has harassed and violated in his life. It is about the whole society which puts the burden on the victim and blames the destiny for being wronged by other members who are only 'instruments' in God's play. It is about the whole society whose honourable members will call for justice for Zainab, Faizan and every other victim but will not lower their gaze on seeing a potential victim of their lust.

To say that the sun will rise tomorrow is insane. To see a dim light at the end of the tunnel is nothing but foolishness. To say that this society will recover from moral corruption is a lost dream, for mindset can change, inherent nature does not.
Facebook Conversations
COMMENTS (8)
Comments are moderated and generally will be posted if they are on-topic and not abusive.
For more information, please see our Comments FAQ