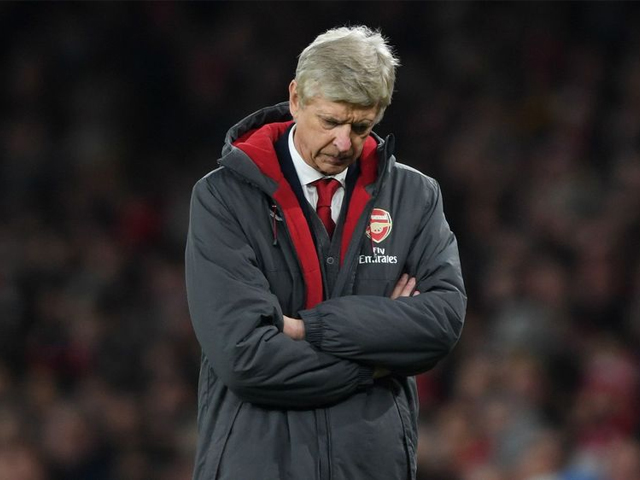 ---
The fallen giant: Arsenal is out of major leagues and has no one but itself and Arsene Wenger to blame for it
The Gunners have shot themselves in the foot by allowing its two major assets, Ozil and Sanchez, to leave the club.
---
Arsenal under Arsene Wenger had always been a pleasure to watch. With their free flowing attacking moves and gripping inter-changeable link-up play, it was impossible for opposing teams to keep up with them in their prime. The Gunners had immense fire power in their ranks, and for a long time, they were the team that any person would want to support, even if they were neutral about the teams.

However, it seems as if those glory days are long gone. Currently, they are a shadow of a team that used to blow their rivals away in matches. Today, they have become this boring and appalling side, who are very difficult to bear for 90 minutes of a match.

While looking back at the scheme of things, you would find not one, but multiple factors contributing to the decline of this football club.

Power struggle at the top level

One thing that is pretty obvious is the tainted relationship between the club's chief executive, Ivan Gazidis, and its manager, Wenger. Both have differing opinions on the way the club should be run, with Gazidis wanting to implement the modern structure of having a director of football who is responsible for all off-field activities. Wenger, on the other hand, being an Aristocratic figure at the club for the past 21 years, does not want to relinquish any of his power, and hence does not want a director of football to be involved in this matter. This friction between Gazidis and Wenger has caused a major power vacuum at the club, as a result of which Arsenal is heading towards chaos.




Uncertainty among star players

The boardroom isn't the only place filled with a cloud of uncertainty, as the events behind the scene have impacted the on-field situation too. In football, your star players are your assets, and if you want to learn how to devalue your assets, then look no further than Arsenal at the moment. Their only two superstars, Mesut Ozil and Alexis Sanchez, are on the verge of leaving the club in the summer once their contracts run out. The Gunners have shot themselves in the foot by allowing this situation to develop in the first place; both Ozil and Sanchez should have been tied down for long term, or if not possible, then sold to any other club when their market price was high. It is a beggar's belief that they will be walking out of the club for free in six months' time.




Imbalanced squad

The hallmark of any great team is its composition, wherein each player compliments another in an organised and fine manner. If one player has a certain weakness, then his partner playing next to him makes up for his deficiency. This way, your weaknesses are not exposed to your opponents and your positive qualities are highlighted.

However, in Arsenal's case, we see the exact opposite, where every player's flaws are being magnified. Wenger has put square pegs in round holes and it's painfully obvious to see that it's not working. For example, Granit Xhaka needs a more mobile defensive-minded player next to him in the midfield, otherwise he would keep on giving the ball away under pressure and Arsenal would continue conceding goals at turnovers. Similarly, the defensive profile of every defender at the club is the same; they are all slow-paced players who lack athleticism. There is no dominant centreback at the club who can organise the leaky defence that give so many goals away.

Arsenal had never finished below their arch rivals Tottenham since the arrival of Wenger two decades ago. They also never finished below fourth place in the League and hence always qualified for the Champions League. Moreover, Wenger has been the most successful manager in FA Cup's history by winning it for a record seven times. Sadly, all those great records evaporated in the last few months.

Tottenham finished above Arsenal for the first time last season, Arsenal couldn't qualify for the Champions League, and the lowest point for them came last weekend, when they crashed out of the FA Cup in the third round against the minnows, Nottingham Forest. The club is in a crisis and were rightly booed at by its supporters.




Given the adverse situation they find themselves in, they must implement the following things, if they are to salvage what is left of the club and try to restore its glory:

1. A clear new identity

The whole situation at Arsenal seems haphazard at the moment, as there is no clear direction of where the club is heading. So the first thing to be sorted out is their long-term strategy. Which model does the club want to follow? Is it the Tottenham way, where they are investing in young, emerging players, or do they have the finances to follow the Manchester City style of doing things, that is buying ready-made stars and integrating them into the team?

Whatever the plan is, there should be clarity of thought from top to bottom. And the most important (perhaps the hardest) decision that needs to be taken is to part ways with Wenger. The manager has given us so many good memories and will always be regarded in good terms, but its high time that he steps aside now and let someone else take over.




2. Tie Ozil to the club

As mentioned above, Ozil is in the last six months of his contract and will be free to leave the club in the upcoming summer. Arsenal should move heaven and earth to make him renew his contract and stay at the club for the foreseeable future. The German is the creative hub of this team and without him, Arsenal is left with a very ordinary looking side with no killer instinct.

Sanchez, on the other hand, has already set his heart on joining Pep Guardiola's City side, so that's already cemented, but Arsenal must convince Ozil to extend his contract as well. Not only that but they must build a team around him if they have any ambition of competing at the highest level.




3. Be ruthless with the fringe players

A culture of mediocrity has prevailed in the club. There are many players who are sitting on a handsome deal and doing nothing to justify their selection in the side. They are not answerable for their poor performance on the pitch. They must be jolted awake and the ones who are not good enough should be sold instantly and in that I include the likes of Theo Walcott, Mathieu Debuchy, Francis Coquelin and Mohamed Elneny. They are all average players and not good enough to wear the Arsenal jersey. So instead of sticking and ultimately failing with them, it's better to get rid of this deadwood.

Arsenal was once considered the best club in London, but now they are lagging far behind the likes of Chelsea and the Spurs. The club has been going downhill and it is indeed painful to watch. Now is the time to break the shackles and take a fresh new start. Otherwise, it will be a disappointing and sad demise of the fallen giant.
Facebook Conversations
COMMENTS (4)
Comments are moderated and generally will be posted if they are on-topic and not abusive.
For more information, please see our Comments FAQ