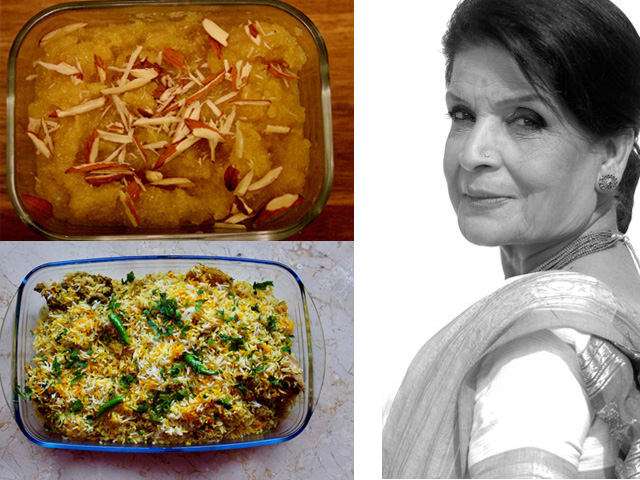 ---
Culinary pioneer Zubaida Apa has left us but her totkas and bestselling Hyderabadi biryani and Sujji/Besan halwa will be with us forever
Hers was the first biryani I ever tried making, and it was extremely easy and delicious, and garnered a lot of praise.
---
 Zubaida Tariq, aka Zubaida Apa, was a lovely woman. Her talent of inspiring people to cook just through her words and the way she carried out everyday chores was extraordinary. If you look at TV chefs nowadays, they lack the magic that Apa possessed on screen while she cooked up a storm in the kitchen.

However, her magic show has come to an end.

On January 5th, a little bit of Pakistan died – a little piece that will never be replaced. Her passing was incredibly sad and an unfortunate loss not only to the cooking industry but to the entire nation as well.

Originally hailing from Hyderabad Deccan, and settled in Karachi, she was born into a eminent Urdu-speaking family known for engendering intellectuals and artists. She made her TV debut in 1996 while she was in her 50s. Her first cooking show – Dalda Ka Dastarkhwan – became a widely popular evening engagement for millions of TV viewers in both Pakistan and abroad. Apa attained immense popularity doing culinary shows on TV and writing famous cookbooks.

Not only was she quite the sensation in her colour-coordinated saris, sandals and sets of bangles, with styled hair and make-up, she also demystified food and made it a popular craft. She was the first chef to reform Pakistani cooking shows completely. I have grown up watching her; in fact, it was her simple recipe of chicken and capsicum which first got me hooked onto cooking. Who would have thought that Zubaida Apa, who was least interested in cooking, would one day be known for her culinary wonders? All the while she had so much stamina to keep going. It is unfathomable to me how she carried herself, when I at such a young age don't know how to get to work and not look akin to a drug addict.

She used to start her TV shows with some counsel, words that actually made an impact. Maybe it was her grandmotherly outlook or it was the ease with which she guided people through everyday problems, nevertheless, she made a difference, at least for me. She made me realise that in this day and age, where people shy away from giving honest advice out of societal fear of backlash, one should still give honest advice in good faith, you never know who it might influence. She made me appreciate that there is always wisdom in the knowledge of grown-ups, no matter what generation, it should always be heeded. Apa was also a prime example of how one can start their career at any stage of life; they should never think they are too old or that time has flown by.

Tariq's recipe for success is "whatever one does should be done wholeheartedly so that other people can learn and benefit from it as well".

Moreover, her regular culinary "totkas" (remedies) on various TV channels became so popular that Pakistanis gave her the title of Apa. I have tried many of her totkas but one that stands out and I religiously follow even now is the one for weight loss. She always firmly stated that weight loss required effort and dedication. Her suggested regime advised everyone to start the day with five small glasses of lukewarm water. Follow that up with a breakfast comprising of brown bread, a boiled egg and an apple. Fruits and vegetables at two-hour intervals as snacks would help eliminate the craving for rice and roti, and have lentil soup for lunch. Also, always walk with correct posture, with the stomach held in.

With her often surprising solutions to everyday problems, Apa had worked her way into the hearts of millions of TV viewers in Pakistan and abroad. She also ran a restaurant by the name of Z'APA with her son Hussain. The menu was desi with her own recipes. The idea was that continental and Italian food were available in abundance but good desi food wasn't.

She was a woman of diversified taste. From Desi to Chinese to a variety of desserts, she had mastered everything and was always experimenting with different flavours. Moreover, she always stayed true to her Hyderabadi roots – I never knew the beauty and diversified flavours in Hyderabadi cooking till I religiously started following her shows. Mirchi ka Salan, Bhagarey Baingan and Hyderabadi Biryani being some of her most famous dishes. Simultaneously, reinvention and growth was at the core of who she was. I still recall how awestruck I was when she made Tarbooz kai Chilkon ki Sabzi (mixed vegetables in watermelon shell).

To honour her memory, I decided to make something from her famous recipes. There was so much to choose from, but at the end of it, I narrowed it down to two of her most popular dishes.

For my main course, I chose to make Hyderabadi Biryani  and that too for two reasons. Firstly, a few years ago, this was the first biryani I ever tried making and miracle of miracles, it garnered praises from my family who had given up hope on me ever cooking anything edible. Secondly, it's the bestseller at her restaurant as well.

For dessert, I chose the Suji and Besan Halwa because when I told my grandmother what I was writing about, she asked me to make it because she remembered Apa making it once, and the cold weather dictated it as well.

I made chicken biryani, but it can very easily be substituted with mutton as well.

I hope you enjoy these recipes and send a prayer for the woman who was the mastermind behind them.

Hyderabadi Biryani

Ingredients:

Mutton/Chicken – 1 kg

Yogurt – 1 cup

Warm milk – 1 cup

Ghee –1 cup

Onions – 4 (sliced)

Cloves – 4

Lemons – 6

Green chilies – 6 (sliced)

Black peppercorns – 8

Green cardamoms – 8

Mint – 1 bunch (roughly chopped)

Yellow food color – 1 pinch

Red chili powder – 1 tbsp

Raw papaya paste (Only if you are using mutton) – 2 tbsp

Ginger garlic paste – 1 tbsp

Salt to taste

Rice – 1 kg (parboiled in salted water with 1 tsp black cumin and 1 tbsp white vinegar, drained)

Method:

1. In a cooking pot, add chicken, raw papaya paste (if using mutton), red chili powder, salt, yogurt, ginger garlic paste, lemon juice of 2 lemons, green cardamoms, mint, green chilies, black peppercorns and cloves and mix together. Keep aside for an hour. Then cook on low flame until water dries.




2. In a frying pan, heat oil and sauté finely sliced onions till golden brown. Then sieve out and spread fried onion on absorbent paper and pour hot oil on the chicken mixture.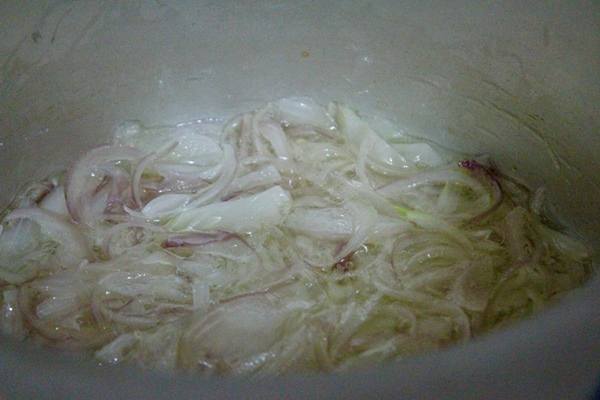 3. Grease the base of a cooking pot and spread a layer of half the quantity of rice. Then spread a layer of chicken and sprinkle half of the fried and crushed onion on top. Drizzle the juice of 2 lemons over chicken. Then spread a second layer of remaining rice.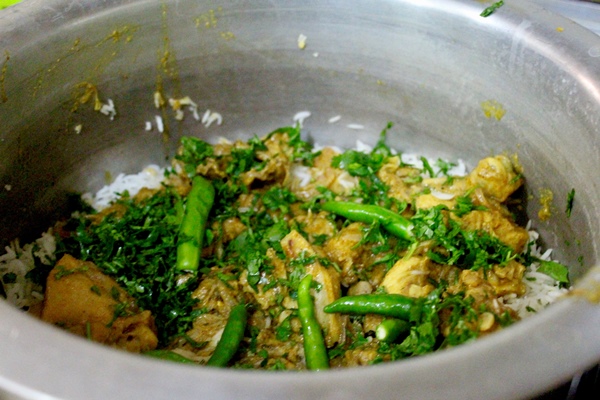 4. Dissolve a pinch of yellow food color in warm milk and pour over rice.




5. Top with remaining fried onion, lemon juice and Ghee.

6. Cover the pot tightly with its lid. Heat a griddle pan on high flame, place the pot over it and reduce the heat to low. Cook for 15 minutes or until done.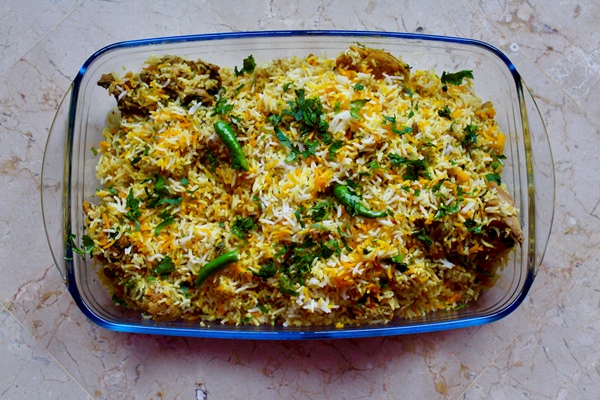 Suji and Besan Halwa

Ingredients:

Gram flour (besan) – 1 cup

Semolina (suji) – 1 cup

Sugar – 1 ½ cup

Milk – ½ cup

Water – ½ cup

Ghee/ oil – ½ cup

Cardamoms –  8 (peel and crush seeds)

Almonds and pistachios for garnish – as required (finely chopped)

Raisins – 10-12




Method:

1. Heat ghee in a pan; add the cardamom seeds when hot. Then add suji and besan, lower heat and cook stirring continuously.




2. Remove from the pan. Combine ½ cup water and sugar in the pan and cook for five minutes or till the sugar dissolves completely.

3. Add the besan and suji to sugar syrup and stir constantly. Add raisins, continue to stir, then add milk and stir till the milk is mixed in thoroughly. If you feel it's not fluffing up, add water gradually till you get the right texture (all the while stirring).

4. Apply a little ghee to a large platter and spread the halwa in it. Garnish with chopped almonds and pistachios.




Apa has been a huge inspiration to many of us and her energy, zest for life and of course her totkas will be greatly missed. She introduced our rich culinary traditions to younger generations and has now left a void that will be difficult to fill.

Rest in peace, Apa. This is my way of paying tribute to a wonderful character, a truly great woman and a true original in her field. We are all going to miss you very much.

All photos: Arhama Siddiqa
Facebook Conversations
COMMENTS (30)
Comments are moderated and generally will be posted if they are on-topic and not abusive.
For more information, please see our Comments FAQ