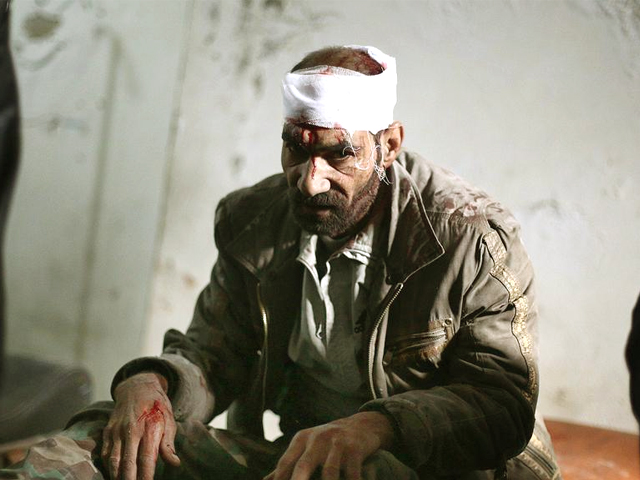 ---
For Mohammad, New Delhi is merely shelter, as war-torn Damascus will always be home
It's been 2 years since Mohammad made Delhi his home, albeit a temporary one, but he yearns for a glimpse of Damascus.
---
On a December evening, with the daylight fading fast, a thick layer of smog, a common Delhi phenomenon, envelopes the city. People – the ordinary on foot or in rickshaws, the affluent in cars – go about their lives in the Sarai Jullena area of the national capital. Raucous horns of vehicles of all sizes and types rend the air.

Two Septuagenarian Arabs sit across the table in a restaurant, identifying itself as Syrian, right opposite the Escorts Hospital that spreads across several acres of land. They converse in Arabic and order food without even glancing at the green-coloured menu, cluttered with a never before seen variety of cuisines.

As the dusk deepens into dark, the two men peer through the glass at the moving men, women and cars. A local walks into the eating house, heading for the menu straightaway. Saniya, a 25-year-old Indian waitress, expresses the desire to assist him. The young boy, possibly a university student, asks if they offer beverages,

"Tea, coffee, something?"

"Nescafe coffee, Syrian coffee," says Saniya, humbly cut short by the boy, who settles for Syrian coffee.

"Let this be an experiment," he mumbles to himself, while his right hand rummages through a brown bag hanging from his shoulder.

Mohammad*, a 33-year-old man, emerges from behind a plastic curtain holding a prayer mat, his hair still dripping and his feet still wet with ablution water. Mohammad's probing eyes, under the crown of a worn out cap, search for something. Standing six feet tall and dressed in a half-open red shirt with a black collar, he sits in a chair facing the glass door.

Saniya brings two cups of Syrian coffee, placing one each on the tables occupied by Mohammad and the local. Mohammad takes a swig of coffee with relish, unlike the boy, whose experiment seems to have fallen flat. Soon, they immerse themselves in their respective phones. Mohammad, a sombre-looking figure, shows some signs of energy every time the woman on his smartphone cracks a joke in Arabic.

Mohammad came to India in 2015 from a town on the outskirts of the Syrian capital, Damascus. He works both as a waiter and a receptionist at the Syrian restaurant.

"We all understand a bit of all languages – Hindi, English and Arabic," says Saniya.

Mohammad nods in approval with a smile.

"War", he says, when asked about the reason he came to India, adding, "everyday battles dragooned us into leaving, isn't it obvious?"

Mohammad lives with his wife and only son in New Delhi.

"I wish I lived in the middle of Damascus, where little disturbance occurred," Mohammad recalls, "We, all of us, had big beautiful houses there. The IS (Islamic State) captured and destroyed everything – from infrastructure to life."

The war in Syria has killed around 465,000 people and displaced millions. Mohammad lived with his three brothers and two sisters. The destruction caused by the IS led to the disintegration of his family and friends, he says. Now, one of his brothers is in Egypt, and another left for Turkey.

"My wife and I came to Delhi because of the raging discourse on immigrants in Europe," he says, adding, "They don't look too welcoming now. I talk to other family members on Whatsapp. We want to be together, someday," he says, adding, "you made me miss them again."

It's been two years since he made Delhi his home, albeit "a temporary one", he says. Mohammad yearns for a glimpse of Damascus, a city he describes as far more diverse than Delhi.

"There are people from different sects, religions and even countries. It was a destination tailor-made for tourists," he says, pointing towards a panoramic photo. "Look, that's how most of the traditional Syrian houses looked. Vast drawing rooms, open spaces and a lot of green plants."

Mohammad's sisters have been living in Damascus after getting married. WhatsApp, at times, bridges the gap between Damascus and Delhi as they see each other via video calls.

"My friend sends me photographs of our town that lies in ruins now, but I know we will reconstruct it one day," an optimistic Mohammad suggests, overcome with emotion.

He, my friend, goes around showing me the town that once never slept, and its people who, according to him, cared for each other without giving bones to their religion or sect. Mohammad draws a parallel between Jamia Nagar's Batla House area, stone's throw away from his workplace, and his town, thousands of miles away from India's national capital.

"We never slept there, just as people in Batla House don't. Our town, though, was spacious, clean and very well-lit," he says.

Mohammad's interaction with locals in Delhi has been minimal. Language, he says, is one of the barriers for the lack of communication, adding that he doesn't roam around.

"But I found Indians very humble and non-interfering. There is limited communication here, a polar opposite of what was in Damascus, where I roamed around with my friends. My brothers, sisters and I will unite one day in the same land. Hopefully, there will be no war then," he says, emphasising, "It will be Damascus, Syria. No other city, in no other country."

The two Arabs have finished eating. The older of the two raises his right arm and addresses Mohammad, saying,

"Shukran! (thank you)"

"Eud maratan 'ukhraa (come back again)," says Mohammad, rising from his chair.

Mohammad, though, is not the only one seeking refuge thousands of miles away from Damascus. Millions of Syrians were displaced all over the world, with 71 people registered with the United Nations High Commissioner for Refugees (UNHCR) in New Delhi till last year. India's capital is home to refugees from different parts of the world, and Indians, as Mohammad claims, have interfered little in their lives. But Mohammad's story makes it clear that home will always remain Damascus, Syria, and going back will always be a dream, even if what used to be home will never be the same again.

Mohammad's dream of returning to the land of his ancestors could very well come true in the years to come. With the Syrian army's declaration that the last town held by the IS has collapsed, ending its three-year hardline rule in the region. To everyone's delight, the group met a similar fate in Iraq.

In June 2017, the UNHCR reported that almost 500,000 Syrians had returned to the war-ravaged country, mainly to the cities of Aleppo, Hama, Homs and Damascus. With the region finally seeing what is hopefully the end of the IS and an improving socio-political climate, one hopes that Mohammad, and the millions of other people like him, get to reunite with their families and return to the land where they feel truly at home.

*Names have been changed to protect the identity of the individual.