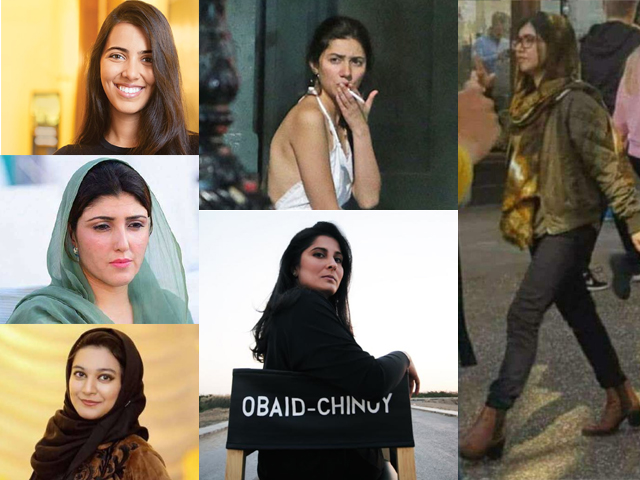 ---
Whether for smoking, wearing jeans or saying #MeToo, 2017 was a year of constant harassment for Pakistani women
From Khadija Siddiqui to Mahira Khan, Malala Yousafzai to Sharmeen Obaid,2017 was incomparable in terms of harassment
---


It's finally that time of the year, when you get to cuddle up in a blanket on the sofa while you sip on hot chai (tea), and reflect on the past year. In fact, I'm doing just that as I write this. As we get through the very last days of 2017, a year that went by rather swiftly, it's time for an important recap.  

For me, a great part of the year was spent writing about and highlighting human rights injustices, not just in Pakistan but globally. By far, what throws me off every time is the sheer negativity of the comments I receive.  The ironic thing about the sometimes abusive, derogatory and harsh remarks is that they help prove my point even further, especially when it is pertaining to feminism and the need to talk about women's issues. There have been countless times when I've had to defend my feminist stance, constantly reiterating that the term feminist is not synonymous with "man-hater".

This year, Pakistan was officially ranked the fourth worst country in the world to be a woman, with high discrimination and low financial inclusion, and only Syria, Yemen and Afghanistan were behind us. The violent incidents pertaining to women this year alone are testament to why we deserve this ranking. Beyond the usual string of violence, we've had a few interesting and devastating turn of events, especially for those women who have dared to stand up to the status quo, challenge norms and speak out openly against the injustices they have faced. It's interesting to note that there were several cases this year of women standing up and fighting, and ultimately winning, through pure determination.

The person who instantly comes to mind when thinking of bravery is Khadija Siddiqui, a young law student who was stabbed 23 times by a male peer, and then dragged to courts to seek justice, only to face the utmost humiliation of having revenge porn used against her. Nonetheless, Siddiqui did not back down, but held her ground stronger than ever and with the support of her amazing team of lawyers, did not rest until her perpetrator was sentenced to seven years in prison.

Apart from physical abuse, this was another incomparable year when it came to online trolling and harassment against the most celebrated women of our country. It all started with Mahira Khan, who is now an international celebrity, being shamed online after pictures of her smoking in a backless dress were leaked online. While she was shamed for smoking in a dress alongside Bollywood actor Ranbir Kapoor, we witnessed some of the most shameful and derogatory comments made for the simple fault of a woman smoking. The entire problem with this scenario was obvious enough – the masses in Pakistan could not handle or did not know how to deal with a woman practicing the agency to manage her body the way she wanted.

https://twitter.com/Zarvan3/status/911203207564681216

https://twitter.com/OfficialHanzala/status/910946445607473152


I was v.big fan of her innocency i don't think she can go as low for cheap fame @TheMahiraKhan shame on u made us humiliated.. pic.twitter.com/krOg2L2kmm

— HammadAbbasi (@hammadAbbacee) September 22, 2017


Over and over again, we've seen honour being attached to women's bodies, as if all humans born female had an "honour" button installed in their genitals. Instances like this where a woman's honour is quickly brought up for discussion make one question, who decides that women are the honour of the society? Why must women justify their actions and be answerable to anyone but themselves?

On the topic of honour and women's bodies, it would be remiss to not talk about Malala Yousafzai being trolled online for wearing jeans to university. Whether you are a supporter of Malala or not, it is undoubtedly very disturbing to see people go this far to discredit and troll this young woman who is now a student at Oxford University, simply for choosing to wear an outfit that was perfectly respectable and decent, and more importantly, her choice. Is clothing the only thing that legitimises a woman's worth? Why are Pakistani women's accomplishments thrown under the rug and ignored all together the minute she decides to live her life the way she wants; a way of life that does not adhere to patriarchal norms of our society?


@Malala look at this stupid #Malala say I love Pakistan & enjoy life in USA #ShameMalala pic.twitter.com/XfyEWFZQk8

— Muhammad Shehzad Ashraf Khan (@ShehzadAshraf5) October 15, 2017
Qaom ki beti aesi hogi @Malala 🔫🗡🔫🔫🔫
Aj kal inhe log super start mante hai

Allah in sb ko hedayat de jo in k naqsh e qadam pr chalti hai pic.twitter.com/zi3EcjyYz0

— 🇵🇰zเ๔๔เ🇸🇦αƒяιđι​🇦🇪 (@AfridiShafiQ10) October 15, 2017


Can one imagine the Pakistani awaam (people) being equally outraged over the real injustices and cruelties that women have to face here on a daily basis, the way they are when they witness women taking charge of their own lives? We all witnessed the fiasco when Ayesha Gulalai publicly spoke about being harassed by Imran Khan. Whether she was pulling a political stunt or not, the entire incident proved just how toxic and unsafe this country is for women to truly talk about harassment, especially if it's being perpetrated by a man with more privilege and power than most.

Some took to Twitter to insult her, and even went to the extent of saying that Gulalai deserves to have acid thrown at her face. In a country where acid attacks are already a norm, narratives like these further normalise and provide justification for this heinous crime. Gulalai speaking out was an eye-opener for many of us and a serious indicator of just how widespread toxic masculinity is in our country. While the rest of the world was reeling in the aftermath of the #MeToo movement, in Pakistan, the result of saying #MeToo was unequivocally more harassment faced by the woman.




Here is what people are saying about Ayesha Gululai. pic.twitter.com/S2uiPO10YY

— Bina Shah (@BinaShah) August 2, 2017


https://twitter.com/DrAlishbaKhan/status/892639280480362496

https://twitter.com/Waqas_amjad/status/892629620482334720


That moment you realize Ayesha Gulali was just using @PTCLOfficial Internet which is why she noticed the messages after 4years though

— That Asad though (@asadhussain1512) August 1, 2017


https://twitter.com/VoiceofWaqas/status/938046923335962625

One doesn't need to look far to prove this statement. The most noteworthy and infamous incident of the year involving a woman was undoubtedly when Sharmeen Obaid Chinoy took to Twitter to complain about the doctor who added her sister on Facebook after treating her, demanding action be taken against his unethical behaviour. Most people in the country sided with the doctor, arguing that a Facebook friend request does not equal to harassment, and to drive their point home, proceeded to harass Sharmeen and her sister online. It's almost 2018, and it's time to get one thing straight – if a woman says she is feeling uncomfortable or harassed, no one else gets to tell her otherwise.


Sharmeen Obaid has no issues smiling with Harvey Weinstein the rapist but a poor doctor cannot add her sister on fb! Hypocrite Lady! pic.twitter.com/iQw5CcHe0f

— Adeel Raja (@adeelraja) October 28, 2017
Half of Sharmeen Obaid's body is touching this Hollywood actor but if a bald doctor sends her a friend request she feels harassed. pic.twitter.com/b3BIjMo3qO

— Sir Saith Abdullah (@SaithAbdullah99) October 27, 2017


https://www.facebook.com/sana.ali.z/posts/10159701164775571


Even before fame, had lots of women who added me on FB cuz they randomly met me, didnt go arnd pursuing "harassment" charges against them.

— Hamza Ali Abbasi (@iamhamzaabbasi) October 27, 2017


https://twitter.com/osamacaprii/status/923598739624939526

Despite the many disappointing incidents discussed above, I would like to end my reflection on a more positive note; looking at some of the greatest achievements of Pakistani women this year.

- Anna Khan made it to the Forbes '30 Under  30' list

- Kami Sid emerged as Pakistan's first transgender model and also featured in a film

- Farhat Asif won the N-peace Award for her work as an activist for women, while Farhat Sajjad was recognised by the same platform for her work towards education

- Maryam Nasim, a Pakistani female weightlifter, made a name for herself and broke stereotypes

- Momina Mustehsan was the most prominent Pakistani to be featured on BBC's 100 inspirational women for 2017

- Mahira Khan, Saba Qamar and Mawra Hocane won big and left a mark at an award ceremony recognising people from the pan Asian community

In light of all this, I would like to add that I am extremely optimistic about the future. Though I am very familiar with the ways of our country, I am also aware of the fact that there are more and more women who, like myself, are starting to realise the immense need to start highlighting issues pertaining to violence against women and misogyny. With more women now identifying as feminists and not only fighting for their rights but also calling for an end to a sexist culture, there is reason to be optimistic.

2017 was yet another year for more women to break barriers and enter fields of professions not open to them earlier, and excelling. Having said that, given the way things are at the moment, it will unquestionably take our society at large a long time to expect more from women than getting married, performing household duties and birthing children. For a culture to truly change, it will need the effort of both, its women and its men.

It's high time more people realise that there is a reason we all co-exist on this planet, and that we need to try harder to overcome this gender divide. There's always hope that 2018 will be a more peaceful and relatively progressive year, and will be kinder to and safer for the women of our country.

Happy New Year!
Facebook Conversations
COMMENTS (6)
Comments are moderated and generally will be posted if they are on-topic and not abusive.
For more information, please see our Comments FAQ