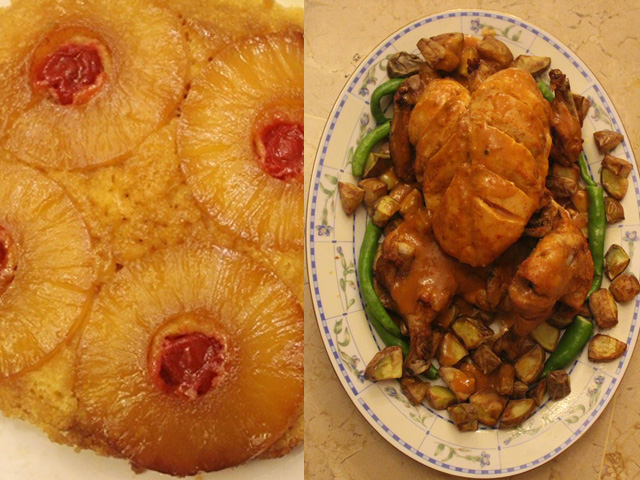 ---
Move over, turkey and pudding! There's a new Christmas feast in town!
Impress yourself and your loved ones with some easy peasy juicy roast chicken and upside-down pineapple cake.
---


Most of us are familiar with Christmas carols. We have either grown up listening to them live or on television. "Deck the halls with boughs of holly, Fa la la la la la la la!" is a tune not unknown to many of us, hence the beauty of globalisation.

The holidays are not only the perfect occasion to spend time with loved ones while eating your weight in cookies; they're also the ideal opportunity to sing your heart out. And most of us are familiar with Charles Dickens' A Christmas Carol, an instant bestseller, published almost 173 years ago.

In a nutshell, Christmas is the season for joy and forgiveness. Dickens captures it beautifully when he said,

"I will honour Christmas in my heart and try to keep it all year."

And as should we all.

This year, I came up with an easy yet scrumptious Christmas feast, especially for all those who'd rather spend the break around a warm fireplace (read: heaters). Impress yourself and your loved ones, or your guests if you're hosting a Christmas gathering, with some juicy roast chicken and my aunt's favourite upside-down pineapple cake.

Roast chicken:

Move over turkey. Your overgrown, dry dominion over Christmas dinner is at an end. Well, even though we don't really cook turkey meat that often in Pakistan, I have seen this so often as a centerpiece in movies that I felt like saying it.

Knowing how to make roast chicken is just a really handy skill to have, and one which shouldn't be stressful or tricky. I believe that every chef should have a delicious roast chicken recipe in his/her repertoire. Today, in the spirit of Christmas, I am sharing mine. Why chicken you may ask? Well, it's got great flavour, the meat is easier to roast properly without drying out, and it still is a beautiful centerpiece for a Christmas, or any other, feast.

Serve the chicken on a bed of potatoes or rice (I air-fried my potatoes) and garnish it with green chillies, or any other vegetables of your choice.

Ingredients:

Full chicken – 1

Peri peri sauce medium – 5 tbsp

Ginger garlic paste – 2 tbsp

Soy sauce – 2 tsp

Worcester sauce – 2 tsp

Salt to taste

Lemon juice – 3 tbsp

Red chilli flakes – 1 tbsp

Pepper – 1 tsp

Vegetables of your choice – cut in cubes or as per your liking (I picked potatoes and green chillies, but you can pair it with your favourite veggies)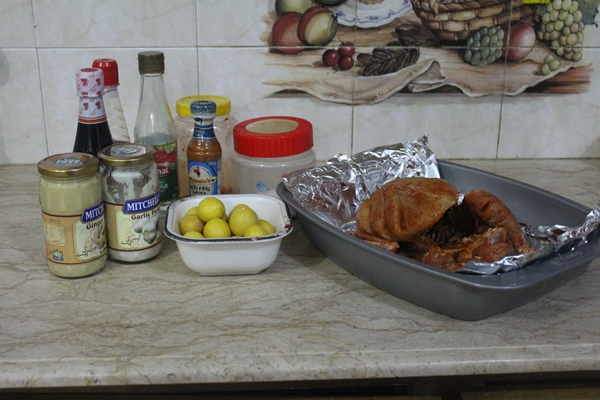 Method:

1. Marinate chicken for good three to four hours in all the spices and sauces mentioned above and bake it in the oven for one hour at 180 degrees in a roasting bag.




2. Place the roast chicken on a platter and place the roasted/air-fried veggies next to it.




Upside-down Pineapple Cake

The single most requested cake at our family and friend gatherings is my aunt's upside-down pineapple cake. She'll look for almost any excuse to make it, and we never get tired of it. So why not try this simple and appetising cake rather than the traditional bread pudding. This is the perfect finisher to a heavy meal. Couple it with vanilla ice cream and you have a winner.

Mind you,the height will not be the same as any other regular cake since baking soda is not part of the ingredients. Hence, it will come out sort of thin and flat, so do not be alarmed by its irregular appearance!

Ingredients:

Unsalted butter softened – 250g

Fine granulated sugar – 1 cup

Eggs – 4

All-purpose flour (sifted) – 2 cups

Baking powder – 2tbsp

Pineapple essence – 1tsp

Vanilla essence – 1tbsp

Brown sugar – ¾ cup

Cherries – as per your liking

Pineapple slices (drained) – 1 can




Method:

1. Preheat oven at 180 degrees.

2. Beat cream, butter and sugar together. The longer you beat it, the better it'll be.

3. Add eggs one by one to the above mixture and beat.

4. Sieve flour with baking powder and add to the creamy mixture.

5. Mix in the essences. If the mixture looks too thick, add 2-3 tablespoons of pineapple juice from the can.

6. Grease a cake pan and arrange the pineapple slices with cherries in the pan.

7. Melt brown sugar with a few drops of water on the stove. Once melted, pour this caramel over the pineapple layer.




8. Pour the batter on top of the pineapples and bake for about 45 minutes, or till the cake test comes out clean.




9. Let it cool a bit before serving with some vanilla ice cream.

And voila, there you have it! The perfect, yet easy and delicious Christmas feast! Enjoy and have a very Merry Christmas!

All photos: Arhama Siddiqa
Facebook Conversations
COMMENTS (29)
Comments are moderated and generally will be posted if they are on-topic and not abusive.
For more information, please see our Comments FAQ