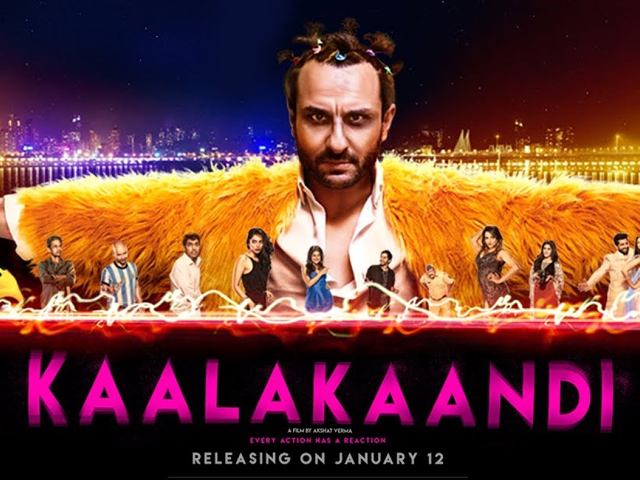 ---
'Kaalakaandi' has all the ingredients to be another 'Delhi Belly', and finally put an end to Saif Ali Khan's losing streak
Filmmakers often make similar movies to recreate the success of their previous work, resulting in an unoriginal mess.
---
It is no secret that Saif Ali Khan hasn't had good luck at the box office as of late. His last movie to perform decently at the box office was Race 2, which was released back in 2013, totalling four years of bad luck for the nawab of Pataudi. But with the release of the trailer for Kaalakaandi, it looks like Saif's luck might be about to change soon, for the better.

The trailer starts off with Khan being told that he has stomach cancer and that his time is limited, after which he decides to do whatever he wanted to do in the rest of his short life – unleashing his wild side. Understandably, things go upside down with this decision to live his limited life to the fullest.




We also get to see Deepak Dobriyal and Vijay Raaz; actors who have proven their acting chops time and again, making it a fair assumption that they will deliver this time around as well. The movie tackles themes like hope, greed, love and lust, with a particular focus on sex and drugs. The trailer has some hilarious dialogues, and definitely looks promising enough to bring something new to the adult comedy genre.




Written and directed by Akshat Verma, the man behind the hilarious and crass Delhi Belly, Kaalakaandi seems to be a very different ball game than the one Bollywood is used to. Set in a loud and fast-paced city with rave parties, cheeky one-liners and a talented cast, Kaalakaandi has all the ingredients to become another Delhi Belly, and finally put an end to Saif's losing streak.




However, it also runs the risk of being too similar to Delhi Belly. It often happens that filmmakers, in order to recreate the success of their previous films, end up making their new movies quite similar to their earlier work, resulting in an unoriginal mess.

Kabir Khan, a prominent director in Bollywood, made a similar mistake by attempting to recreate the success of Bajrangi Bhaijaan (2015) and taking similar themes in Tubelight (2017), an attempt that fell flat. He made that mistake earlier as well with Phantom (2015), after he got the action genre just right the first time with Ek Tha Tiger (2012). 

Hopefully, Verma will not make a similar mistake, and will deliver something original, perhaps with just a touch of Delhi Belly in it.




Kaalakaandi releases on January 12, 2018, and by the looks of it, you can't afford to miss this one!

All photos: Screenshots
Facebook Conversations
COMMENTS (1)
Comments are moderated and generally will be posted if they are on-topic and not abusive.
For more information, please see our Comments FAQ