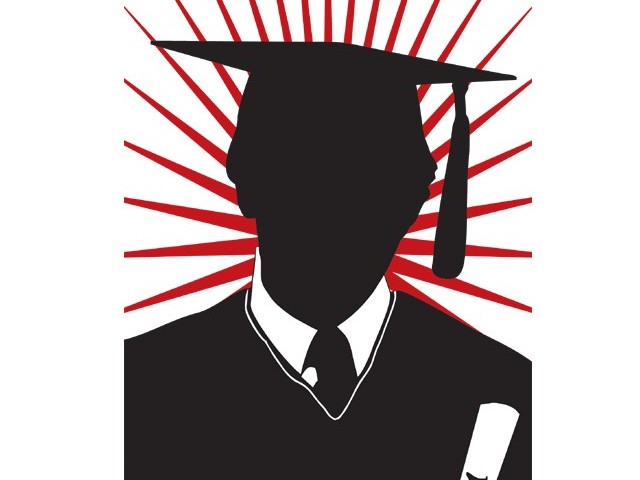 ---
I boycotted IoBM's convocation because of its prevalent misogyny and commercialisation
An aged faculty member once stopped a girl in a western outfit and asked boys to encircle her and keep ogling at her.
---
It was a day I wanted to dedicate to my parents; a day which would have made me realise that I am a normal person – a knowledge seeker who loved to study and who managed to not get the label of a 'drop out'. It was a day which would have amassed all the bits of happiness from the six years of exhaustive struggle of getting a university education, finally making me smile cheerfully.

But no, I had to stand by the principles I had learnt all these years, while studying independently as well as at my college, and thus boycotted the Institute of Business Management's (IoBM) convocation ceremony.

There are many reasons for this boycott, which, for a student activist like me, were imperative and timely to exercise. The two main factors that made me take the decision to shun the happiness that many of my peers enjoyed this month, were the misogyny of the institute as well as its increased commercialisation.

Let me start with the latest incident, which took place in IoBM in October earlier this year, where a female faculty member was schooled by a security in-charge for wearing "improper attire". Affronted, the visiting teacher went to lodge a complaint, but it was in vain. She was instead told by her head of department that she should wear "respectable clothes".

When I was made aware of this, I was upset. Since the name of IoBM was attached to my career and my life, I had to do what I could. I asked my News Editor at The Express Tribune if it called for a story, and his response was affirmative. He formed a team, and we began collecting information on the humiliating incident. Once published, the story went viral and the readers condemned IoBM's despicable attitude towards women, an attitude shaped by the institute's flawed dress code policy.

However, I soon realised that there were not many people who would stand with me on this matter, as was the case earlier during my studies at IoBM. My friends kept me at bay, my instructors scolded me, the people associated with IoBM (who called themselves feminist) shunned me, and everyone maintained their sinister silence. While many of my mentors who were visiting faculty at IoBM supported me in this cause, one female instructor, who is also a famous journalist, informed the management that I was doing the story and should be stopped right away. However, the truth had to prevail.

A day after the publication of the article, I received a call from a highly respectable male faculty member at IoBM who said,

"We have evidence that you penned the story, and if you don't delete the story or do another in our favour, we will take stern action".

I knew whose words were reverberating in my ears in the voice of that faculty member. He was sadly forced to make that threatening call. I was ready to do a follow-up piece on the matter, while also giving a platform to the management at IoBM, but they didn't have any sane voices that could have been quoted. They told me they are very close to changing the dress code policy, which will stop such incidents against women.

That was a lie.

After a few days, IoBM solely fired the person involved in harassing or affronting the female faculty member and the business continued as usual – no amendment took place in the misogynistic dress code policy of the institute.

That was the last nail in the coffin. If there was any attachment or love I had for IoBM, I had by now completely lost every scintilla of it. I couldn't see my female classmates putting up with the inspecting stares of male bodyguards, checking them out to see how much of their 'threatening' skin is showing. I couldn't bear how women were being turned into mere objects, with no choice on what to wear or how to look, and who instead had to be told how they ought to avoid seeking attention of their male colleagues.

Even before this incident, there had been a legion of cases of harassment and insults by IoBM's administration. One aged faculty member, Fareeda Ibad, is infamous for creating a scene once when she stopped a girl, who was wearing a simple western outfit, and asked boys to encircle her and keep ogling at her. After the scene, she asked the girl (the victim in this instance) if she was satisfied "because this is what she wanted by wearing such inapt clothes". This incident was narrated to me by my senior female friends at the university.

The dress code policy is also very sexist, in the sense that it doesn't restrict male students much. On various occasions, the administration observed that if they don't restrict the female students on what they wear, the male students (who come from different backgrounds) will get "distracted" from studying. No logic can be more brutally ridiculous than this. Instead of handling the men of this male-dominated society, who harass women frequently, the admin chose to further shackle the women.

It is not that students didn't try to raise their voice against the high-handedness and sheer conservatism of the institute, as in 2016 a few female students made a group on social media to unionise and pressure the administration to amend the vague dress code policy which was used for harassment against women.

As expected, rather than addressing the woes, the management called a disciplinary committee meeting and forced the female activists' parents to apologise for their daughters' resistance. The parents, who had already invested hundreds of thousands of Rupees, didn't have any other option but to do what they were told.

IoBM is also highly commercialised – at times it bugged me how an institute registered as a non-profit organisation can ask for such a hefty fee per semester. The college also quietly increased fee for courses, going against the rule that once enrolled, the students will pay the fee agreed upon during their admission process for their entire tenure at IoBM.

I have a simple question for IoBM – how can they suppress a person's choice like this? How can a committee comprising of old aged people make a dress code policy and expect young students to duly follow? What pleasure do they gain by killing the free, creative human being inside every student at IoBM?

Choosing how to dress is a basic right of every single human, through which he or she tries to become a personality of his or her own choice. I am proud to say that I didn't care much about what people or IoBM thought of my appearance when I grew my hair long, following the legacy of Lal Qalandar, had piercings in my ears out of love for my dervish saints, and various tattoos to pay homage to my socialist ideals. IoBM would have seen a clumsy, careless guy, but inside my heart there was a world of ideas.

The boycott was worth it – I feel at peace.

Today, I can tell my friends at IoBM, the special person who is going to be my life partner, and all those who faced harassment, victimisation and derogatory remarks by the institute, that I stand with them, which is why I decided to not take any honour from IoBM by not receiving the degree at the convocation ceremony. They cannot honour me with a degree, as their misogyny has ensured that they aren't left with any honour.