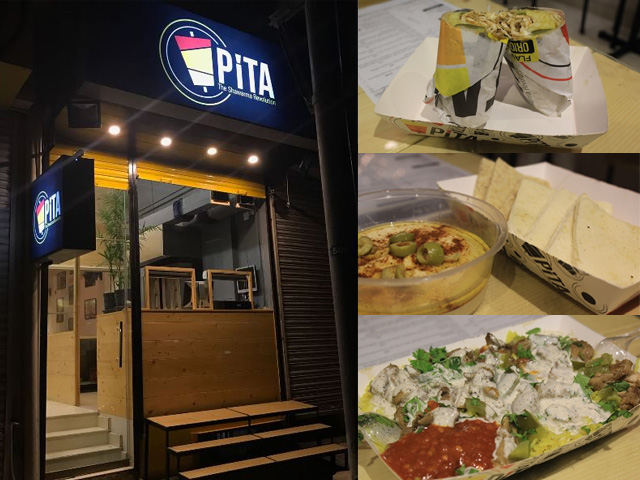 ---
Not just the shawarma, but Pita managed to revolutionise our taste buds as well!
Craving an authentic Lebanese shawarma with a Pakistani twist? Enters Pita: The Shawarma Revolution...
---
The toasty smell of pita, the succulent texture of meat, the citrusy taste of pickles, all blended with the garlicky Tahini sauce. When we think of a shawarma, this is what comes to mind. If you've ever visited the Middle East or seen
The Avengers
, then you've probably heard of shawarmas – food that is healthy, affordable and delicious.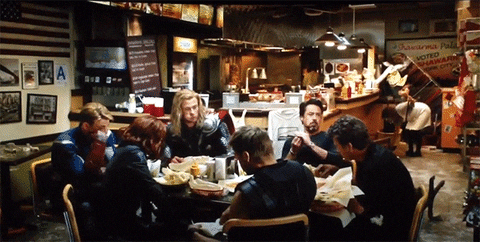 Karachi has a variety of places where you can get shawarmas, but while most of them are adapted to suit Pakistani taste buds, the rest serve authentic Lebanese food. But what happens when you crave a Lebanese shawarma with a Pakistani twist?

We heard that 'Pita: The Shawarma Revolution' could be the solution to our woes, and we headed out to see how true this was.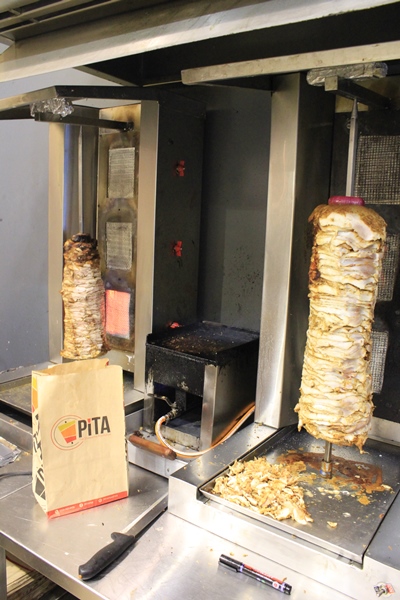 Pita, a new eatery on Bukhari Commercial, claims to add a twist to your ordinary shawarma, offering a fusion of tastes that not only enhances the flavour of the old Middle Eastern goody, but also leaves one wanting more. The bold claim had us a bit sceptic from the start, but that may just be attributed to our cynical nature as aspiring journalists.




Arriving at Pita, we were slightly taken aback by how small the place really is, but the aroma of the freshly cooked meat quickly drew us away from that thought and towards our table.

We did go to Pita for the shawarmas, but who can resist good appetisers? Before we knew it, we'd ordered the Animal Style Fries, and what can we say? The name lives up to its reputation. These animal style fries need an animal style appetite, if you plan on eating a shawarma after as well.




Since we did plan on stuffing ourselves with shawarmas later, we had to get the Hummus as well, just to get the Middle Eastern vibe going. Fans of hummus out there know how incredibly hard it is to get good hummus in Pakistan. Most versions end up facing a desi transformation that, even though delicious, isn't really hummus. One of us happens to be a die-hard hummus lover, so we left it up to her to decide if the hummus at Pita is up to par.

And the verdict is in... and it is! The hummus reminded her of her time in Dubai, where she frequently travelled during her childhood, with the same creamy texture served with toasty pita. Let's just say, the hummus bowl did not leave her side for the rest of our dinner.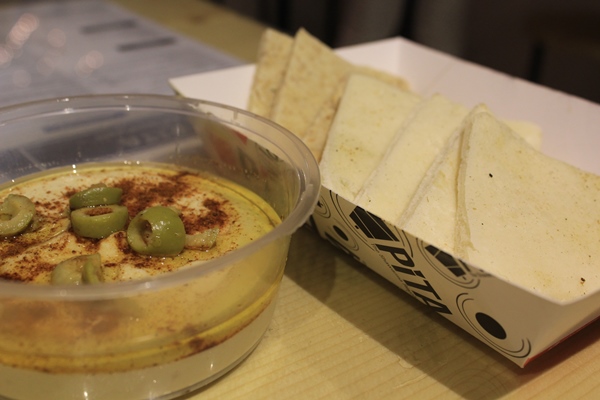 After filling ourselves up on the appetisers, we moved to what we came here for – the shawarmas! We decided to try three of the offered flavours – the Original Beiruti (because of its name), the Kolachi (the most popular), and the Wild West (which is a must for lovers of barbeque sauce).




Ironically, Pita does not have pita bread at the moment due to some logistical issues that they are figuring out. Instead of pita bread, our shawarmas were served to us wrapped in Saj bread. Saj is a very thin bread and found frequently in a lot of Lebanese recipes. We felt that the saj bread helped bring out the flavours and didn't overshadow the taste of the fillings. Smart move, Pita!

We tried the Original Beiruti first, and it definitely became our favourite thing that we'd eaten that day. The best part about this shawarma was that the Tahini sauce wasn't overpowering. It settled well with the meat and veggies, and left you wanting more after each bite. This is probably what stood out the most because most places overuse the sauce, leaving a very garlicky taste that undermines everything else and fills you up quickly. This is exactly the kind of shawarma we came in search of to begin with, and luckily, we found it on our first try!




Subsequently, we tried the Kolachi, and we understood why it's the most popular. It's hard to explain, but the flavour simply speaks Karachi, which, as devoted Karachiites, we loved! It also has imli (tamarind), which is always a bonus.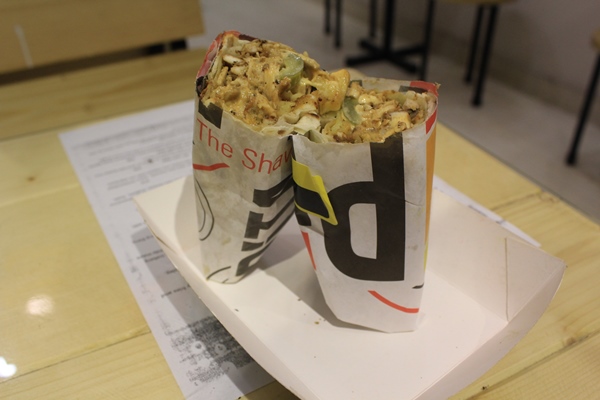 Up next was the Wild West, and to be honest, by now we were pretty full. Nevertheless, we soldiered on.

As the name suggests, the star of this show is the barbeque sauce, so if you're not a fan of the sauce, then this is not the shawarama for you. This was probably our least favourite item that we tried, but given how much we loved everything else, that is perhaps a strange compliment in itself.




We also ended up trying the Shawarma Rice Bowl – NY cart style. This is admittedly a risky item for a shawarma place, and one that had us split. While one of us loved it and thought the flavours were complimentary, one of us felt it was akin to "raita chawal" (mint yogurt rice). So try this at your own risk, perhaps? Although, warnings for those who prefer the mild side on the spice level, as the chilli sauce can get super chilli!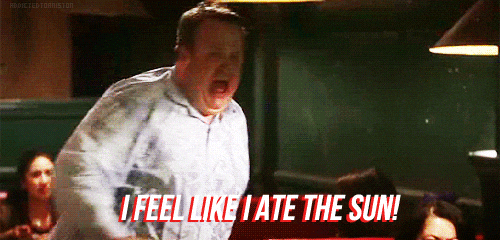 To assist us as we gorged on different kinds of shawarmas, we got three drinks from the various options on the menu – Apple Fizz, Mint Lemonade and Peach Lemonade. The peach lemonade would probably taste better if the peaches were real, whereas the mint lemonade was alright, but it was the apple fizz that stole the show. The drink was refreshing and surprisingly complementary with the food we were eating.




By now, it was time for dessert, and we were stuffed to the brim. But how could we go to a place with Churros and not try them? So try them we did, and the result was great! We were surprised that they managed to get the churros right as well. The Salted Caramel sauce tasted absolutely divine; although it would have been better if it was a little saucier so that we could dip the churros more easily. The Chocolate sauce, which is the alternative, was heavenly as well. Who doesn't love chocolate, after all?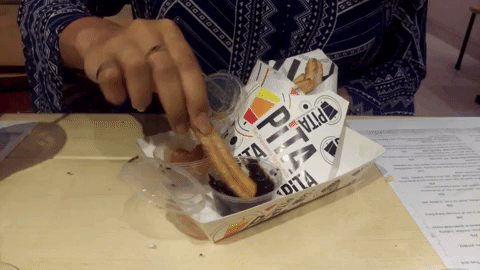 For the delicious food that the place offered, we felt that that the price was worth it. Instead of paying more at a Lebanese restaurant and getting just one type of shawarma, you can get your shawarma with a twist at lesser cost and enjoy your meal at the same time (take our word for it).

Thus came the time to leave Pita, with a heavy heart and an extremely full stomach. We had come to try and see whether this could be our new shawarma place, but by the end of it, this seemed like it could also be our new place for fries, churros, or simply to hang out with our friends. The seating arrangements aren't ideal, but who cares when the food is that good? But for those of you who want to enjoy these delicacies in the comfort of your home, Pita delivers through Foodpanda but there is a downturn, as is everything with Foodpanda, that they only deliver to limited areas (read: Defence).

Pita surprised us by being better than we thought it would be, and we know we'll definitely be going back for seconds. Pita has now added Falafels to its menu, so there's another reason to go back to the place! If we were to rate it out of 10, we'd give it a solid eight. There's definitely room for improvement, but there's also no complaints!
Facebook Conversations
COMMENTS (4)
Comments are moderated and generally will be posted if they are on-topic and not abusive.
For more information, please see our Comments FAQ