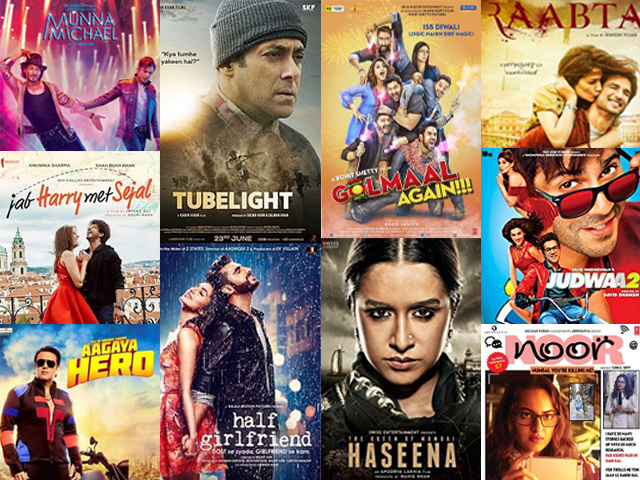 ---
10 torturous Bollywood movies of 2017 that made us question our will to live
These movies had a famous and talented cast, a decent enough budget, high expectations and a wide release and yet...
---

Every year, Bollywood has an abundance of releases. While there are some movies that stay with us for the rest of our lives, there are some which, due to their horridness, can instantly send us into a state of coma.

We will be looking at the top 10 most absurd Bollywood movies of 2017. Please remember that this list includes movies that had a well-known and talented cast, a decent enough budget, high expectations and a wide release. These movies successfully tortured the audiences and made us question our own will to live.

10. Golmaal Again


When you know Rohit Shetty is involved, hoping for a logical movie is just out of question. Yes, Rohit's movies are quite entertaining and are sure to be hits at the box office, but box office numbers and a tagline like "no logic, sirf Magic" does not save this one from being one of the worst movies of this year.

Although the movie had some good one-liners, but with the kind of talent in the movie one expected a lot more. Ajay Devgan and Johnny Lever do a commendable job, but the rest of the cast falls flat. With an illogical plot and predictable twists, this comedy flick does not have anything new to offer. Also, what was the purpose of Gopaal and Co if the ghost had to do all the heavy lifting in the end? It defeats the entire premise of the movie.

9. Tubelight


I can't explain how much it pains me to put a Salman Khan movie in this list, but in spite of being a devoted Sallu fan, it was quite evident that Tubelight was a flawed movie. The filmmakers tried to create a Bajrangi Bhaijaan clone with Sallu Bhai playing a clumsy man-child paired with yet another young child. Even though the movie had a good message, unfortunately, the execution lacked the required finesse to pull off such an act. The music was good and I did love the way Sallu portrayed the character, but the overly emotional plot and a jumbled climax made this one a complete dud. I hope Salman has better luck with his upcoming movie, Tiger Zinda Hai.

8. Judwa 2


When the title of the movie has "2" at the end of it, it is generally assumed that it is a sequel and will continue the plot of the first movie, but in this case, the "2" actually means a reboot. Varun Dhawan tries way too hard to fit into the shoes of Salman, but fails drastically. Jaqueline Fernandez, on the other hand, can't act and that's a well-known fact.

This sequel/reboot has the same songs, the same story, same punch lines and even the acting is copied (although poorly) from the original. It is as if Nicholas Sparks copied the first Harry Potter book word to word and got it published as his own work. It makes no sense.

7. Jab Harry Met Sejal


You obviously expect a lot from a movie which has a title resembling a Hollywood classic, When Harry Met Sally, and also has a slightly similar plot, but then you watch the movie and all your expectations come crashing to the ground.

The movie starts on a good note, but only gets worse and more clichéd with every passing second. And how many times does Shah Rukh Khan want the audience to watch him wooing a younger girl in Europe? Once was enough, I guess. The movie does have some good light-hearted moments, but otherwise the entire plot is a huge mess. Imtiaz Ali has surely lost his mojo and I hope he gets it back.

6. Noor


Bollywood needs to understand that a women-centric movie will do wonders with the critics and the box office only if it's a good movie, as merely casting an A-list actress won't do the trick. Sadly, with Noor, the makers of the film have tried to do just that.

Sonakshi Sinha does a decent job, but a movie which claims to revolve around professional journalism fails to take itself seriously. The first half feels like a rom-com and the second half becomes a disjointed mess. One might have assumed that Sonakshi would learn from the debacle that was Akira, but I guess not.

5. Raabta


I didn't want to put Raabta on this list just because of the fact that I loved Sushant Singh Rajput in it. He did an excellent job, but sadly, one good performance can't save a film from its inevitable demise.

Raabta comprises a talented cast, beautiful locales and decent visuals. On paper, at least, it looks gold, but unfortunately, that's not the case otherwise. It is far from it actually. The theme of reincarnation has entertained audiences previously as well, but a poor script and plot makes it impossible for viewers to connect with the characters, and the flashback scenes are plain senseless.

4. Munna Michael


Poor acting, a lacklustre script and cringe-worthy dialogues are all trademarks of a Tiger Shroff film. If you thought he would opt out for something different this time around, then you were obviously wrong. With a plot as childish as of Baby's Day Out and over-the-top acting, Munna Michael never had a chance to begin with. I will remember this movie for trying to ruin Michael Jackson's memory and for making Nawazuddin Siddiqui look foolish.

3. Haseena Parkar


I am quite sure no one is as obsessed with Dawood Ibrahim as Bollywood is. Gangster movies like Rakht Charitra, Gangs of Wasseypur and Company are gems, but Haseena Parkar revisits the formula that has been used time and again.

A good gangster movie requires a talented cast – Rakht Charitra had Vivek Oberoi, Gangs of Wasseypur had Manoj Bajpaaye and Nawazuddin, while Company had Ajay Devgan. Haseena Parkar, on the other hand, has Shraddha Kapoor whose acting chops are and will always remain questionable. With forgettable acting performances and a single-pronged approach to the story, this is yet another skeleton in Shraddha's closet.

2. Half Girlfriend


Mohit Suri has quite a few gems to his name such as Murder 2, Kalyug and Ek Villian, to name a few. Half Girlfriend, considering the cast involved, was expected to be at least a decent movie if not one of Mohit's best. But with a half-baked plot and stretched duration, Half Girlfriend turns out to be not even half of a decent movie.

If Arjun Kapoor was a Harley Davidson in 2 States, he is a 70's Vespa in Half Girlfriend. Keep in mind that this is Shraddha's second movie in this list. That says a lot about her acting talent. Mohit has always been able to keep his movies afloat with a good soundtrack, but this rusty ship was fated to sink.

1. Aa Gaya Hero


It would be so much better if we would just let the 90s be and move on to another decade. No matter how much you like him, sadly, Govinda has yet to set foot in the 21st century. Aa Gaya Hero was touted as Govinda's comeback film but it really should have been his "go back to the 90s" film.

The movie barely has a plot and is full of dialogues which will make you laugh not because it's good comedy, but because of the writers' sheer stupidity. Govinda does some of his signature steps, but that's the extent of it. This movie has some serious budget issues, which is quite evident while watching this movie. Aa Gaya Hero is a nightmare. I, for one, believe that watching this movie should become a competitive sport, those who are able to watch the entire movie should actually get a medal.

Here's hoping that Bollywood produces good movies with original and creative storylines in the coming year and maybe help us erase the horror that they unleashed upon us this year.

Happy New Year!
Facebook Conversations
COMMENTS (2)
Comments are moderated and generally will be posted if they are on-topic and not abusive.
For more information, please see our Comments FAQ