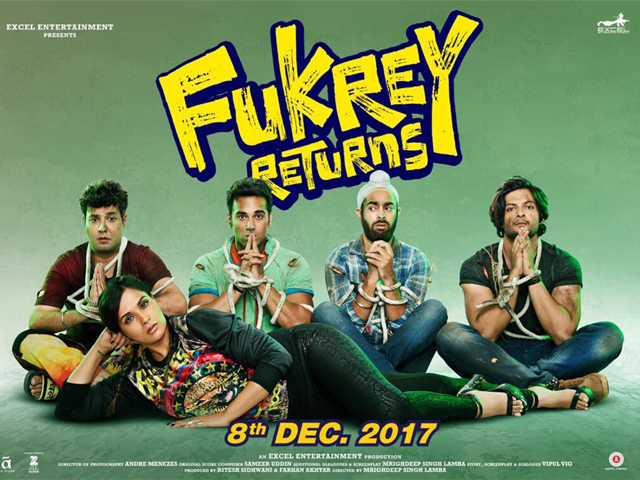 ---
'Fukrey returns' is neither logical nor thought-provoking, but is definitely an all-out entertainer
With its fresh and gooni-sh humour, political satire and natural dialogues, the writers deserve to be appreciated.
---
Bollywood is now an industry that is strong enough to experiment with quirky genre films. At times, these experiments do not seem to make any sense whatsoever, yet sometimes, they turn out to be immensely popular and successful with audiences.

Fukrey (2013) was one such instance, where a film launched with four comparatively new faces and no hype prior to its release, and managed to wow audiences and attract them to movie theatres.

The film became a sleeper hit as well as a cult classic, despite its hard to believe storyline and faulty narration. This success is why, four years later, the team is out with the second instalment to the film, titled Fukrey Returns, with significant buzz attached to its release this time.

Let's see what Fukrey Returns has to offer to its fans, critics and viewers.


The film starts one year after the events of the prequel. The quadruple of Hunny (Pulkit Samrat), Zafar (Ali Fazal), Lali (Manjot Singh) and Choocha (Varun Sharma) are seen busy doing what they do best – dreaming, flirting, repenting and singing.




Bholi Punjaban (Richa Chadha), who was sent to prison earlier, tries everything possible to walk free of the charges, yet nothing seems to work, leading her to call Minister Babulal Baatia and agreeing to pay him INR10 crores in exchange for 10 days of freedom. Once out of prison, she finds the four friends responsible for her imprisonment and makes a plan for them to execute – one that is also likely to land them into trouble.




One thing leads to another, and the resulting mess is what Fukrey Returns is all about. This time around, the movie surprisingly covers slightly more serious grounds, such as political injustice. The madness presented, however, needs to be witnessed in order to be believed.




When it comes to performances, Varun Sharma steals the show. He has been given some of the best dialogues of the film, which he delivers with utmost ease and conviction, looking like a true "choocha". His scenes with Richa Chadha, in particular, are hilarious and are bound to leave the audience in splits.

Pulkit Samrat, as usual, looks cool, stylish and confident, while Ali Fazal has limited scenes but is quite decent in all of them; his performance all together was very similar to what is was in Fukrey. The same goes for Manjot Singh, although he has some good lines this time.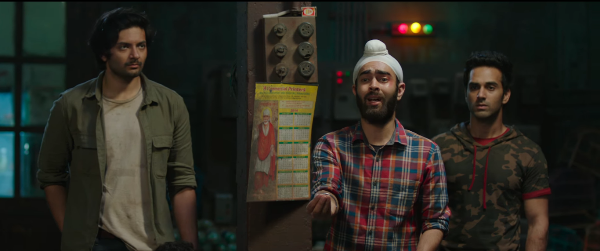 Richa Chadha is in full form, and is fierce and believable as the fiesty Bholi Punjaban, while Pankaj Tripathi, one of the finest actors from the lot, is very effective as Pandit. Rajiv Gupta, who has always proved to be amongst the most dedicated actors, shows another facet to his talent in Fukrey Returns, and is sure to leave an impact. Ishteyak Khan, on the other hand, who plays Tidda, is wasted on this venture.

With its fresh, entertaining and natural dialogues, the writers, Mrighdeep Singh Lamba and Vipul Vig, deserve to be appreciated. The former, who is also the director, does quite a good job on that front as well.

Fukrey Returns is a film that does not offer any logic or sense in its narrative and neither is it thought-provoking – it is simply an all-out entertainer. The film has goon-ish humour and political satire, but simply banks on silliness most of the time. The movie is thus a good way to pass the time, promising a good laugh and clean humour. Go for it if you want to have a good time with your friends, but if sensible cinema is what you are looking for, then be sure to skip this!


All photos: Screenshots
Facebook Conversations
COMMENTS
Comments are moderated and generally will be posted if they are on-topic and not abusive.
For more information, please see our Comments FAQ