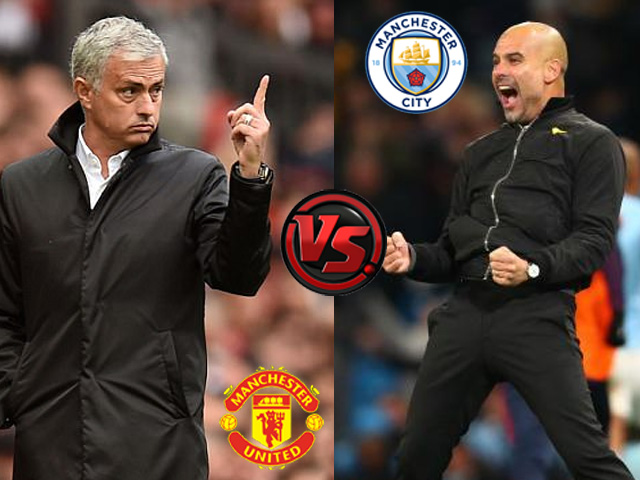 ---
Manchester United vs Manchester City, Jose Mourinho vs Pep Guardiola – Are you ready for this Sunday's Manchester Derby?
If there is one team which could come close to getting some points off Manchester City, it is Mourinho's Red Devils.
---
Football has seen many fierce rivalries and one such happens to be between Pep Guardiola and Jose Mourinho. The duo has locked horns quite a few times before and one can reasonably expect something out of the ordinary whenever they are up against each other.


Mourinho and Guardiola first clashed back in 2009 at San Siro with Inter Milan and FC Barcelona respectively, and since then, their rivalry has shown no signs of losing its aura. The weekend's Manchester Derby will offer yet another opportunity to see these two great managers on the touchline side by side at the historic Old Trafford stadium.

When it comes to style of play and tactical philosophy, both Guardiola and Mourinho have radically different ideologies. Guardiola relies on forward thinking and possession-based football, while Mourinho is more pragmatic in his approach which puts onus on getting the results rather than fretting over style.

One could say at the drop of a hat that Manchester City are by far the best team in the Premier League this season, and I can't imagine anyone being a stumbling block in their race towards the title. The brand of football they are playing is entertaining to watch, supplemented by a relentless attitude, which has worked to devastating effect this season so far.

If there is one team which could come close to getting some points off Manchester City, it is Mourinho's Red Devils, and Guardiola would be weary of this fact. City's theme of success is based upon their top-notch midfield which includes David Silva and Kevin De Bruyne, arguably the best players in the Premier League right now, who are on top of their game. With such a potent midfield behind their back, the strikers upfront know that sooner or later, a pass will carve up the opponents defence and present an opportunity to score which they hardly ever squander.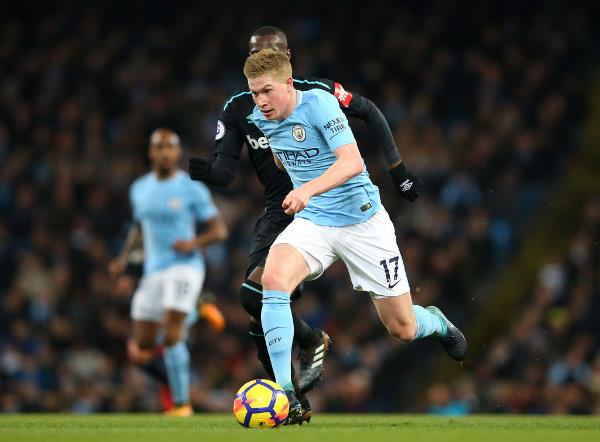 What's fascinating about this Man City side is that even when they are not at their best, they still tend to find a moment of magic to change the game on its head. City have not been exhilarating in the past few games but they still got the job done, making them a tough team to beat.

On the other hand, Manchester United have been playing well as well, however, they sit eight points behind City on the table and can't afford to let it stretch to 11 points heading into Christmas.

Mourinho has mostly relied on wearing teams down through a major chunk of the matches and then killing the game towards the end using the pace on the counter and players off the bench. Despite the recent dip in form, Romelu Lukaku has done quite well alongside Marcus Rashford and Anthony Martial, with the resurgence of Jesse Lingard being another valuable addition to their attacking fore.

While Mourinho has put a 3-4-1-2 formation in the recent fixtures, but with Paul Pogba serving a suspension, he is likely to revert to 4-2-3-1 with Lukaku supported by Martial and Rashford on the flanks. One can't say for sure what Mourinho has in mind, but this tactic could be one of the ideal case scenarios.

Pogba's suspension could not have come at a worse time for United as he has looked so good this season, with a visible improvement in his performance, in terms of leading United's offensive scheme and confidence on the ball, after every game.




The partnership between Nemanja Matic and Pogba in the middle of the park has been pivotal to United's success this season, and Pogba's absence will clearly be felt. United will have a stern test ahead of them if they are to keep City's midfield at bay at a time when they lack quality and fit central midfielders.




Earlier, Pogba had hoped for City's important players to get injured in order to aid United's title ambitions, but now in the most important game of the season, the Frenchman will be the one watching from the sidelines. Sooner or later, karma comes for everyone, Pogba.

It is safe to assume that City will not tinker with the tactics that have worked for them up till now, and it will be down to Mourinho to get round his arch rival, Guardiola, through a carefully executed plan.

Furthermore, United's tendency to sit deep, especially against the top six clubs in Premier League, has invited criticism and rightly so. Keeping in mind United's history of attacking football and the competitive nature of the league, such a tactic is more likely to be negative, while also diminishing the chances of winning the league. But the first 20 minutes of United's high pressing against Arsenal last weekend is something the fans want to see more of rather than the infamous parking the bus strategy.

It would be in better interest of the home side to deploy relatively open tactics rather than camping at the back, because that is going to play into the hands of City, who have proved that they can unlock any defence through intricate passing.

United will have adequate defensive cover with a 4-2-3-1 and enough attacking thrust to exploit spaces City leaves behind at the back moving forward. Also, United have a lot less to worry about at the back when you have a goalkeeper like David De Gea in between the sticks, who makes some outrageous saves week in week out.



David De Gea could save a PDF file on a calculator.

— hash (@hashim0307) December 2, 2017
Things David De Gea could save #ARSMUN pic.twitter.com/DgzdPKQmYK

— Wark Woldbridge (@WarkWoldbridge) December 2, 2017


https://twitter.com/sadzzilla/status/937202322534518784

Moreover, the pace in United's forward line could trouble Vincent Kompany, Nicolás Otamendi and Eliaquim Mangala with the absence of the in-form John Stones also being a major factor. The Blues have struggled to defend set pieces, and the past two games, against Southampton and West Ham, have highlighted this particular area of weakness significantly which is something Mourinho's men could exploit on Sunday.

A slip-up from City on Sunday could provide other teams with a sniff of an opportunity to stay in contention for the title, but the Blues will be a tough cookie to crack for the home side without a shadow of a doubt.