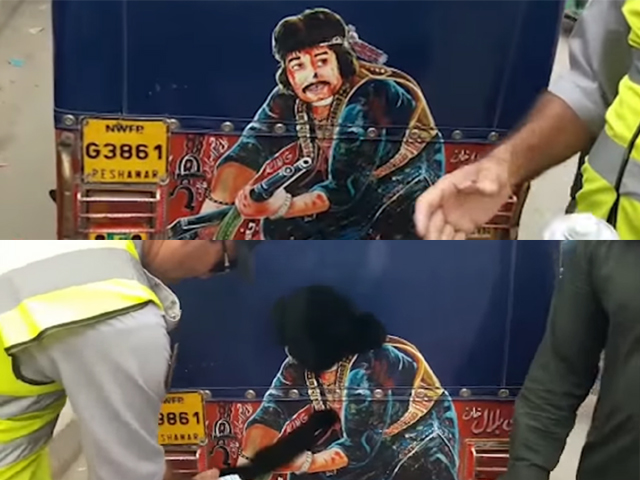 ---
In Pakistan, we tackle gun violence by banning... art?
Our truck art depicts our culture and society. The depiction of guns and drugs just means we have a bigger problem
---
'Art on wheels' has become a normal sight for locals in Pakistan. The exterior of our trucks and rickshaws are covered with colourfully-ornamented calligraphy, prose and paintings. Due to its popularity, this particular art has expanded from vehicles to almost everything else; the interior of restaurants, clothing, bags, accessories, souvenirs, and crockery, amongst other things.

On one hand, the art depicts our beautiful valleys and literature, and promotes patriotism as well. On the other, it depicts the not-so-beautiful, yet honest aspect of our society.




Art, whether in the form of our murals or our films, depicts society in both its best and worst forms, which is why it includes violence, and even nudity, to a certain extent.

Recently, a child in Peshawar took his own life while playing with a gun at home, and according to his family, he was inspired by the violent images seen in our art. This led the Khyber Pakhtunkhwa (K-P) government to start a campaign against such art which "glamourises" drugs and guns. The issue has been raised that exposure to such images can have a negative influence, especially on children.

According to Yasir Afridi, the Senior Superintendent of Police (SSP),

"The campaign is aimed at keeping the community safe from the effects of the gun and drug culture. The police are asking drivers to replace such posters with those promoting patriotism or community awareness."

The police officers are stopping vehicles with art on them and spray painting over the parts they find "indecent". Videos emerged soon after the campaign, with one showing a police officer pointing at a women's cleavage in the painting and then blacking it out – followed by blacking out her entire face – while another shows the officer blacking out a man's face and guns.


A MUCH NEEDED operation launched by Traffic Warden against Trucks in #Peshawar with immoral images after a successful operation was launched against Ricksaws#KPKUpdates pic.twitter.com/4WJQsOh3jf

— KPK Updates (@KPKUpdates) November 16, 2017


https://www.youtube.com/watch?time_continue=14&v=uQExfvttJ9A

The relationship between human behaviour and art is certainly complex. But does art actually influence human behaviour? Does it make people aggressive? This debate has been going on for a while but there is no definite answer to that question. Some psychologists are certain that violent art can have a negative impact on people, while others aren't convinced. Nobody is certain if art is the reason behind violence, or whether violent people are attracted towards violent art in the first place.

One contradiction to this belief would be Japanese TV and movies, which are known for their extremely graphic violence, yet the country has a very low crime rate. Is it because they have strict rules? Or because their citizens abide by those rules?

Although this drive is a first step towards promoting peace in our society, and it has received positive reviews from the citizens, it raises a very crucial question: Is this an attack on art and culture? Should we allow the government to censor art?

Should we allow the government to dictate what is entertainment for us, or should we decide it for ourselves? Pakistan is, at least on paper, a free country. We, the citizens, should define what constitutes as art and entertainment for us.

This drive is aimed at tackling our ideology by attacking our freedom of speech. By banning art, we are steering away from the main issue – our mind-set.

We aren't asking the important questions, such as why the minor had access to a gun?

Why wasn't the gun locked? Why was it just lying around, and not hidden away somewhere safe?

Why do people like Shahrukh Jatoi need guns?

What are the gun laws in our country? And if we have gun laws, why aren't they implemented?

Why are convicts set free and not punished?

By banning "violent art", we can't save the Shahzeb Khans and Sabeen Mahmuds of our country from dying due to gun violence. We can't even control gun violence. And we definitely can't save our children, men and women from being raped or assaulted.

The art on our trucks and rickshaws depicts our culture and society. The depiction of guns and drugs in these illustrations just means we have a bigger problem in our society that we aren't doing anything about.

Maybe instead of setting the influential criminals of our society free, we should penalise them and create a lesson for the rest. Maybe we should focus on implementing stricter regulations on the rampant acts of violence in the country. If we do this, maybe then we might be able to see a difference in our art.
Facebook Conversations
COMMENTS (5)
Comments are moderated and generally will be posted if they are on-topic and not abusive.
For more information, please see our Comments FAQ