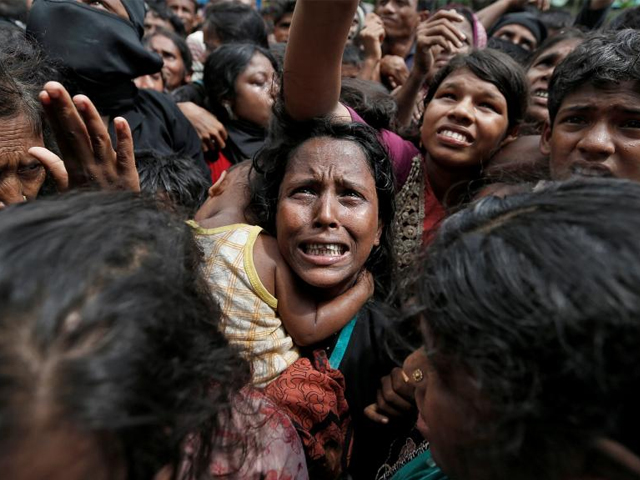 ---
The Iraq intervention ensued and we said "never again" – yet here we are, silent, when it comes to intervention in Myanmar and Yemen
We deem the lives of one group worth less than those of another; worth less coverage, less attention and less sympathy
---
"The world has abandoned us," was the message that was sent loud and clear last year to the global community from the victims of Aleppo, Syria. There were clear reports of chemical attacks against inhabitants, including children, perpetrated by the Syrian regime. Yet, the international community watched helplessly as rebel-held parts of Aleppo, the largest town in Syria, descended into a humanitarian catastrophe.

While the crisis received reasonable coverage in international media, it failed to mobilise large-scale demonstrations in western capital cities. There were more people gathered in front of the French Embassy to mock the burkini ban than there were to condemn the massacre in Syria. Street protests denouncing Aleppo's plight were confined to small groups, which often included exiled Syrians and human rights activists. The international community was too hamstrung by its own power divisions to deal with the emerging crisis.

A year since the fall of Aleppo, in the face of new war-induced humanitarian emergencies, the international community's position as a bystander persists. Recent months have seen a brutal crackdown led by the Burmese army against the Rohingya, a Muslim minority living in the north-west of predominantly Buddhist Myanmar. Buddhist nationalists and the country's army have targeted the Rohingya for decades because of their religion.

The latest crackdown against the Muslim minority was triggered on August 25th, when a Rohingya insurgent group attacked more than two dozen security sites and killed 12 people. The army has responded with indiscriminate violence, from burning down entire villages to killing and raping, senseless violence that has resulted in an unprecedented flow of refugees across the border. Moreover, the army blocked United Nation (UN) agencies from delivering food, water or medicine to the affected areas, leaving an estimated 250,000 people without regular access to food. Myanmar's treatment of its Muslim Rohingya minority appears to be a textbook example of ethnic cleansing, a concept that should be inconceivable in the 21st century.

Yet, there is another disaster that not many are talking about, one that was recently determined as the world's largest humanitarian crisis by the UN – Yemen. Since becoming the site of a proxy war in March 2015, 10,000 people have been killed with 3 million displaced. Yemen is also in the middle of a devastating cholera outbreak that has killed at least 2,000 people since April this year.

When it comes to humanitarian failures, there is no shortage of instances where, either lack of empathy, or poorly deliberated intervention, has failed humanity. Each time a humanitarian intervention failure surfaces, the default response is "never again". Yet, each subsequent disaster surpasses the previous one in terms of magnitude and inadequacy of the response.

This brings us to the complexities surrounding the debate over intervention, which has always been highly polarised. On one hand, proponents of intervention stress on human rights as the ultimate justification to intervene. One of the most prominent advocates for interventionist humanitarianism has been Bernard Kouchner, a French politician and co-founder of Medecins Sans Frontieres (MSF). He argued that if human rights were being violated anywhere, then there was a universal duty and a legally binding right to interfere. On the other hand, those who oppose intervention primarily base their argument on the violation of state sovereignty in the event of an intervention.

After the notorious failures of non-intervention in Rwanda and Bosnia, the pro-intervention camp gained legitimacy, which explains the increased willingness of western powers' to intervene, as witnessed by NATO's intervention in Kosovo in 1999 and in Libya in 2011. However, with the notable failure of interventions in the name of the war on terror, the non-intervention group has clearly won.

Six years since Qaddafi was deposed, Libya today is torn by civil war, with different militant groups, including the Islamic State (IS), vying for state control. The inaction on part of the international community in response to the humanitarian crises in Syria, Yemen, and the Rohingya Muslims is therefore a product of past failures, growing public indifference and most importantly, western self-interest.

Humanitarian intervention has traditionally been shaped by geopolitical motivations. In the case of Rwanda in 1994, even images of bodies floating down a Rwandan river did not prove a catalyst for the US or international military intervention. Yet, in the case of the Iraq invasion, despite scant evidence of Saddam Hussein possessing weapons of mass destruction, humanitarian motives were exploited for military intervention.

Economic interests are equally fundamental. America and Britain export lucrative arms to the Saudi regime, which it uses in its bombing campaign against the Houthi rebels in Yemen. If the Saudis, with western support, can intervene to defend the government of Yemen, why should Russia not defend Bashar al Assad's regime in Syria?

In the wake of her country's campaign of systematic genocide against the Rohingya community, Aung San Suu Kyi, the leader of Myanmar, has drawn fierce criticism for being complicit in crimes against humanity. There have been calls for the revocation of her Nobel peace prize, whereas recipients of the same awards as her, including Bob Geldof, are retuning their awards as they do not desire to be associated with her. She is also likely to be stripped of the Freedom of the City of Oxford award, all due to her inaction over the crisis and her defence of Myanmar's treatment of Rohingya.

Yet, this is the same lady who was once widely championed by western leaders as a political saint who led the struggle from dictatorship to democracy in Myanmar. Danielle Lupton, a political scientist from Colgate University, explains the phenomenon,

"We keep ending up in this situation where we either idolise or demonise foreign leaders. In political psychology, there's this notion of confirmation bias: that you have a predetermined belief about either an outcome, or in this case, whether a person is good or bad."

That bias leads people to subconsciously select information that fits into those beliefs and to ignore facts that challenge them. That explains how Aung San Suu Kyi's supporters in the West seemed to ignore signs that she might not be a political saint after all.

Most of this comes down to a basic bias. Perhaps eurocentrism would be an accurate term for this. It represents a clear disparity – deeming the lives of one group of people to be worth less than those of another; worth less coverage, less attention and less sympathy. It may be that humanitarian intervention is simply too complex of an issue, but what is complex about saying civilians and human rights should be protected for all?
Facebook Conversations
COMMENTS (4)
Comments are moderated and generally will be posted if they are on-topic and not abusive.
For more information, please see our Comments FAQ