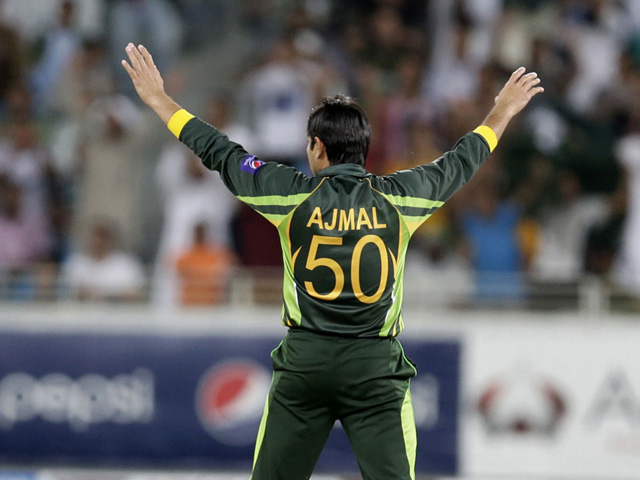 ---
Farewell, Saeed Ajmal! You made sure the world remembers you as the 'bowling magician'!
Misbah's go-to guy, the ace card, not-so-secret secret weapon, was soon sidelined and fresh talent replaced...
---
Epic. Magical. Defiant. Compact. Witty. Mighty effective. Actually, when one comes to think of it, words simply cannot describe what this man was in his prime days. As a crazy cricket fan, reminiscing those times when the magician himself bamboozled the opposition with his variety of epic spin-bowling is one way of satisfying one's own self.

Whenever I turn on the TV set, flip through channels and happen to run into highlights of a match featuring him, I stop. I just have to, every single time. The magic Saeed Ajmal was able to produce with just his fingers was simply mind-boggling, and to think the Pakistani off-spinner has announced retirement from all formats of cricket, honestly kills me. What I and many others out there are unable to register in our minds is the fact that not only cricket but life too is moving at a rate that is simply unimaginable. The ones we once called heroes are slowly but surely hanging their boots.




But it was different with Saeed Bhai. Had his action not been reported back in 2014, we would have seen more of the magician himself on the big stage. However, everyone soon found out and the wit and confusion of the Ajmal of 2012 that single-handedly stunned England in the famous whitewash back in the day, slowly faded away. Post the illegal action dilemma, the code was finally cracked. The mystery behind the magician was figured out. Ajmal was never the same again. Whom the batsmen once feared, was being hit for sixes all over the park. As he went onto say soon after, Ajmal's statement could not have been truer:

"Ground has been pulled from under my feet."

Who was once Misbahul Haq's go-to guy, the ace card, the not-so-secret secret weapon, was soon sidelined, and before one even realised, fresh talent eventually replaced experience.




Ajmal is one of the many victims of the issue of 'illegal bowling action'. As his performances suggest, the little advantage the magician had with his earlier action soon diminished with his modified round-arm approach.




The 40-year-old, hailing from Faisalabad, came late onto the international scene, but once he did, he made sure the world would remember his name. And that is exactly how it turned out. Ajmal was termed as one of the finest bowlers to use the "doosra" so effectively. His odd action combined with his street smart character was able to instil confusion in the hearts and minds of countless batsmen that only ended up either getting trapped leg before or having their stumps disturbed, in the process of reading him.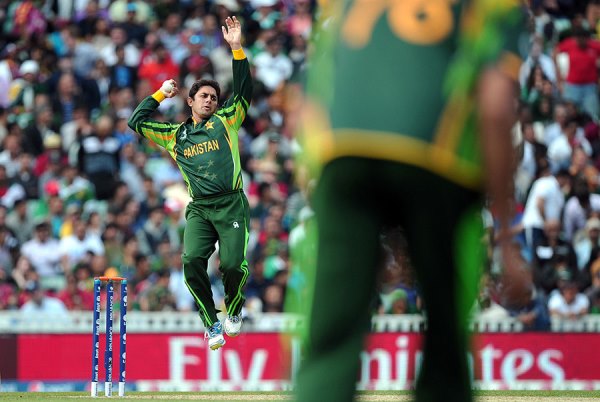 Ajmal represented Pakistan in 35 Tests, bagging 178 wickets at a strike rate of 65.1 and an average of 28.10. He played 113 ODIs for Pakistan, most of them before he was asked to remodel his action, and bagged 184 wickets at an average of 22.72 with a strike rate of 32.6. In T20Is, he boasts 85 wickets in 64 matches.

Giving credit where due, one has to appreciate and applaud his decision to retire at a respectable age, considering how some of our players refuse to retire even when they have nothing left to offer to the gentlemen's game. According to Ajmal,

"I am not doing this under any pressure from anyone. This is my own decision. I have turned 40 now, I had to leave cricket one day, so I thought I should announce my retirement since the matches are being broadcasted live."

Now that everything is done and dusted, one can only look back and relive the countless memories Saeed Bhai gave us, and wish that somehow, someday, Pakistan is able to produce another spinner like Ajmal. Till then, thank you and farewell, Ajmal!

[poll id="776"]
Facebook Conversations
COMMENTS (1)
Comments are moderated and generally will be posted if they are on-topic and not abusive.
For more information, please see our Comments FAQ