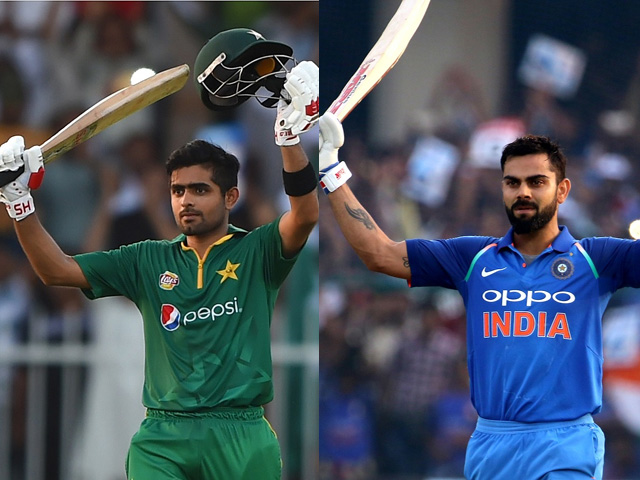 ---
His name is Babar Azam, not Virat Kohli
We did the same and compared Sohaib Maqsood by calling him the next Inzamamul Haq. Today, he is not even in the squad.
---
In the land known to produce premium fast bowlers, a young schoolboy-like personality is making strides in the batting arena like we have never seen before. A staggering ODI average of 58.60 comes off so unique to us that it almost feels like this individual has been misplaced, and needs to return to the other side of the border. However, as astonishing as it may sound, this particular batsman is Pakistani indeed. His name is Babar Azam, not Virat Kohli.


Everything about Azam is abnormal to us. He is calm, he is consistent and he is physically fit to take as many singles as he may wish. That's not all, in fact, despite being Umar Akmal's first cousin, he somehow manages to not show a single trait of 'Akmalism' in him. For that alone, we salute him.

Azam had impressed me from the moment I first saw him play. He did something special as soon as he stepped on to the crease to bat for the very first time in the innings. He picked up a single immediately. This wasn't just any single; it was a controlled, sweetly timed tap in the gap for a single. He didn't do it once or twice but a couple of hundred times over the course of his career. For those who follow cricket closely, they knew immediately that a gem has been discovered. The quality of the batsman lies in the ability to pick gaps as consistently as possible, not in glory shots.




Azam's popularity skyrocketed after his three consecutive ODI centuries against the West Indies in UAE in 2016. It may be argued that the team West Indies sent in 2016 was rather weak in every aspect of the game, but scoring three consecutive ODI centuries against any opposition takes some phenomenal talent.




The rise in popularity meant the inevitable comparison. Pakistanis like to compare talented newcomers to legendary cricketers. Hence, everyone here jumped on the bandwagon and started comparing Azam to Kohli.

Throughout my reflection on Azam, I hope it can be seen that I never compared him to Kohli; simply because he is not Virat Kohli, he is Babar Azam, a young promising talent of Pakistan who has a long way to go in his career to prove himself. Kohli, on the other hand, is a high-class pedigree of his own. Even though Azam has all the potential to reach the heights Kohli has reached, but let's not jump ahead of ourselves here.

This isn't the first time we are guilty of diverting a young talent's focus by absurd comparisons. We did this to Sohaib Maqsood by calling him the next Inzamamul Haq. Today, he is not even in the squad. We did the same to Umar Akmal by comparing him to Kohli. Today, we only see him holding press conferences. The list goes on but rarely did we see a promising talent live up to the comparison fans had drawn way too early.

The road ahead for Azam is not all roses and sunshine. He has been heavily criticised for his failure in Test cricket and rightly so. To make his presence known to the world, Azam must step up his game in the purest form of cricket, which is Test cricket. Another facet of the game that he needs to improve at is the ability to hit the big shots. While I admire his skills to pick singles frequently, the modern game demands a slightly higher strike rate.




Before we ruin Azam's career through comparisons, let us all give him some freedom to be himself first. He can only succeed in the cricket world if he stays true to himself and not try to become an imitation of someone else, just ask Ahmed Shehzad.