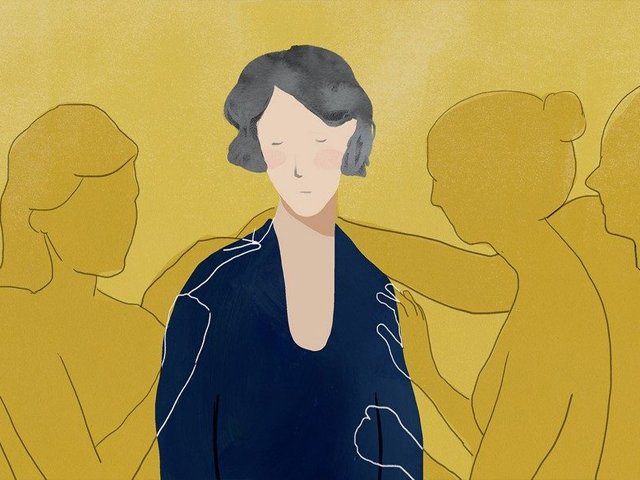 ---
When I lost my father and society lost its empathy
These 4 months, 10 days have been long and testing for us, and the lack of empathy from most people only made it worse
---
I would like to talk about something I feel very strongly about – empathy, or its lack thereof. Before I elaborate, let me tell you why I feel so strongly about it.

My father was diagnosed with liver cirrhosis in April this year. In a span of a few weeks, I watched my strong, independent, confident father deteriorate in front of my eyes. We tried everything to try and find a cure but the disease had spread too far.

Abbu left us a few months ago, in August. He was the backbone of our family and his death is something we are still coming to terms with very slowly, as it's hard to accept that he's no longer with us.

The past few months have probably been the toughest for us as a family – I think the word 'shattered' best describes our state of mind and self. But I feel that what made matters worse was the general lack of empathy from most people.

We always talk about being kind, generous and inculcating good etiquettes in our kids. But somewhere along the way, we have forgotten how to be compassionate. We don't know how to be there for people when they need us. I know everyone is busy with their own lives, but we forget that just a minute of our time can literally breathe life into someone going through a tough time.

I am not going to lie or pretend to be better than other people, as I too have most probably also not been aware of how my words and actions have affected people in the past, especially those who might have required extra compassion, and may have done or said things that seemed apathetic. But I feel that is why it is important that we talk about this issue in order to learn what works and what doesn't.

Don'ts:

1) Don't make light of anyone's situation – what they are going through might be a lot tougher than you can imagine.

2) If you don't have anything helpful to say, just listen. Sometimes people going through a tough time just need to talk about the situation.

3) Try not to use clichéd phrases that mean nothing in reality. Please dig deeper and be more personal.

"Hang in there"

Hang in where? Where am I going? What does this even mean?

"Be strong"

Easier said than done. Also, why would anyone opt to be weak?

"There is nothing I can say that will make you feel better"

Really? Why don't you try? Please make an effort; saying anything is better than saying nothing. That is all that is required, no one expects you to magically fix everything.

4) Don't offer to help if you don't mean it. So many times people say "let me know if I can help", but when you try to ask them to help, they start hemming and hawing. Don't offer something that you can't deliver.

5) Don't make empty excuses for not being there, such as being busy with work or family life. To a grief-stricken person, this means nothing. They are dealing with so much already; they don't have the time to care about why you aren't there for them. It's also funny how the very same people have time to post pictures on Facebook but are too busy to message or call, let alone show up.

6) Don't send a standard condolence message, especially if you know the family well. Take the time to write something personal. I will always remember the people who shared memories and anecdotes about my father. At the end of the day, that's all we have left – good words spoken about your loved ones.

7) Don't treat the condolence process like there's a box that you need to tick. If you're a close friend, check in with the family occasionally to see how they're doing.

8) Don't wait too long to condole. In my case, some family members and friends took very long to get in touch, the general excuse being that they didn't know what to say. Most people don't know what to say, but not saying anything is worse than saying the wrong thing.

9) Don't take someone's grief too lightly. No one can truly understand what a family goes through when they lose someone. Sometimes it takes weeks, even months or years, before they can resume normal life. I wish life would bounce back to normal, but it really doesn't. So be careful before asking them out to dinners, play dates, etc.

10) Please do not dress up when you visit for condolence, whether you visit after a few days or a month later. I know it's everyone's personal choice, however, I think it's distasteful to dress in your best lawn outfits and wear lots of make up when the family you are visiting is mourning an irreparable loss.

11) Don't give up easily. I know a lot of people who tried to call me when I wasn't ready to talk and eventually gave up after a couple of tries. A better approach would be to leave a message and wait for them to get back to you.

Do's:

1) Take out some time and check in regularly, even if it's just a message.

2) Visit the patient, but take into consideration the needs of the family. We always welcomed visitors but in the end, when abbu got weaker, we didn't want to exhaust him further. What was disappointing is that some people took it the wrong way and got upset without considering the situation from his or our view.

3) Please, if you can, do make it to the funeral. My father used to say,

"Everyone rushes to be with you during good times, but the ones who are with you during the tough times are your true friends."

4) Please keep in mind that certain decorum should be maintained when attending a funeral prayer:

- Try and be punctual

- Remember that an entire family is mourning, so be mindful of the conversations you have, and keep in mind the sombre mood. A relative of mine asked my sister how she maintains her figure! Is this the kind of talk during a funeral appropriate in any part of the world?

- Dress appropriately. I will not forget the ladies who came clad in designer lawn and perfectly blow-dried hair

- Do not take pictures, or worse selfies, during the funeral. Whatever your reason maybe, it's just not right

- Please keep in mind that the family has just put a loved one to rest. Don't expect them to wait on you or be gracious hosts. A relative of mine asked my mom when lunch would be served and once served, asked if there would be something other than rice, as she was diabetic.

5) If you hear of someone's passing away, please inform as many people as you can, especially common friends, even if they are not in the same city. Not only will they be there for that family in their time of need, but it's also really painful for the family to be asked months after about the health of the deceased. I still have people asking me about my father's health and recovery.

6) Do drop in and bring food, medicines or anything that might comfort the patient or their family. If you want to bring something for the patient to eat, ask the family about his or her diet so that you don't bring something that they can't have. Lots of people would bring juice for my diabetic father. Moreover, after a family endures a tragedy, home-cooked meals might not be something on their to-do list. If possible, do drop off meals for the family.

7) Medical care is expensive. If you're close to the family, ask them if they need financial help. In most cases, they will refuse, but nonetheless, your offer will mean a lot. My friend's mother was hospitalised for long durations and struggled financially towards the end of her admission. According to her, even if all the relatives had pitched in a small amount, it would have helped us greatly.

8) Do visit the family to offer condolence and please make dua (prayer) for the person who has left the world. Saying a prayer not only helps the deceased, but also the family.

9) Respect the feelings and wishes of the family. In the first few days, neither I nor my mom could attend calls – we just couldn't bring ourselves to talk to people. Don't force people into a situation that makes them uncomfortable.

10) Do make an extra effort for someone who is in iddat (period of waiting). I see how lonely days have become for my mother, and a visitor helps the day pass more easily. Four months and 10 days is a very long period, and I wish people would make more of an effort.

My intention is not to point fingers or to hurt anyone, but I have been through a very rough time and am just sharing what could have made the situation better. These three months have been a very long and testing time for us and I wish people who claim to be there for us whenever made more of an effort.

Please don't get me wrong, we had some amazing friends and relatives that stood by us. I remain thankful to them and pray that I can do the same for others in similar situations.

At the end of the day, just really try and be there for the friend or relative going through a tragic loss. I will always be grateful to the people who called, messaged and visited us. I will always remember the people who listened, cried with me and gave me the tightest, most reassuring hugs.

Finally, I would really appreciate if you all could remember my father and say a little prayer for him. He was an amazing father and even better grandfather, and will always be the bravest, most generous man I have known. May he rest in eternal peace.