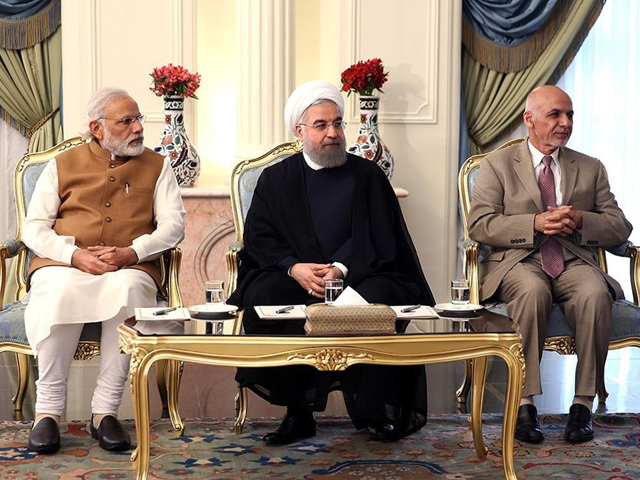 ---
Chabahar: Without Pakistan, there is no stability or growth in landlocked Afghanistan and Af-Indo relations
If India thinks Chabahar can rival the Gwadar port & China's OBOR project, then it's nurturing an overly narrow vision
---
We can bypass neither our history nor our geography – we have to live and deal with the consequences of both. Europe has a bitter history of war and dissensions among its member countries, with France and Germany, for instance, having had a long history of animosity and distrust. They fought many battles against each other, but by learning from their history and accepting their geography, they decided to come together for the common good of their people.

Today, South Asia resembles this pre-World War II era, with historical animosities defining the political wisdom of South Asian states. The distrust is so deep that countries are diverting their resources in an effort to undermine each other rather than spending to uplift their densely populated territories.

The opening of the Chabahar Port in Iran is touted more as a political victory than as an economic ease for India and Afghanistan. It has been projected as an attempt to redefine the geopolitics of the region.

On the face of it, the port is an alternative trade route for India and Afghanistan that moves further into Central Asia as well. It is billed as the beginning of a new era for the Indo-Afghan relationship; while in some quarters it is also projected as a solution to the problems plaguing the landlocked nation.

But the truth cannot remain veiled under a myth.

The opening of the Iranian port will undoubtedly reduce the dependency of Kabul on Islamabad for trade. But is it an alternative to the road route? Or can it be an alternative to land routes?

This brings us to the crucial point of addressing the political problem plaguing both Af-Pak and Indo-Pak relations – the need to realise that geo-economics and geopolitics are interlinked. The proponents of Chabahar should thus also start advocating for political solutions.

On one hand, if the US thinks that by pushing India deep into Afghanistan it can 'fix' Pakistan, then there is cause to be suspicious of the real intentions of the western world. On the other hand, if New Delhi thinks Chabahar can rival the Gwadar port and thereby can challenge China's One Belt One Road (OBOR) initiative, then it is nurturing an excessively narrow vision. By blindly aligning itself with the interests of the US, New Delhi will make a mistake. The South Asian democracy cannot afford to suffer from hubris at this point in time.

If India feels that Chabahar liberates it from the responsibility of seeking friendly relations with its Western neighbour, then it is denying itself a role in history. It is denying the subcontinent an opportunity to live in peace.

It is a stark truth. As long as India and Pakistan remain on unfriendly terms, there is no hope for stability or growth in the landlocked Afghanistan.

In its blind urge to be seen countering Beijing through an alliance with the US, New Delhi should not stop pursuing a political solution to the regional problem affecting the Indian subcontinent. Similarly, Pakistan cannot deny its role in creating uncertainty in the subcontinent – it is now old enough and stable enough to go beyond the old India-centric narrative.

Pakistan cannot rule out the benefit of free trade through the Wagah border, which is why it needs to liberate itself from the thought of New Delhi being an existential threat to it. It should also understand that it cannot put all its eggs in China's basket. If the proximity with Beijing brings an enduring assurance, the normalisation of the relationship with its eastern neighbour will bring the much needed stability that the Islamic Republic yearns for.

Pakistan has stressed that it does not regard trade between India and Afghanistan through Iran's Chabahar Port as an alliance against it. India will make a mistake if it thinks that Iran's economic corridor can be used to corner China or Pakistan.

The irony is that Chabahar does not give India much to manoeuvre vis-a-vis Pakistan. The port's functionality depends on the goodwill of Iran. Tehran has not only nurtured a good relationship with China and Afghanistan, it also promotes friendly relations with Islamabad and values its role in Afghanistan for peace and long-term stability. Though Washington might be aligning with New Delhi, the fact remains that New Delhi remains isolated in South Asia. Its obsession to undermine Pakistan and China has ultimately created greater instability in the region.

The bottom line is that New Delhi has to stabilise its relationship with Pakistan, as ultimately this is the only way out for Afghanistan.