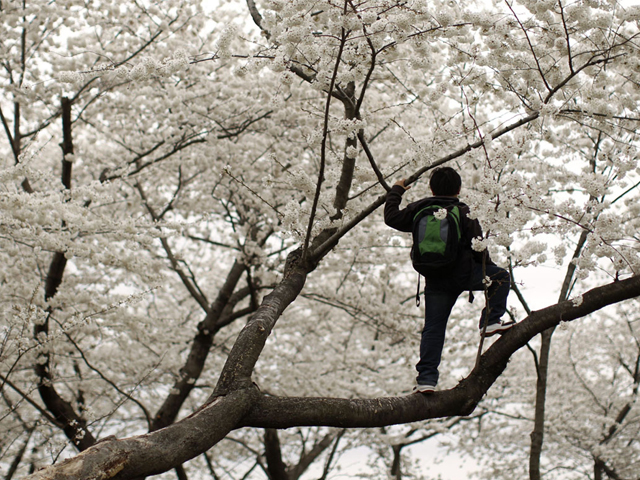 ---
All it takes is one man's belief
Abandoning all thought of his own safety; heaved his axe up and cut away what felt like a part of himself.
---
Amid the cherry blossom trees, 
Lies a secret so deep.
Lost in time,
Buried under dirt,
Who could have thought lay such a wonderful feat?
Eons ago,
When the land was just dirt,
A young man came to this land,
And saw it for what it was.
It was a promise for a future,
So full of life and joy.
He stood right there and gave his word,
That this land would never lack smiles.
He went on for ages – married and had kids,
Unbroken was his everlasting promise.
His work paid off and the trees broke through,
Up sprung the cherry blossoms,
The land aglow and anew. 
The land once barren,
Became a symbol of love.
Of promise, of undying commitment,
And of strong faith most of all.
As he lay there one day,
Gazing at the stars through the trees,
From the corner of his eyes,
He saw the most dreaded sight – he believed.
He heard the most gut-wrenching sound he could dream,
Of wood, fire and crackle,
Shouting through the smoke screen.
As his heart raced,
And his head pounded,
He felt like a part of him was in deep misery.
Abandoning all thoughts of his security,
He rushed towards the cursed reason for this,
Rushed to find the source of this bewitched sorcery.

Abandoning all thought of his own safety, 
Heaved his axe up and cut away what felt like a part of himself.
As the burnt trees fell,
Their embers engulfed him in full.
He strengthened his resolve and kept cutting on,
Fighting, till his last breath, to put the fire out.
Decades later,
As the wind rushes past the trees,
People admire the sight,
And look on in awe,
Wondering how this wonderful marvel came to be.
You can hear the man's words,
As loud as they can be,
Reaffirming our faith,
That all it takes is one man's belief.