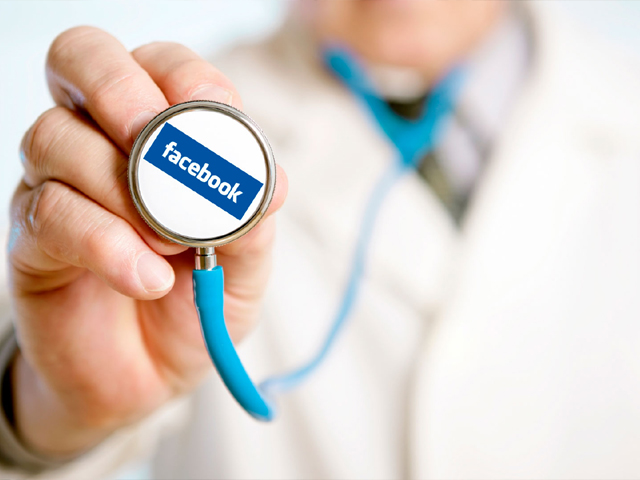 ---
Is social media blurring the line of ethics between a doctor and a patient?
The rights of a patient are not confined to the walls of the clinic or the hospital anymore.
---
Sharmeen Obaid Chinoy's tweets that claimed a doctor sent her sister a Facebook friend request a day after treating her, and called his behaviour 'harassment', have been met with a bag of mixed reactions.

Some commended her for taking up this issue, while others criticised her choice of words and for using her celebrity status for a personal cause. Since she has acknowledged that her choice of words was not appropriate, the focus should thus be shifted to the real problem, which is not about a lack of code of ethics.

Chinoy's story blaringly sounds the alarm of an issue which has been ignored for far too long, not only by the physician community but also by our society. At the core of this incident was a breach of patient privacy, but more importantly, the backlash it received revealed a lack of understanding and awareness about the sanctity of the doctor-patient relationship. Surprisingly, most people did not think that a patient feeling vulnerable by her own physician was a big deal, and that is the most concerning part for me.

By definition, once a doctor sees someone as a patient, a doctor-patient relationship is established. Doctor-patient interaction is wound by delicate threads of trust and faith which are the foundation of this fiduciary relationship. The sanctity of this relationship, though primarily the doctor's responsibility, is guarded by the patient's awareness and sense of value about it.

Universally accepted codes of professional ethics obligate a physician to refrain from divulging confidential information or misusing it for any personal purposes. Just like other norms of society, these codes of ethics have evolved as a result of increased patient awareness, especially over the last century.

The historical model of the doctor-patient relationship that was prevalent during the first half of the 20th century was quite paternalistic. Based on the assumption that all physicians' actions were carried out for the benefit of the patient, this model left the patients heavily dependent on the physician's professional authority. Patients' choices were not always taken into account and were easily over-ridden if they conflicted with the doctor's convictions about the diagnosis or treatment.

However, in the last 50 years or so, the doctor-patient relationship has evolved towards a shared decision-making model. This model respects the patient's involvement in their care and empowers them to analyse the risks and benefits of treatment and then make an informed decision. The doctor's role has been limited to sharing information and giving options for the treatment. It is entirely up to the patient to accept or reject these suggestions.

While this model has been implemented in most western societies and provides the foundation of modern medical ethics, we find ourselves teetering between a paternalistic and a shared decision-making approach in our society.

Physicians in our society still use their sense of authority and superiority over patients, as seen in the paternalistic model, and hence feel lackadaisical about infringing the rights of their patients. Lacking clear guidelines and training of medical ethics, doctors often walk a thin line. However, due to a lack of awareness among patients and an absence of an accountability mechanism, most ethical misconduct goes by unnoticed. While some would take it as a blessing in disguise, to me these are lost opportunities to improve ourselves.

To add to the complexity of this issue, the last five years have seen a sharp rise in the use of social media among physicians as well as patients across the globe. The rights of a patient are not confined to the walls of the clinic or the hospital anymore.

We can't deny that using social media in healthcare settings provides enormous benefits, especially in running awareness and prevention campaigns. At the same time, however, it also poses a risk to patient confidentiality and privacy. It also means less time for the doctors to spend with their families and less privacy for them as well.

Despite the pros and cons, the role of social media in medical practices is rising. With that rise comes a new challenge – defining the ethical standards of practicing medicine and doctor-patient interactions on social media. Previously, a conventional doctor-patient relationship had no space for personal interactions. However, the line between professionalism and personal space tends to blur, and sometimes even vanish, on social media.

Doctors using social media often face the dilemma of where to draw the line. What may be a genuine attempt to reach out and develop a rapport could easily be perceived differently by the patient. So we must clearly establish what is acceptable and what is not, so that the sense of responsibility and accountability surrounding this interaction is not lost.

Major physician organisations, such as the American College of Physicians and British Medical Association, have given their own guidelines to outline social media interaction between doctors and patients. These guidelines provide a working foundation to build and implement ethical standards while interacting with patients on social media. Physician organisations in our country have yet to develop a clear framework for doctor-patient interaction on social media, but pre-existing guidelines can be adopted without much change in the meanwhile.

It is time that a serious effort is made to add ethics to our medical education as well as to medical training. The physician community should also take charge of creating awareness among the public regarding their rights as patients and lead the effort to protect their rights.

It is the responsibility of the medical community to initiate a serious dialogue and perhaps develop a forum to address the complaints regarding the infringements of rights in doctor-patient relationships. The absence of such a platform keeps posing risks to physicians' reputations as well as the rights of the patient, and encourages the public to resort to unconventional ways of expressing their concerns over perceived violations.

It is incumbent on physicians to uphold their moral and ethical codes and protect their dignity by working to preserve the trust of their patients. At the end of the day, we as physicians are responsible for the well-being of our patients, and how can we fulfil that trust if our patients feel insecure?
Facebook Conversations
COMMENTS (1)
Comments are moderated and generally will be posted if they are on-topic and not abusive.
For more information, please see our Comments FAQ