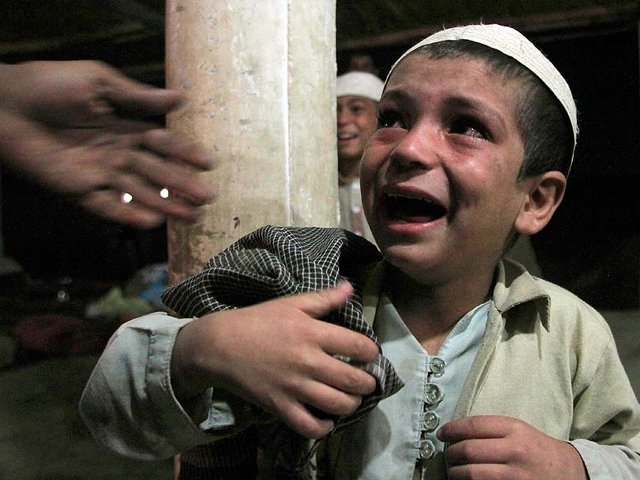 ---
Happy Children's Day, Pakistan! BTW, child sexual abuse increased by 10% since 2016
Every day, at least 11 children become victims of abuse, failed by the very society that is supposed to protect them.
---
Child abuse is one of the most prevalent social issues in Pakistan. A 2017 report suggests that there has been a 10% increase in cases since last year alone. The issue is only made worse by the fact that neither do we talk about its prevalence, nor do we take any preventive or rehabilitative measures to deal with it.

Topics of importance, such as child abuse, rape, sexual assault, honour killing, forced marriage or mental illness, all are considered taboo and often brushed under the rug. The fear of being shunned by society and victim-shamed is perhaps what keeps some of the victims from speaking up about the issue in the first place.

By now we've heard about countless instances of child sexual abuse, and yet every time we hear about a new one, we still fail to grasp why and how anyone could commit such a heinous act. Our silence, passivity and non- intervention are all shameful, considering every other day at least one new instance comes into light.

Today being Children's Day, here are just some of the most monstrous cases of child sexual abuse, this year alone, to highlight the ongoing suffering of the children in Pakistan.

1)  In January, a nine-year-old boy went to a shop in Karachi Company to buy some candy, where a man led the boy into a room and allegedly raped him while another man stood guard outside. The little boy's screams are what ultimately led to his rescue.

A reminder of how we continue to fail our children – what a way to start the new year.

2) In Gujranwala, this January, a 12-year-old girl who worked as a maid was left with severe burns on her face when her employer threw steaming hot tea over her face over a delay in service. A medical examination, conducted when she was taken to the hospital, revealed that the girl had been raped as well, following which police registered a case against her employer and his brother.

3) In April, a three-and-a-half-year-old girl was raped and then strangled to death, found dead near her home in Islamabad.

4) In the same month, an 11-year-old boy was raped and murdered in his village, with his body being found inside a shrine in Peshawar.

5) In May, a 12-year-old child was intoxicated and subsequently gang-raped, according to her father, at a house in Karachi where she worked as a maid. After a complaint was lodged, three out of the seven people accused were jailed under judicial remand.

6) Does Kasur ring a bell for anyone? The famous place where child pornography was rampant? You'd think after that horrific revelation that shook Pakistan, we'd probably be more aware of Kasur's problems and try to solve them. Sadly, this wasn't the case. What followed were more events of children being sexually assaulted. In January this year, a five-year-old girl from Kot Peeran was found gagged in an under-construction house, near her residence. She was raped, killed and just left there.

After this event, nine more children were raped and killed in Kasur. Out of them, six were reportedly girls and three were boys, all ranging from ages between five to 10. The last case was in July, where an eight-year-old left for her tuition centre but never came back. Her body was found in an under-construction house near Shah Inayat colony.

7) In Multan a 12-year-old girl was raped while cutting grass in a field in July. But the horror of this event does not end here. The panchayat that was held to hear this case in Rajpur area, announced for the alleged rapist's 17-year-old sister to be raped by the victim's brother. That girl was dragged in front of the panchayat and raped in front of her parents and her brother.

8) In Karachi, an eight-year-old boy was killed by his abuser for trying to resist being abused. He was stabbed and found in a garbage dump. Ironically, the child left home to celebrate Independence Day, but never got to return.

9) It's not just adults indulging in such a heinous act, it is children too. In August, a three-year-old was sexually assaulted, allegedly by her 15-year-old neighbour, Muhammad Akram. She was playing outside her house, when Akram came to her and offered her sweets. The child, who obviously didn't know any better, believed the boy who took her to a date farm and raped her.

10) In Karachi, a 10-year-old was raped and strangled to death. His body was left on the streets and the perpetrator is still at large.

11) A cleric was caught on camera molesting a child, who was then assaulted if he tried to resist. Not sure who was filming this or why, but it got in the hands of a journalist who shared this traumatic incident with the world via Twitter.


TRIGGER/CONTENT WARNING: Video purportedly shows Maulana Abdul Rauf Yazdani molesting a boy in his vehicle's backseat. Govt must take action pic.twitter.com/zBWE61v6h4

— Bilal Farooqi (@bilalfqi) October 20, 2017


12) Recently, a hair-raising incident was posted on the group Halaat Updates on Facebook. A man witnessed a child being molested by her servant, in the backseat of the car, while the driver kept looking ahead and driving normally. The man followed the car to the girl's house and reported the incident to the mother.




13) A nine-year-old boy worked at a barber shop, where he was the target of his employer. The boy went to work and was locked in a room and sexually assaulted multiple times. His employer also hit and threatened him to not tell anyone of this incident. The father of the boy later found out about this when the child refused to go to work the next day.

Every day, at least 11 children become victims of abuse. Every day, at least 11 children are failed by the very society that is supposed to protect them. Three districts of Punjab – Nankana Sahib, Sheikhupura, and Kasur – had recorded at least 111 cases till August of this year alone. Thus, this list is by no means exhaustive, and really, doesn't that make you feel sicker? That there are no less than these many cases taking place over the course of one day, along with countless others that remain untold and unreported? That there are children out there getting molested as you read this?



From the aforementioned list, we see how one cannot trust anyone in this world with their child. In some cases, the child cannot even trust his family because the one molesting or assaulting him/ her is from their family alone. Our children are being abused, and more often than not, it is the people we trust who are violating it.





On a personal level, we may feel like we are powerless to reduce or impact the scale of the problem, but perhaps what will suffice is ensuring that our children are raised in an environment where instead of feeling shame, they feel comfortable enough to tell us they are being abused. This is not much at all, but in a country like Pakistan, it is definitely a start.





All the child needs is a safe space, just one person who will not harm them, one person they can talk to. When a child tells you everything, they finally believe that it'll end; they believe that now they are finally safe. The minimum you can do is remove the person they are complaining about, be it a teacher, a friend or a family member, from their environment so they do not have to see or interact with their abusers on a regular basis.



If you know a child who has been through this, please get help. Take them to see a child psychologist. Many people think that getting rid of the person will make it all better. That is just a start, the child would need to learn how to cope and move on from that experience. Failing to do so will result in the child reliving that experience and that can result in many disorders. In case you need more information of how to deal with child abuse or how to talk to children about it, websites like Sahil and UNICEF offer a good start.

Our children are our responsibility – then why do we continue to place our honour above our children?

Given today's importance, let's vow to speak up and not just be bystanders while our children are being exploited. It's the least we need to do for them.