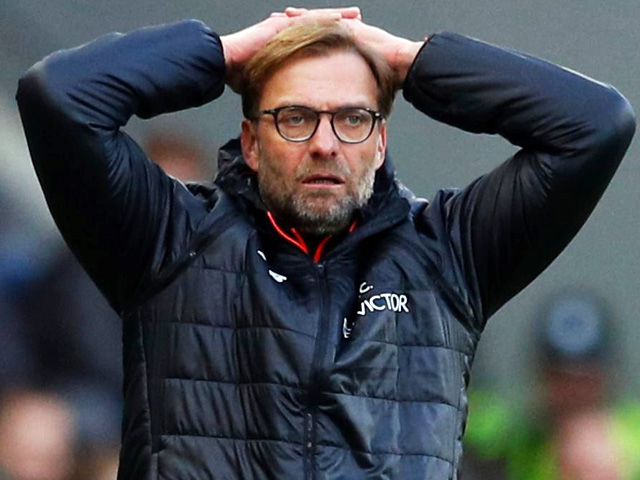 ---
Liverpool needs to tweak its defence, otherwise it'll be another trophy-less season, thanks to Jurgen Klopp
I'm left scratching my head when I see Brighton & Huddersfield defend better & look far more organised than Liverpool.
---
'Liverpool can't defend!' – This
just sums up Liverpool's situation over the past couple of seasons under Jürgen Klopp. Even watching them from a neutral perspective makes it so frustrating due to the repetitive nature of the mistakes which makes you wonder how the fans must feel after seeing their performances.
Klopp's obsession towards attacking and high tempo football, while clearly neglecting the defensive aspect of the game, has resulted in an end product which is a lot of chaff and not much wheat.


Nothing surprises me about Liverpool after their exploits in the first few fixtures at the start of the 2017-18 season. The worrying issue once again for the Merseyside club is that their defence is easily run-ragged whenever they are against better teams.

Similar to their previous campaign, their back-line is clueless and they are now increasingly suffering from not bringing in reinforcements to add stability to their defence. The added salt to their wounds is the long-term injury to right-back Nathaniel Clyne, which has already put a dent on the defensive resources of the side.

They might possess one of the fiercest and quickest attacking talent in the shape of the Philippe Coutinho, Mohamed Salah, Sadio Mané and Roberto Firmino, namely the 'Fab 4', but there is little point in Coutinho scoring worldies from outside the box only to concede easily at the back. Liverpool's only chance at dismantling opponents is through outscoring them, but that has not been the case largely due to their inefficiency in front of the goal post and failure to avail the chances they create.




Klopp's tactics of high-pressing football in the opponent's half can only work if they are compact at the back. Due to lack of coordination and leadership amongst the defenders, the defence is routinely caught out of shape leading to many issues such as rendering the off-side trap ineffective, dropping back on turnovers, positioning and so on. Jonjo Shelvey's through ball in Liverpool's match against Newcastle cut open their defence like a hot knife through butter, which was another instance of the Reds' backline caught napping.




Karius and Mignolet are decent goal-keepers but not world class, and with the amount of chances Liverpool concede, they are always under the quash taking too much heat. They might make five quality saves in a match and still go on to concede two goals.




Liverpool not only struggles to defend during open play but also has a massive problem while stopping opponents from scoring from set-pieces. The side simply does not seem drilled to snuff out any opportunities arising from a set piece. The near post marking is usually not perfect while they also allow players attacking the ball space between their setup which evidently makes it easier to score. Once again, it comes down to leadership; Liverpool lacks someone who can quickly organise them and make sure every position is covered.

I'm left scratching my head when I see Brighton and Huddersfield defend better and look far more organised defensively than Liverpool. Perhaps Klopp can take a lead out of their book?

It is unfathomable that despite two years into the role at Liverpool, Klopp has not been able to solve their defensive frailties. He had the chance to address those issues in the summer transfer window. He blew this opportunity by placing all his eggs in one basket by going for Southampton's Virgil van Dijk which, as things turned out, was a deal that never happened.




What baffles me is that why would you not have a back-up plan in place in case things don't work out, like they didn't in Virgil van Dijk's scenario? On top of that, rather than opting to sign a defensive option, Liverpool roped in Alex Oxlade-Chamberlain from Arsenal which hardly makes sense when you are so thin at the back.




Klopp's entire focus has been to get the best out of players playing in an attacking role which is evident from the fact that most of the players who have improved under him are the ones going forward, while there is not much to show for players' part of the defence.

The usual 4-3-3 formation has not worked with such woeful defending, perhaps the time is just right for Klopp to switch to plan B and introduce a new line of attack which somehow shields the individual weaknesses of the players and makes their defence less vulnerable.

Klopp can't just persist with the same formation and hope one day that everything would fall in place perfectly. Sorry Mr Manager, but that's not how it works!

The Reds could shift to a 4-2-3-1 as it gives more cover to the defence in the presence of two holding midfielders, meaning that either Emre Can or Georginio Wijnaldum will have to take on more of a deeper role. The advantage of this system is that Liverpool can easily shift into a 4-3-3 when they have possession.

While Matip and Lovren performed decently as a centre-back pairing when they were first used in that role, things have clearly gone south in the recent past. Both tend to lose the ball cheaply in key areas on the pitch while their aerial ability is also contentious. Lovren's performance has been particularly poor and his atrocious stint against Spurs at Wembley merely accentuated that and hence forced Klopp to take him off after half an hour of play.

Perhaps it's time to put Joel Gomez in place of Lovren and slot Trent Alexander Arnold in the side at the right-back position. Gomez did well at centre-back when Lovren was subbed off against Spurs, while Arnold has been impressive whenever he has played for the Reds this season.




There is no doubt about Liverpool's attacking prowess but if they are to be in the race for the title, the defence has to buckle up otherwise they will be staring down at another trophy-less season.
Facebook Conversations
COMMENTS (1)
Comments are moderated and generally will be posted if they are on-topic and not abusive.
For more information, please see our Comments FAQ