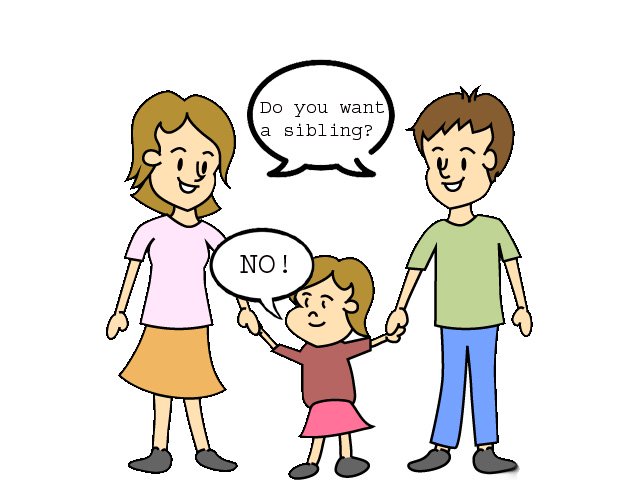 ---
8 things you can relate to if you're an only child like me – and no, I am not a spoiled brat
I have fewer restrictions than you lot out there who are still fighting with their siblings for the remote, or fries!
---
My parents were blessed with an only child, and trust me, and they will confirm, that child was more than enough for them. Life as an only child is pretty different and definitely interesting, but one of the things I always get asked is that,
"Do you feel alone?"

"Kesay rehti ho akelay? Bore nai hoti?"

(How do you live alone? Do you not get bored?)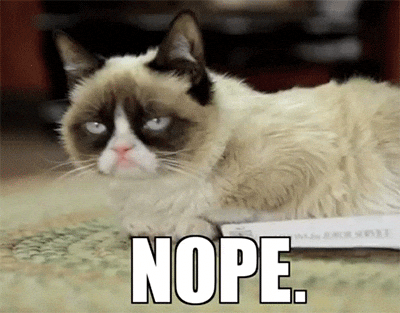 I don't get bored with my life; in fact, I love it! However, there are certain common occurrences in the life of an only child and I am sure a lot of only children can relate to them.

1. Only child? You're definitely spoiled.

If I could get a penny for the number of times people have mentioned to me that I am probably spoiled because I am an only child, I'd be swimming in a pool of money.

I do agree that as an only child, we do get a lot of things done our way, but when our parents are adamant about their decision, you can pull out the only child card and they still won't budge. My parents are dead set against pets in the house and I've always wanted a cat. I have used that card millions of times and my parents have time and again shred it to pieces.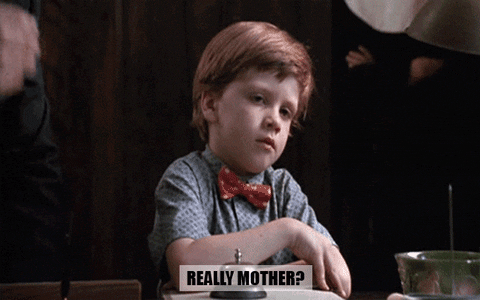 Sometimes, however, the card does do its magic.




2. The sibling drought

As a child, I've always felt like I needed someone to play with or talk to. My friends, who weren't the only offspring, always told me to count my blessing since having siblings was apparently a nightmare. I always thought I'd make a very good sister.

All my Eidis were never divided amongst anyone because I had no siblings. So I got the whole amount while all my friends gave me envious looks.

As I grew up, I realised I don't have a sharing bone in my body.


There's times where I wish I wasn't an only child but then I look back a realize all the times I would've had to share pizza....

— Heidi Vanderbeek (@hvanderbeek11) October 16, 2017


https://twitter.com/Muse_Rage/status/919795419109928960

Especially my parents, I can't share them. Any child, a cousin or relative, who even tried to get close to my parents, I felt rage. I need my parents' undivided attention. I literally have a picture that my parents show to everyone and laugh about, that shows me giving death glares to my cousin just because she was sitting in my father's lap.

I realised that I liked having my own room, my own space and I did not have to share it with anyone. And after a while, I did feel like this was a blessing.

Above everything else, I can't share my food. If you touch my fries, we will have problems.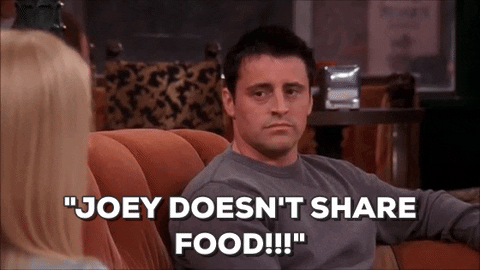 3. Attention seekers

If I am being honest, this is not restricted to being an only child. People like attention, especially from people they love. I've had social anxiety and I hated attention from strangers, but at home or with my friends, I need to be in the spotlight. And that has nothing to do with me being an only child but everything to do with me being a human being.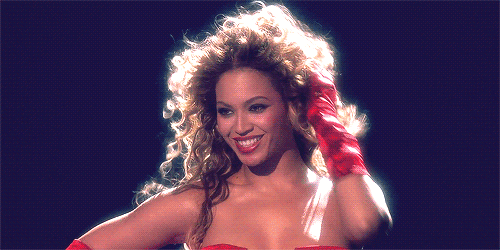 However, I will agree that we do get attention from our parents and relatives more often than not. If I am sick, if I have graduated, if I got into a college, or even if anything minute happened to me, I would get calls and messages from all my relatives. Their reason being:

" Ek hi toh hai, isko bi nai puchaingay toh kya karaingay?"

(She is the only child, if we don't even ask about her then what do we do?)
Being an only child:
-Advantage: you have all the attention
-Disadvantage: you have all the attention

Help me.

— J (@CampJakk) October 8, 2017


4. "I did it!"

I see so many people talking about how they blamed something they had done on their siblings and their parents grounded them for it. If I do something, my parents know it was me. Because, there is no one else to blame it on.


For sure an only child came up w the "dog ate my homework" defense. Other kids could just blame it on siblings 😂 🙏💖💖💖

— Xanadu Dead (@XanaduDead) September 20, 2017


5. Only woman for the job

People who have siblings generally face less pressure growing up since it is divided between them, except if you're the eldest, for which you have my sympathies. Now imagine being the eldest child forever. That is the life of an only child. That pressure never wavers off. Your parents have literally put all their eggs in one basket, all their hopes and all their dreams depend on this one child. Even though I have graduated today and working, I have a lot of pressure to excel. My parents may not be putting that on me but I do it to myself. Because I know, I am the only one who can make them proud.


The struggle being the only child is real guys. You got all the attention and pressure is on you. pic.twitter.com/9GWFcJbIXM

— Ijlatip (@IzzLatif) October 16, 2017


6. Your close relationship with your parents

Since we have no siblings to talk to, our parents are the closest to us. Sometimes they will act as siblings and friends, which will make you feel better. A lot of my friends back in school never understood why I was so close to my parents because they weren't. The times that they spent talking and confiding in their siblings and cousins, I spent with my parents. And honestly, I have pretty cool parents, so I am a pretty lucky girl.


Being an only child is honestly such a blessing. I'm so close with my parents I don't know what'd i do without them. ❤️

— Sarah Polzean (@SarahPolzean) October 8, 2017


Sometimes though, it might get too much.


My mum is writing a letter on my behalf to my former employer asking why I was fired. I'm 26. Jesus fucking christ. Only child problems.

— Aussie Luvtail (@AussieLuvtail) October 26, 2017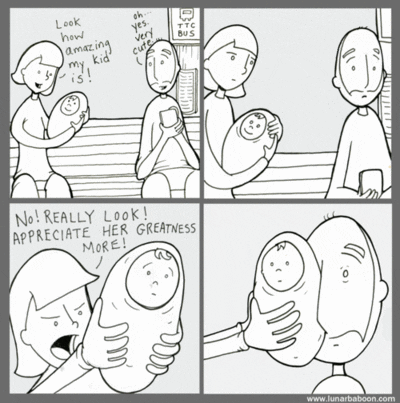 7. You get what you want

This is true to some extent but not always. Our parents do give in to our wishes more often than not.

Though, I would like to mention here that I am a huge Shah Rukh Khan fan since I was four-years-old. A year ago, my father arranged a meeting with him, and even though he could not go because of visa problems, he sent me. It was so sudden and I never believed that it would actually happen but it did. My first international trip alone was to meet SRK, arranged by my father.

Okay, maybe we do get what we want, but it is not always true because I am still without a pet.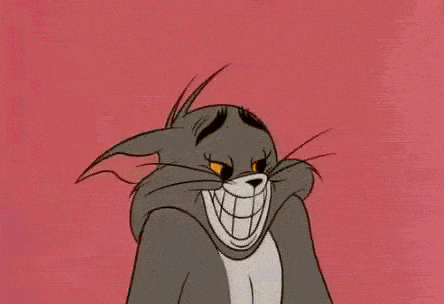 8. The surprised comments

Considering this is Pakistan and we breed like rabbits and do have a population problem, an only child is an anomaly. My parents have come across people who have been taken aback by the revelation that they only have one kid.

" Ek hi hai?"

(You have an only child?)

"Ek hi kyun ki aapnay? Bachay ki company honi chahiye thi!"

(Why did you only have one child? There should be another one for the child's company)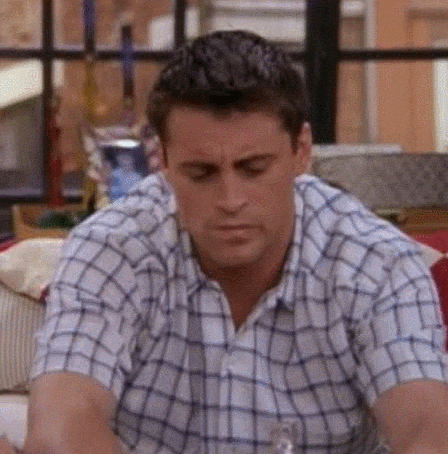 And when they found out that the one child they had was the wrong gender, I mean one child and a daughter, can my parents' lives get any worse?

"Ek hi hai? Beti hai?"

(One child and a daughter?)

"Betay ki koshish karlain."

(Try for a son)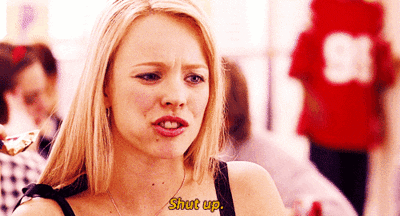 I like being an only child; I get all the attention and my personal space. I usually do get what I want.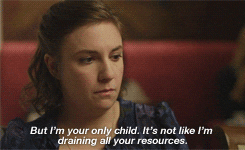 One of the reasons that I actually went for university in another city was because I wanted to get out of my bubble. I have always lived a sheltered life, been dependent on my parents and never been away from home. I needed that distance to be able to grow up in a way that many people with siblings learn to do at a very early age.

So no, just because I am an only child doesn't mean I take advantage of it. I mean I am saving up to buy myself a phone from my salary. I could have asked my parents easily and they would have said yes, but I think learning how to be responsible with money is important. I think most of it is because my parents were so scared when people told me that I'd turn into a spoiled brat, but they made sure I knew my limits.

I still have fewer restrictions than you lot out there who are still fighting for the remote with their siblings. Sucks to be you!