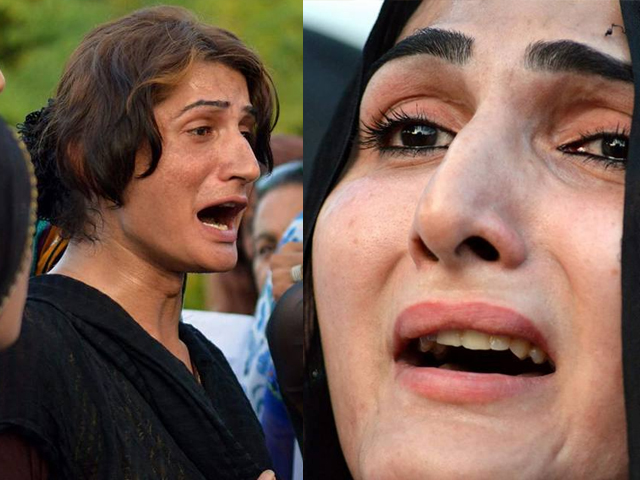 ---
Rights over respect?: "Madam, this is the Red Zone and 'khusray' are not allowed here"
The officer kept addressing Julie as a male, making derogatory comments about how the hotel was now inviting...
---
To be transgender means being unsafe across the globe, mainly because the masses have neither the understanding of gender diversity nor the awareness that a gender non-binary exists.

Specifically in Pakistan, an almost outright denial of the existence of transgender people has led to their marginalisation as well as a lack of respect from society at large. They face threats, harassment and humiliation on a daily basis, and are only seen as sex workers, dancers or beggars.

The disrespect and discrimination reserved for them is across the board, as in my many years I have seen no exceptions to this, not even from the educated and the so-called elite.

Earlier this month, I was on my way to Serena Hotel in Islamabad, along with my colleague Julie, as we were invited to attend a meeting taking place at the hotel. We reached the hotel separately, since we were arriving from different locations and were travelling in different cabs.

Julie, having reached the police check post first, was asked to get off from the cab and was questioned on where she was going. This may seem normal at first, from a security point of view. However, the police officer addressing her with a male pronoun when she was clearly dressed like a woman, and making derogatory comments about how Serena was now inviting "khusray" (pejorative for transgender), and then denying her access by telling her to go back – none of this should seem normal.

By that time, I had reached the check post myself and was informed of the whole situation by a scared Julie. I asked her to get in my cab so we could go for our meeting, but once again, the policeman stopped our car, informing us that we could not go. When I asked him why, he said,

"Madam, this is the Red Zone and khusray are not allowed here."

Moreover, he threatened the cab driver to take us back otherwise his car would be fined. As a result, we drove back and after taking a U-turn returned to same check post. Once again, the policeman stopped us and this time, he started misbehaving with me as well, saying,

"Get out of here! Now women like you (accusing me of being a pimp) have found a new way to make more money by using khusray."

At this point, Julie's eyes were full of tears. She kept telling me,

"Aapi, let's just go back. We are born to be humiliated, but please don't trouble yourself."

I remember telling Julie to stay strong – this was not just about her or me, it was a matter of human dignity, which is why we didn't give up. I called the local police station house officer (SHO) and explained the entire situation to him, and how we were just trying to get to a place where we were invited. He expressed his apologies and after requesting our cab number, asked me to go back to the check post. For the third time that day, we drove back to the same point, and finally, due to the SHO's intervention, they let us go.

But the humiliation had only just begun for Julie. When we reached the security station at the parking lot floor, the entire security staff treated Julie with suspicion, as if she was carrying contraband. They questioned why she was at Serena; seemingly unable to fathom how she could have been invited. As we moved on to the main hall, we were once again stopped by security who once again questioned where Julie was going. I informed him that Julie was with me and if he had any issues, he should let me know, to which he responded,

 "Madam, does she have a dance performance tonight?"

Disgusted by his insinuation, I replied,

"We both have a dance performance, but we charge for our performances. Do you have money to pay for your entertainment?"

I said this to embarrass him but in reality, I was the one who was embarrassed and ashamed at the way we, non-transgender individuals, were belittling Julie. If all this wasn't enough, the next few hours we spent at the hotel were spent with people turning their heads constantly and blatantly staring at Julie. She asked me later,

"Aapi, is this how high class people treat those who are not like them, or equal to them?"

She wondered what was so special about Serena – a high class hotel where rich people are free to roam with their pets, men in shorts and women in dresses – none of this bothers their management, but what does bother and scare them is a woman named Julie.

All movements are hindered by challenges, and no struggle is overcome easily. However, the movement to reclaim transgender identity and to have society treat them with dignity and respect seems impossible, given the sheer intensity of humiliation faced by this community. Gender roles are so rigid and internalised that the mere expression of transgender identity is a threat to our heteronormative society. We want to make everyone fit into pre-existing boxes, and when some people do not fit into these boxes and stand out, instead of accommodating them, we become transphobic.

When it comes to giving the transgender community basic rights, Pakistan is definitely taking steps in the right direction. We have given them the right to an education, the right to have an identity card, employment opportunities, and we have even issued gender-neutral passports. But is that enough? Are we really that far behind on the concept of human rights that we think giving human beings access to an education and an identity card is something worthy of applause? Especially when the same people are not considered worthy of basic human decency and respect?

Wherever transgender people go in Pakistan, be it Serena Hotel or a hospital in Peshawar, they are mistreated and humiliated. Remember Alisha, who was not only shot six times but was also treated outside the lavatory when she was taken to the hospital – her only crime being a transgender woman. Pakistan may pat itself on the back and call itself progressive, but at the end of the day, as long as transgender people are reduced to "khusray", the only thing we deserve to feel is shame.