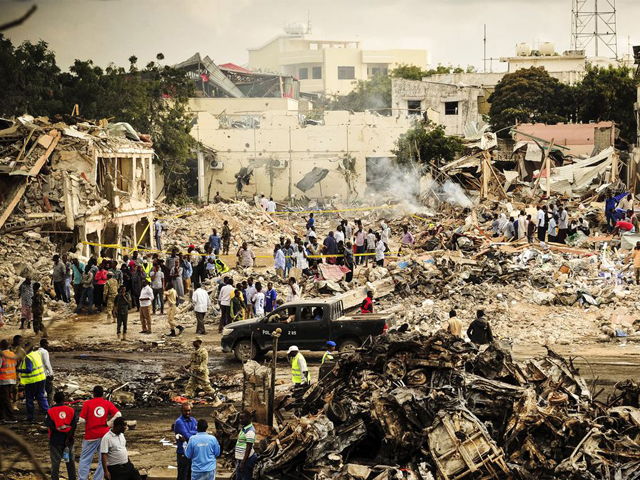 ---
#IamParis, #IamLondon, #IamKabul, #IamManchester – but what about #IamSomalia?
Does an attack on a western country automatically seem more evil and disastrous than an attack on a Muslim nation?
---
I was at my desk, typing away on my laptop when my friend decided to lean in and see what I was working on. Her jaw dropped open as she read the headline: 'Somalia to announce state of war on al Shabab'. She asks me what happened to bring this on, and I got up from my seat to let her read the news herself. After several minutes, she turned around and stared at me, stunned.
"Why wasn't this on the news?" she asked.

To be honest, I ended up asking myself that very same question, and I didn't have an answer.

Positioned at the top of the northern hemisphere below the North Pole, the UK receives a very disproportionate version of events and incidents around the world. Reporters are constantly writing about the latest war of words between President of the United States, Donald Trump, and North Korea's leader, Kim Jong Un, but don't feel similarly invested to write about the deadliest attack in Somalia's history, which killed at least 358 people and injured another 228, and is being called Somalia's 9/11.

A truck laden with several hundred kilograms of explosives detonated in the heart of Mogadishu, the capital of Somalia. The al Shabaab, a militant group that has plagued Somalian society for over a decade now, has been blamed as the forces behind this deadly bombing. The group vowed to increase their efforts to spread terror after both, the Donald Trump administration and the Somali President Mohamed Abdullahi Mohamed, renewed efforts to fight the group. Thousands of Somalis came out on the streets to protest the bombing and demand justice for the hundreds of lives that were lost in a matter of seconds.

It was nauseating to hear about how innocent people, who were going about their day and getting ready for their prayers on a normal Friday afternoon, were killed so brutally. What felt worse was that hardly any news organisation bothered to write about it in their paper or on their website.

Why was this incident an exception?


The #Mogadishu bombing is being called #Somalia's 9/11. But did the western media give it the treatment it deserves? @CarlNasman explains. pic.twitter.com/9VQdT5YJc2

— DW News (@dwnews) October 21, 2017
Selective outrage of the Western world. #Somalia - https://t.co/aKBibUwN1M …
Via @MintPressNews pic.twitter.com/GP8w6PZ5mO

— Carlos Latuff (@LatuffCartoons) October 20, 2017


BBC, along with other news organisations, was constantly updating us on the mass shooting in Las Vegas, an incident that shocked and horrified me. But don't we, international citizens, have a right to know about an incident like what happened in Somalia? At a time when the world is constantly on red alert and the terror level is increasing from severe to critical in the UK, knowing about terrorist attacks taking place anywhere else in the world has become essential as well. Just because it didn't happen in a western, developed country, doesn't mean people should not, or would not, care.


Why is no one talking about the 230 people who died in the terrorist attack in Somalia? RIP 🙏🏻🙏🏻 #Somalia #Mogadishu should be trending! pic.twitter.com/H1d4jwuVMT

— mdiab 🍥 (@mdiab9) October 15, 2017
Is the world going to ignore what happened in #Somalia #MogadishuTruckBomb 💔
Death toll over 231 & 275 injured.
Let's #PrayForSomalia 🙏🏽🇸🇴 pic.twitter.com/IhhJSRJKey

— Karabo Mokgoko 🦄 (@Karabo_Mokgoko) October 15, 2017
I don't see a "#Prayfor" about this, yet at least 300 ppl died.

I wish there was something I could do to help.https://t.co/fts7KOk78s

— Queen Keah. 🌻 (@TwinMonstah) October 15, 2017


I live in the UK, and 2017 has been a pretty tough year when it comes to extremism and terrorist attacks. After the attack in Manchester, I would begin my morning checking up on the latest headlines as soon as I would wake up to the shrill sound of my alarm clock. The attack shook the nation, with my colleagues, both Muslim and non-Muslims alike, expressing their confusion and sheer bafflement at the "logic" of such people.

The attack in Westminster would go on to become an attack on the London Bridge and the Borough Market. All these attacks have shocked and horrified everyone in equal measure, made possible due to the coverage given to it by both local and the international media.

However, the same cannot be claimed for what happened in Somalia; a horrific attack that has not yet received its due in the international community.


Face it: If hundreds of white Europeans were killed in a terrorist attack over the weekend, it would still be front page news. #Somalia

— Arjun Sethi (@arjunsethi81) October 17, 2017


Does an attack on a western country automatically seem more evil and disastrous than an attack on a Muslim nation? With everything that has happened since the Arab Spring and the Syrian Civil War, the spotlight has been on the Islamic State (IS) for a while now, while on the other hand, al Shabab, known to be a particularly cruel terrorist group, has been left to foster in the darkness.

As a journalist, I was taught the perspective of objectivity – to be impartial when it came to writing and reporting certain stories. It seems as if everyone has forgotten about these rules and perspectives. Whatever happened to objectivity and being impartial? Has it gone out of the window?

We, all the people who inhabit this planet, are very different and yet similar to one another. What unites us all is that before any civic duty or relationship, we are all human. Before being children, parents or spouses, we have a duty to one another as human beings. If we stop caring about one another and stop doing what it means to be human, how can we look at ourselves in the mirror and feel content when sleeping in our beds? We're not exactly perfect and, truthfully, we're no better than the perpetrators. They may be the ones with the weapons and the bombs but if we ignore the plight of those who are suffering, then we are no better.


My message to the world; You FAILED #Somalia!#MogadishuisMourning#MogadishuTruckBomb #SomaliaAttack#Mogadishu #GurmadQaran pic.twitter.com/NXVnoMbrOm

— Mohamed Shidane (@Shiddane) October 16, 2017


Our greatest asset is our humanity, our compassion and our desire to do greater and better. The moral high ground can be ours if we choose to take the right path. We always aim to do greater and better, but it all starts with a small step and that step can come in the form of giving our fellow human beings their due by at least acknowledging them when a tragedy befalls them.


This photo speaks so much volume. As long as we got one another we can get through anything. ❤️🙏🏾🇸🇴 #Somalia pic.twitter.com/m02P7EFvQN

— Shaankaroon (@minashoots) October 17, 2017
BREAKING: Hundreds of young Somali volunteers arriving at the scene of the explosion to help clean up the debris. #Somalia pic.twitter.com/GuW1TBTh0I

— Harun Maruf (@HarunMaruf) October 17, 2017


Would we like it if the world turned a blind eye towards us during out time of need? No. Then let us not turn a blind eye to those who need us right now either.
Facebook Conversations
COMMENTS (6)
Comments are moderated and generally will be posted if they are on-topic and not abusive.
For more information, please see our Comments FAQ