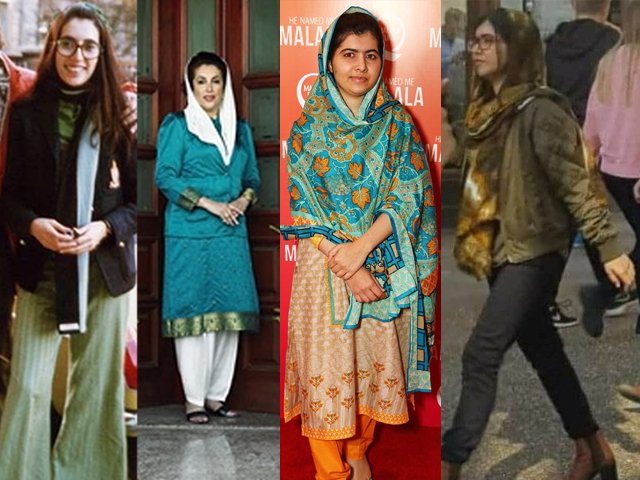 ---
Benazir Bhutto can wear western attire at Oxford and be praised for her achievements, but Malala Yousafzai can't?
Did people expect Malala to wear shalwar kameez to university every day? Is she hypocritical for trying to blend in?
---
One can often witness how wearing hijab becomes an obstacle for women here in Pakistan. Be it at work, school or university, you will always be judged and scrutinised for everything you do. However, I have always wondered how a piece of fabric covering one's head can depict an individual's personality, to an extent that people believe it gives them the right to judge you for each and everything you say, do or wear.
Recently, I came across the news of Malala Yousafzai getting admission into Oxford University and later being 'spotted' wearing a pair of jeans and a shirt with a dupatta covering her head. To my surprise, instead of being happy for her admission into one of the most prestigious universities in the world, there were many who were upset. Upset on what you may ask? Well, her attire!
At "Oxford" bravo @Malala pic.twitter.com/eTqoGDN0Ep

— احمد حکیم (@shephered1) October 15, 2017
@Malala look at this stupid #Malala say I love Pakistan & enjoy life in USA #ShameMalala pic.twitter.com/XfyEWFZQk8

— Muhammad Shehzad Ashraf Khan (@ShehzadAshraf5) October 15, 2017
Qaom ki beti aesi hogi @Malala 🔫🗡🔫🔫🔫
Aj kal inhe log super start mante hai

Allah in sb ko hedayat de jo in k naqsh e qadam pr chalti hai pic.twitter.com/zi3EcjyYz0

— 🇵🇰zเ๔๔เ🇸🇦αƒяιđι​🇦🇪 (@AfridiShafiQ10) October 15, 2017
Living in the West and being recognised by the people there while her own people hurl accusations at her was least expected.
The society that we live in and the cultural values that we are taught here, we tend to apply all of that on Pakistanis living abroad as well. However, I believe as far as you are dressing up modestly with hijab, it shouldn't be bothering anyone.
Although it's very common to hear negative remarks about her every time she is highlighted in the media, but an objection on her attire was least expected. Accusing her of being a paid agent or an American puppet is another topic altogether, but commenting on what she wears with her hijab is absolutely not right.
Given the anti-Muslim rhetoric in the world, one can't expect her to wear shalwar kameez at her university every day. Like other students, she has the right to dress up in whatever makes her feel comfortable. Being a Muslim, it is already difficult for her to adjust in the western world because of the image that certain extremists or conservatives have created of us Muslims in general. If she made a small attempt in order to adapt to her university's environment, was she hypocritical and wrong? It's not like she forgo her hijab for the sake of blending in since she still covers her head.
@Malala
You wear traditional clothes, you get called a terrorist. You were western clothes and you get called a hypocrite.

— Azzy (@caramelbxrbie) October 18, 2017
Downright disappointing & disgusting that the internet spewed hate towards @Malala for dressing like any other 20 year old!

— Ananya Chhaochharia (@ananyac05) October 18, 2017
Haters gonna hate and we are gonna celebrate 🎉 . @Malala looks awesome in her 'western attire' #teamMalala https://t.co/wMX9MOh8LP

— Qurratulain Zaman قرۃالعین زمان (@Natrani) October 16, 2017


Attacking Malala for wearing something which doesn't appeal your eye isn't appropriate or justified. And it's commonly seen that Pakistanis who go abroad are under the microscope all the time. Why are these stereotypes in place for overseas Pakistanis when they're not even enforced in Pakistan?

Was Mahira Khan bashed for wearing a dress and smoking in New York or for wearing that dress and smoking in general? Because if it's the latter, then news flash for you people, it happens in Pakistan also – yes, Pakistani women smoke and yes they wear dresses, not publically, but they do.

People here fail to realise that shalwar kameez is the national dress of Pakistan, not of Muslims. Therefore, if you are observing hijab anywhere in the world, it's absolutely your call whether to wear shalwar kameez, kurta pajama or jeans and shirt with it. You always follow the culture and surrounding of where you live and not where you came from.


What #Malala wore in UK, is pretty common in Pakistan as well. Stop creating a fuss about it. Let others live their life, at least fir once.

— Arsalan Ahmed Jaraal (@arsalanjaraal) October 15, 2017
It's pretty evident why it's so easy for people to just sit and pass comments or make baseless judgments on others. Instead of doing something for their own country, it's easier to just sit and comment on those who are actually making an effort, because perhaps deep down they know they are not capable enough to do the same.
Only because she is now a famous personality doesn't give anyone the right to comment on her personal attire or invade her privacy. I wonder how we have the audacity to comment and judge anyone who becomes famous and invade their personal space, let alone take their pictures without consent. Clearly everyone is paparazzi now!
Malala is time and again seen in the news being the voice of the deprived females of Pakistan's rural areas who are not given basic rights such as education. She is a representation of Pakistani girls who don't have the freedom of choice. Keeping aside all the false and negative thoughts that come into our minds, can we simply focus on how she has become the face of our societal norms? How she stood against injustice and fought for her rights? She was shot for raising her voice, for the love of God!
Benazir Bhutto raised her voice, got assassinated and became a "shaheed" (martyr), the same Benazir who chose western attire during her time at Harvard and Oxford University. So Malala, a young girl who left her country for the sake of her life, is wrong for donning western apparel at Oxford, but Benazir is not? I don't see her pictures going viral on social media, do you?
#Malala's case is different. They hate her, whatever she wears. They are actually against her existence. https://t.co/DKwQ4vynDF

— Zeeshan Khattak (@khattak) October 17, 2017


I am a hijabi, have worn jeans and shirt to university and now do the same when I go to my office. This doesn't give anyone the right to say that I am a bad person or how I am disrespecting the essence of hijab. At least I am making an effort. Wearing hijab doesn't mean that I am not allowed to wear what I feel like but non-hijabi's are. We need to realise the fact that women who observe hijab are also human beings and are already struggling to become better.




Hijab doesn't make things haram (forbidden) for us. It's a common dilemma here in Pakistan; a cool, smartly dressed girl, wearing jeans and a shirt, smoking sheesha (hookah), is not judged. But when a sophisticated hijab-donning girl smokes, it becomes haram (forbidden). Why? It's equally bad for both. It will equally affect both of them and their health.

Please stop judging. We need to start appreciating and realise the efforts that are being made by others. Instead of always criticising everything, we should rather do something ourselves first before speaking ill of anyone.

It is very sad that our own community trivialises the accomplishments of a brave, confident, smart young girl who was shot in our country by the Taliban only because she wanted to study. It is high time we change this stereotypical mindset and become a bit civilised.

If we follow the western world in how they live and what they do, then follow them for the space and respect they give to their fellow citizens as well. Malala is one of the few Pakistani citizens who are admired and respected by the whole world. It's heart-breaking how her own people are not giving her credit for the heroic battle she won. Shame on us and our hypocrisy!
Facebook Conversations
COMMENTS (31)
Comments are moderated and generally will be posted if they are on-topic and not abusive.
For more information, please see our Comments FAQ