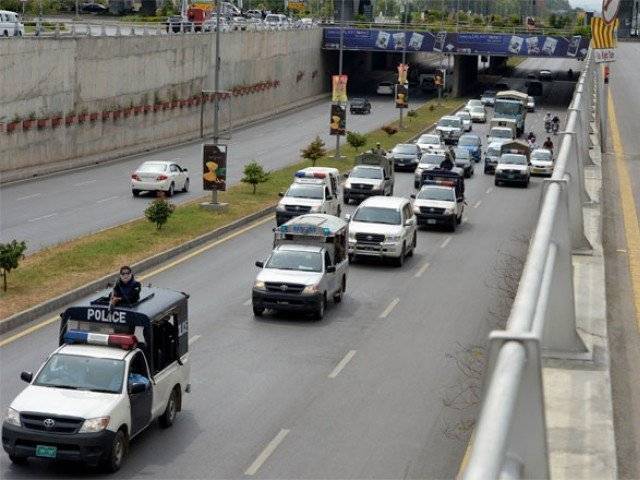 ---
"Tera baap jaraha hai": When police officers remind the common man of their place in society
Was the common man's life less worthy than the baap the police officer was protecting?
---
How many times have you wondered why you are stuck in a traffic jam? And then received your answer in the form of a trail of police cars zooming by? I've cursed these cars more than I have cursed George RR Martin during the course of my life.

Living in Karachi, it is hard enough facing the frustrating traffic every day, but to have these VIP protocols block the roads further adds to my misery.

Recently, a video went viral on social media where a man was filming a VIP protocol driving in front of him. It showed the police vans stopping in the middle of the road and a police officer stepping out of the van. The said officer is seen rushing towards the man recording the video and proceeds to hit him while cursing him and saying,

"Tera baap jaraha hai."

(Your father is going)

These baaps (fathers) in Pakistan have made the lives of the common man extremely difficult. They think they can block the road and continue to their destination while making us late for our commitments. These people expect better treatment than the treatment meted out for ambulances. They want us to move out of the way so they can zoom past us, because speeding laws don't apply to them, obviously.

Because as the policeman said, they are our baaps. Does their time and life matter more than ours?

A policeman apparently has the power to hit a common citizen recording a video because this common man had the audacity to point the camera at this 'very important' person. How dare this common man violate this important person's privacy?

While these police officers and security details are protecting these important individuals, my friends in Gulistan-e-Jauhar fear for their lives because of the serial stabber on the loose.

When I watched this video, it honestly made my blood boil. This police officer can strike a common man for recording a video and then defend his actions by claiming that the man being recorded is apparently extremely powerful. These officers are supposed to be our protectors and are supposed to safeguard our rights, but they chose to beat a man for merely recording a video.

Why?

Was the common man's life less worthy than the baap the police officer was protecting? It is highly demeaning to witness an official harass an ordinary citizen like this just because he can. They think they can beat someone up without facing any consequences.

But in this case, there were consequences.

Unfortunately for them, the Sindh IG ordered the said officers to be suspended. God bless social media. At least they noticed and implemented the law.

As a society, we have internalised such pathetic behaviour. We roll our eyes, complain and then move on with our lives. I have been late for school, important meetings and at one time even to the hospital during an emergency because roads were blocked for someone else's convenience.

One of my friends finds this culture inspiring; apparently the feeling of power seems to impress him. In one of our conversations, he gave me an example of our mutual friend, who is the son of a government official, and said,

"He is living the life. He has police and guards at his service and the VIP protocol looks so cool."

No, it is not cool. At the very least, it is very selfish.

It was not cool when I was sent home from school because I reached late. It was not cool to have a sick grandparent in the car waiting for the traffic to move so we could reach the hospital in time. It is not cool to wait in your car in the scorching heat when you are suffering from severe motion sickness. It is probably only cool for people in the VIP protocol, not us ordinary citizens, who have to leave before time for our destination to avoid any inconvenience.

My father has called me numerous times to switch my traffic route while travelling, because some important official is in town and it will prove to be an inconvenience for me.  I have to plan out my course in advance because this is such a common occurrence here.

VIP protocols are a common occurrence around the world and I understand that some people have threats and it is necessary for them to travel with security. But in Pakistan, it means two hours of blocked roads. It means armed officers can beat you for recording a video. It means that you, as an ordinary citizen of this country, do not matter.