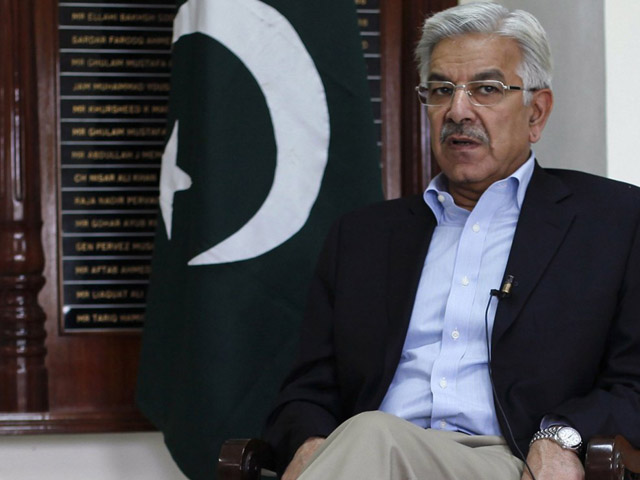 ---
Making Pakistan (un)proud: Too consumed by domestic issues to care about overseas Pakistanis, Khwaja Asif?
By portraying Pakistan in a negative light, whose interests was Khwaja Asif promoting, Pakistan's or America's?
---
Blunt and evasive are two adjectives that best describe Foreign Minister Khawaja Asif's recent conversation with the Asia Society. It was held in union with the 72nd United Nations General Assembly (UNGA).

Asif, a vocal critic of Donald Trump's version of American foreign policy, admitted that Trump's position on the Afghanistan-Pakistan (AfPak) region was an "utter disappointment". However, I personally felt that his elusive response to the question regarding Pakistani-Americans was an utter disappointment.

The interviewer, a world-renowned journalist and author, Steve Coll, mentioned the increasingly polarising nature of the American society, which the foreign minister sharply labelled as a bad sign for the future.

Coll also referred to the rising bigotry and bias towards American Muslims and questioned how the Pakistani diaspora weave into this thread. The foreign minister gave a general and non-committal response, saying that Muslims are faced with oppression all over world and that Pakistan has too many domestic issues going on right now to focus on overseas Pakistanis.

Rather than dealing with the issue head on, which he should have, he brushed aside the issue in a nonchalant manner. Does Asif not realise that Islamophobia and xenophobia in the US have been on the rise since Trump's election? Hate groups are emerging all around the country, leading to a rise in anti-immigrant sentiment. According to a recent report, "the sharpest increase was among anti-Muslim groups, which grew from 37 to 101 during that period – a 197% increase in just one year".

As an ethnic and religious minority, Pakistani-Americans are increasingly facing discrimination in the wake of more hate crimes. Thus, the fact that the foreign minister fails to even acknowledge their predicament makes the situation all the more disappointing.

According to the Migration Policy Institute, there are over 453,000 Pakistani immigrants in the US. They form the third highest majority when it comes to sending remittances back to their home country, as revealed by the State Bank of Pakistan (SBP).

Additionally, the Pakistani diaspora in North America largely comprises of individuals with higher incomes and education levels, ranging from doctors, bankers, engineers, lawyers, business owners and taxi drivers.

A report by the Asian American Centre for Advancing Justice, which regarded data collected by US government sources, stated that the median household income of Pakistani-American families is nearly $63,000.

Broadly speaking, these Pakistani-Americans are economically secure, but under the recent wave of Islamophobia, they have drowned under the anti-immigrant narrative, which the foreign minister of Pakistan neglected to recognise in his answer.

Moreover, the suggestion that we need to sort out our own issues on an international platform is further shaming Pakistan. Whose interests was Khwaja promoting, Pakistan's or America's? His comments not only portrayed Pakistan in a negative light but also disregarded the ardent efforts being made by our law enforcement agencies who sacrifice their lives to keep us safe.

Such irresponsible comments by a foreign minister should make our prime minister and president rethink their selection.   

On another note, the foreign minister mentioned the 2018 elections during his interview, yet one cannot help observe that Pakistanis living abroad are still unable to vote. This has been a long-standing issue for millions of overseas Pakistanis.

He went on to discuss domestic issues and local politics in his answer, which is interesting because a rise in the number of chapters of Pakistani political parties abroad has been witnessed. In New York alone, numerous chapters of Pakistan Muslim League-Nawaz (PML-N), Pakistan Peoples Party (PPP) and Pakistan Tehreek-e-Insaf (PTI) have sprung up.

Thousands of international members of each party participate in meetings and events all year around. New York also has a wide readership for the Pakistan Post, a popular local Urdu newspaper. It features the latest news from Pakistan, covering politics and social issues as well as local business advertisements catering to the Pakistani diaspora.

Additionally, PTI even has a webpage that directs individuals to sign up online to become a member, covering all the major regions and countries of the world. It is simply ironic that none of these "would-be" party members have the opportunity to vote even if they register to be a party member from their respective country.

It goes without saying how disheartening it is for Pakistanis that are ardent political followers of their respective parties that when election time comes around, they are side-lined by the Election Commission of Pakistan (ECP) and the Ministry of Foreign Affairs. A petition started by a Pakistani in New York states,

"According to the Constitution of Pakistan, Overseas Pakistanis (OP) have the right to cast their vote."

This also serves as a blow for the parties as well, since they're losing out on a considerable number of voters, who could be detrimental in their victory.

Although there are rumours about overseas Pakistanis casting their votes online for the 2018 general elections, the ECP has not laid out any concrete plans as yet. Despite numerous futile attempts at filing constitutional petitions for this purpose, all efforts have clearly been in vain so far. Observing the recent rhetoric of the foreign minister, it is arguably safe to say that overseas Pakistanis should not get their hopes up for voting in the upcoming elections either.

Khwaja had an established forum on which he could address and rectify issues and misunderstandings, yet he chose to remain quiet. If a foreign minister overlooks such imperative issues, the future of our country and international relations seems bleak.