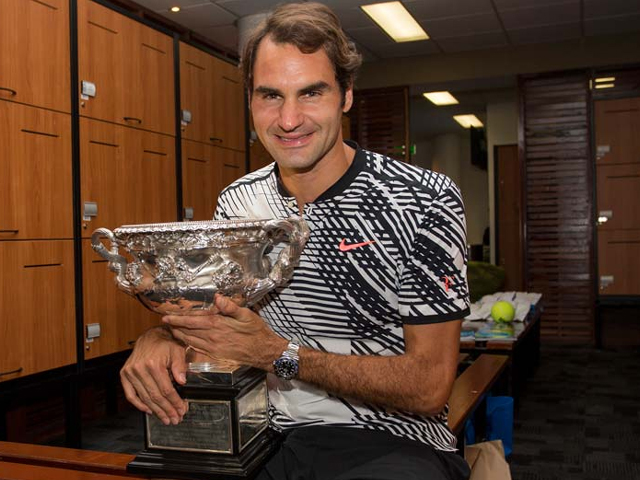 ---
Is Roger Federer the greatest player of all time?
It's not easy to change your game so late in your career, but Federer's love for tennis made him reinvent his style.
---
In 1998, at Gstaad, a 16-year-old Roger Federer appeared for a press conference with a toothless grin on his face, thus making his professional debut into the tennis world. However, little did the world know that this was the first of many press conferences that the Swiss player would be a part of.

Federer had already showed signs of belonging at the highest level by winning the Wimbledon boys singles and doubles title before heading for the Swiss Open.




From the outset, Federer wanted to make this game his own but the beginning of his tennis career was not always just rainbows and butterflies. When he played and lost his first final at Marseille, he was crying on court because he was worried if he would ever have the chance to play a final again. As a teenager, he lost many close matches, which was frustrating for a young player who was eager to make it big.

Although Federer had shown glimpses of what he had in his repertoire here and there, he was not consistent enough to be bracketed amongst the top players. But then came the win against Pete Sampras, seven-time Wimbledon champion, during the 2001 Wimbledon. This grabbed everyone's attention and proved to be a crucial breakthrough in his young career. The Swiss player eventually got knocked out in the quarterfinals but he had well and truly announced his arrival on the world stage.

Just when things were shaping up nicely for Federer, he was unfortunately dealt with a body blow. Due to this, he was ousted from the first round at Wimbledon, at a time when he was tipped by many, including John McEnroe, to lift the title. This was a critical juncture of his early career as people starting doubting his abilities. Moreover, people began wondering if Federer had the talent to compete at this level. Nevertheless, a year later, he had his arms wrapped around the coveted Wimbledon trophy putting an end to all speculations.




The Wimbledon title of 2003 was the start of Federer's rise. With every passing match, his game was improving and he was becoming an incredibly difficult opponent to surpass. The years 2005-2007 showed us the true greatness of Federer as the best years of his tennis career to fray. His forehand shots came off perfectly and there was nothing better than seeing him execute his one-handed backhands. If that was not enough, his serve, accompanied with his spin and speed, was enough to demoralise his opponents. Although there were many good players during that time, such as the likes of Lleyton Hewitt and Andy Roddick, they did not even know how the Swiss maestro mastered his art.

In those days, Federer barely ever lost a match because he was incredibly consistent and had great powers of concentration. His opponents had to be something extraordinary to break him down. During that three year span, he lost less than 20 matches, which is shockingly impressive, and bagged eight Grand Slam titles.

Meanwhile, Rafael Nadal had proven his ascendency on clay, but the real momentum shift came in 2008 when, perhaps for the first time, Federer's supremacy in world tennis was questioned. Nadal overcame Federer to win the Wimbledon title in a match that is dubbed by many as the greatest in history. Federer was now increasingly threatened by the rise of Nadal and by the subsequent arrival of Novak Djokovic and Andy Murray. Despite the challenges, Federer was up for the task and he used this opportunity to become an even better player.




When Federer was ousted in the second round of the 2013 Wimbledon, many had thought that the end was near. Nevertheless, like most occasions of Federer's career, one thing you cannot do is write him off completely. Although it took him some time to get back to his best, 2017 saw the rise of a new Federer. It is not easy to change your game at such a late stage in your career, but it was perhaps Federer's love for tennis that made him reinvent his style.

Not many had thought that Federer would win a Grand Slam in 2017, let alone two, which speaks volumes of the quality he still possesses. You can only wonder when his journey will come to an end, but for now, it looks like he is still keen to stay at the top.




Tennis could not have had a better ambassador than Federer as he brought the game to people's attention. He is one player that has been able to reach out to fans from all over the world. Until today, people drool at the thought of seeing him play live.

Is Federer the greatest player of all time or not? Fans and former players may have various opinions but that does not undermine the legacy of the one and only Roger Federer.