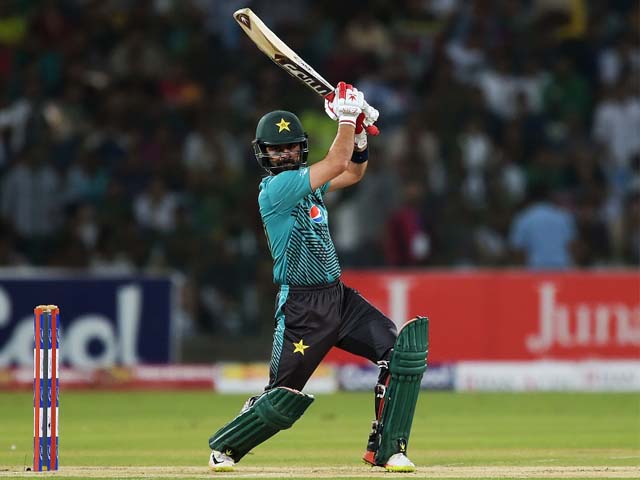 ---
Ahmed Shehzad needs to learn to play for the Pakistan cricket team, not for himself
The team needs a flying start in the powerplay but Shehzad thinks it's more important to preserve his precious wicket.
---
Recently, Ahmed Shehzad bagged the Man of the Match award in the last T20 match against the World XI along with a fancy bike to feature in his latest selfies. Good for him! However, his performance during the whole series raised more doubts than confidence in him.

Shehzad managed to make a score of 89 off 55 balls in the final T20 match, therefore it may seem criminal to criticise him at this stage. However, I strongly believe that he was scoring runs in the series for himself, rather than the Pakistan cricket team.




To be very honest, Shehzad holds the most vital position in the batting order for the T20 format. It's not like he makes much use of it but I feel he is somehow clinging on to it for his own benefit. When he walks out to bat, the boundaries are vacant with only two fielders patrolling the covers like lonely soldiers at a porous border. Field restrictions for the first six overs allow ample opportunities to openers around the world to bag some quick boundaries – but not to Shehzad. He likes to keep the boundaries for later and survive the first six overs like it's the last time he will get to bat.

The team needs a flying start in the powerplay but Shehzad thinks that it's okay to preserve his precious wicket far more than that.




By the end of powerplay overs in the first two T20 matches against World XI, Shehzad had scored 12 runs off 13 balls and 16 runs off 19 balls respectively. That's a paltry strike rate of 92 and 84 respectively, at a time when even a little piece of wood on the ball can easily pierce the inner circle and award you a boundary. Playing at less than one run per ball in the powerplay of a T20, with a batting-friendly pitch, is far from impressive. It should rather be declared a felony.




The unfortunate part isn't the fact that Shehzad was unable to score quicker, but rather that he chose not to score quicker. His approach has been overly cautious in recent times across all formats of the game. He seems to be setting himself up for something big and spectacular, but while we all anxiously wait for that moment to arrive, it clearly never does. By the time the team is in dire need of hitting runs, he more often than not lofts the ball into a fielder's hands and returns to the dugout, leaving much of the work to be done by others.




Before I get called out for ignoring his most recent 89-run innings off 55 balls, let me dig right into it. Shehzad did indeed fare far better in his last outing in the series against the World XI. I do appreciate the fact that he realised to play at a higher strike rate as a courtesy to his team and the country. However, everyone who watched the match knows that if those three consecutive sixes in the 18th over did not come out of the blue, Shehzad's inning was failing to provide any momentum to the team's total like always.




Shehzad has made it a habit to keep playing well within his comfort zone to accumulate runs next to his name but those runs mostly come at a heavy price for the team as a whole. We got away with a series win this time but to beat the best in the business, Shehzad will need to play more selfless cricket. He needs to realise that a quick fire 50 at the top will help the team's cause a lot more rather than meandering for runs throughout the innings for a higher individual score.

Since Sharjeel Khan has been taken out of the equation for selection, Shehzad will most likely feature in the side for years to come. I hope he plays more like he did the last time and less like his typical self-centred innings that tortures the fans like nothing else.
Facebook Conversations
COMMENTS (13)
Comments are moderated and generally will be posted if they are on-topic and not abusive.
For more information, please see our Comments FAQ