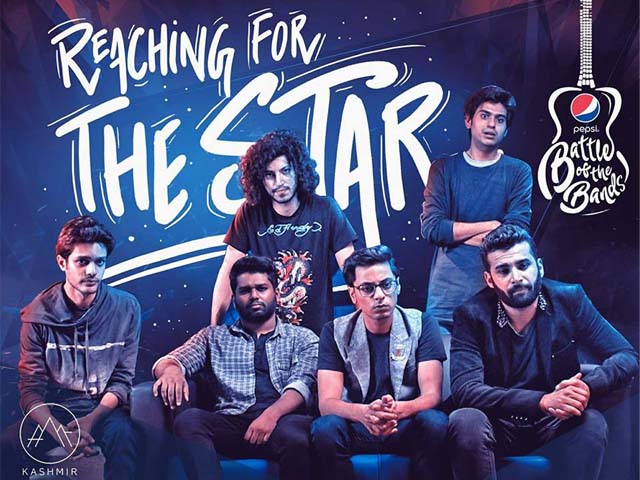 ---
Kashmir: The perfect combination of Vital Signs and EP, all rolled into one
With brilliant covers and originals, they are soulful, exciting and can transport you in and out of multiple states.
---
Despite being an avid music lover, I've stopped following contemporary Pakistani music for quite a while now. It would not be incorrect to claim that things took a wrong turn ever since Rohail Hyatt left Coke Studio.

However, the recently concluded Pepsi Battle of the Bands has changed that. And it really is down to one band alone – the eventual winners, Kashmir.

I was mildly surprised when they won the competition even though I was rooting for them myself. Badnaam, the runner up, had been impeccable throughout the competition, managed to stay out of the danger zone every time and was more likely to clinch the prize. But in the end, it probably came down to the fact that Badnaam was predictable, whereas Kashmir was not.

Badnaam, for all of Ahmed Jillani's ability as a powerhouse vocalist and an excellent guitarist, hung on to the beaten-to-death genre of Sufi rock. It has been almost two decades since Junoon made Sufi rock come alive, and 20 years on, the genre doesn't have the same charisma it once did. It needs to be locked away and put into a dark place where things are left to die.

Kashmir. on the other hand, switched gears all around, experimenting with the uncharacteristic 'Mendah Ishq Vi Toon', the brooding 'Mera Pyar', 'Parwana Hun', and the jumpy 'Kaaghaz Ka Jahaz'. Their sound was simple, yet not redundant at all.



The band includes Shane Anthony, the drummer who would make Gumby proud, Zair Zaki, the fantastic rhythm guitarist – simple yet tight, and Usman Siddiqui, the brilliant bass player to walk into any band with one hand tied behind his back. In Vais Khan they probably have the most exciting young guitar player in the country, and in Bilal Ali they have a vocalist par excellence. But it is perhaps Ali Raza's excellent synthesisers, more than anything else, that make Kashmir the band it is today – soulful, exciting and able to transport the listener in and out of multiple states.

It is this ability to connect at an emotional level that had been missing from Pakistani music for a while, case in point being the mind-blowing rendition of Amir Zaki's 'Mera Pyar'. Bilal Ali's falsetto in the song is definitely among the most iconic moments of this year's competition.


With their trophy cabinets (and wallets) considerably heavier now, they have all the abilities to develop into true icons of the music industry. It is unfortunate that live concerts in Pakistan have taken such a massive blow in the last one decade due to the threat of terrorism, since Kashmir, and even Badnaam, have the makings of very impressive live performers.

Personally, the golden period of Pakistani pop music remains the 90s for me and a lot of it has to do with a sentimental attachment to simpler times when I was growing up. The 90s were followed by a shift to darker themes in the early 90s, captured brilliantly by bands like Entity Paradigm (EP).

With the rise of Kashmir, things are looking up for our pop industry once again. They are able switch from pitch black darkness to unadulterated joy, and that is what makes them such worthy winners. With brilliant covers and equally good originals, they are the perfect combination of Vital Signs and EP, all rolled into one.

Thank you Kashmir for bringing back the missing brilliance of synthesisers!