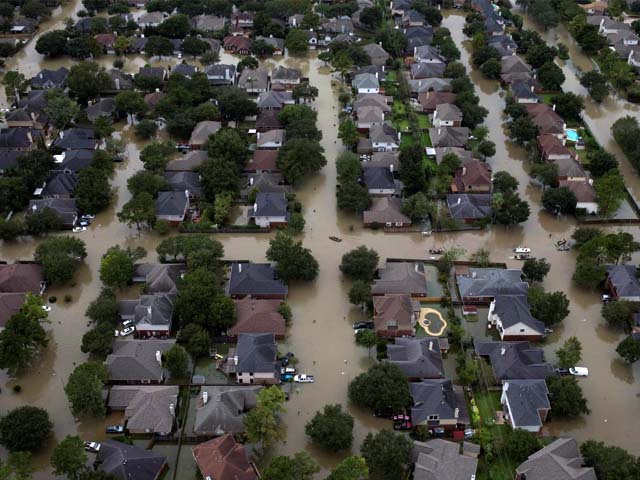 ---
Harvey was the daddy of all hurricanes, but is climate change solely to blame?
Let's hope and pray that both Houston and Karachi consider such climatic occurrences as not mere coincidences.
---
Recently, I was asked,
"Aren't you glad that you left Houston when you did?"

In the wake of Hurricane Harvey's devastation, perhaps that was a valid question, not an insensitive one. However, on further introspection, I realised that I was neither glad that I had left Houston when I did, nor could I wish that I was still there. Au contraire, I was pensive about family, friends and former work colleagues having to deal with this newest water-related calamity of Houston.

That Houston is flood prone is not news to me. During my 15-year-long 'sojourn' in Houston, I had to deal with several flash floods and hurricanes.

Allison, Katrina, Rita, I can rattle their names off in my sleep.

In June 2001, within a year or two of moving to Houston for graduate school, I confronted Allison, a 'freak' tropical storm that dumped so much rain on Houston in just a night that I was flabbergasted. I woke up to find my car flooded and the apartment complex grounds in disarray.




At that time, I was living in an apartment on the third floor, but just scanning the area from the balcony made me realise the sheer magnitude of what had happened – with drowned super highways of Houston in particular.

Houston takes pride in its wide multi-lane and multi-level freeways for gas guzzlers like SUVs and trucks in particular that are found aplenty there. Long stretches of those freeways were underwater, as were hundreds of automobiles. At my workplace in the Texas Medical Centre, my research mice drowned when the animal facility in the basement of Baylor College of Medicine flooded. Although for me it was a minor loss (worth one year of PhD research comprising mostly failed experiments), other researchers lost lifetimes' worth of research material, not just at Baylor but also at the adjoining University of Texas, Houston Health Science Center. I recalled those months post-Allison once the college building was cleaned out, but the stench of drowned animals remained, I could swear by it.




In August 2005, Katrina, initially predicted to be a category five, was downgraded to a category three hurricane at the time of landfall in Louisiana. Although its direct impact from a weather perspective was not that much for where I lived in Houston, the largest number of evacuees from that Gulf coast region affected by Katrina, came to Houston.

That impact of population displacement was significant for Houston. Initially, it gave my medical colleagues and me (still in residency/fellowship training), an opportunity to treat the displaced individuals in makeshift medical camps in Houston. Over time, however, there was a significant increase in petty crime in the neighbourhood that I lived in, as well as in other areas of Houston.




It was speculated that the likely culprits were those who had evacuated Louisiana and settled in Houston. For me, one of the most eventful occurrences following Katrina was my car being shot at. Luckily, I wasn't in it then, but apparently, I was not the target. It was actually a drive-by gang-related shooting in the street adjoining the townhouse complex I lived in and it was a stray bullet that had made its way to and through my car. The people involved in that criminal activity were recent Katrina evacuees, per the police officer assigned to my case.

In September 2005, Rita was initially meant to be a category five hurricane at the time of landfall and Houston was in her direct path. Following Katrina by just a few weeks, the Houstonians were nervous. A mandatory evacuation was in place this time. It was one of the largest urban evacuations in recorded history of the US. It was of significance to me because I was one of those 2.5 million people on the freeways of Houston attempting to evacuate prior to the big bad hurricane making landfall. Since I was post-call, I was considered non-essential for all intents and purposes and hence I couldn't stay in the hospital.




My wife and child were in Pakistan then for vacation, so I would've preferred to stay in town. However, multiple frantic phone calls from my family in Pakistan beseeching me to follow the mandatory evacuation orders prompted me to do so. Wrong choice! I was stuck on the freeway for 30 hours. What would normally be a three to four-hour journey by car to Dallas became the worst experience of my life. On top of that, the expected (promised) nasty storm never happened. Instead, there was the bright sun, no cloud cover, and resultant intense heat on the evacuation route. Inching forward at a snail's pace, cars obviously ran out of fuel long before reaching their destinations.

I turned off the AC within two hours of my evacuation strategy, because I had barely moved in that time. That was the only way I managed to conserve fuel and make it through. That, plus stripping to my underwear, peeing in an empty water bottle whenever needed and so on.

After that ordeal, I swore I was better off being swallowed whole by an earthquake, or submerged in a deluge, cyclone or else, versus being stuck on the Houston interstate highway (I-45 to be precise) secondary to forced evacuation. And even if I were ever to be stuck again on the freeway, I would be happier being swept away by a tornado. I would more willingly take a gun to my head than evacuate under such circumstances. You get the gist.

My experience of Allison, Katrina and Rita gave me the impression that all potentially severe weather systems in the US had female names. Perhaps my assumption was not surprising.

But then came Ike.

In September 2008, tropical cyclone Ike wreaked a lot of havoc in Houston. By that time, we were a family of four and I was nervous about being caught unawares, especially with two young children at home. Hence, I decided to move my family to a friend's place in northern Houston. Their place was still expected to be in the trajectory of the hurricane, but less so than mine.

Initially, it was fun for both families; we chatted, listened to music and grazed all evening long in anticipation of Ike. Till midnight, all went smoothly. It was then that the 'eye' of cyclone Ike reached the neighbourhood we were in. The furious winds downed power cables and we lost electricity promptly. To protect the children in case the winds blew away the roof of the house, we moved them into one of the walk-in closets on the upstairs floor. Then what followed was an excruciating six hours of listening to howling winds, being unable to see anything owing to the pitch dark, and imagining all sorts of destruction and mayhem outside.

In the morning, the devastation of Ike was apparent. Hundreds of trees had fallen on houses and damaged roofs, and communities were without electricity and clean running water for days on end.




In August 2017, four years after my move across the world to Karachi, Harvey made its acquaintance with Houston. In my four decades on this earth, I have known only two cities to such an extent that I can call them home. I was in Houston just a month prior to Harvey, for a work-related trip and I realised afresh how much I missed the city, my home away from home.

When I heard about Harvey and what it was doing to Houston, I was naturally angst-ridden. I was told that my previous house in Bellaire, a suburb of Houston, where I lived for five years prior to relocating to Karachi, and where I raised my two children, was severely affected by Harvey. Perhaps that house doesn't exist anymore. If so, how can I be glad that house isn't there? When a critical and formative part of my past and that of my children's is lost, then it cannot be a moment of relief for me.

Houston has witnessed several flooding episodes in the past two years alone, but Harvey was the baap (father) of them all and by far the most devastating. All the above begs the question, is climate change solely to blame?

Can rampant, illogical and seemingly random development that does not address impact on environment also be culpable? The answer is yes, per a recent exceedingly insightful article about flood-prone Houston that I read in the BBC news.

Interestingly, my current home, Karachi, is similar to Houston in in the sense that over-enthusiastic construction occurs here too without much thought given to environmental sustainability, adequate drainage and so on. Thus, any degree of rainfall readily results in flooding of several neighbourhoods in Karachi, as it does in Houston. For facilitating projects (buildings, infrastructure, etc.) developers and government officials likely receive kickbacks for their short-term gratification at the expense of long-term catastrophe.

I can only hope and pray that both metropolises and other urban centres have sense to consider such climatic occurrences as not mere coincidences. Uber development is all good and dandy but at what cost to environment, property, human, plant and animal life?