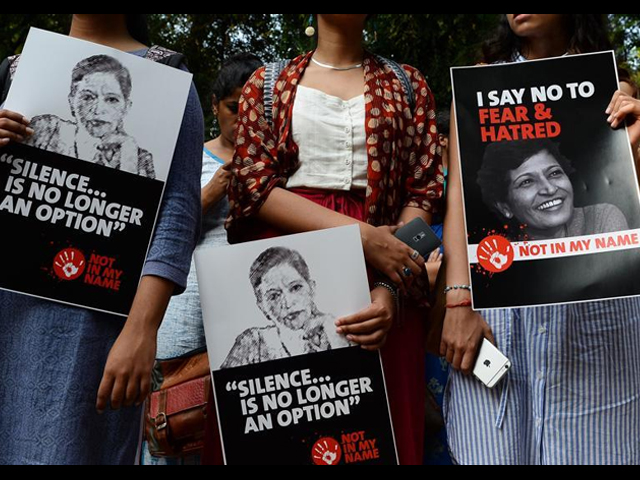 ---
So much for India's democratic "freedom"
Since 1992, 40 journalists such as Lankesh have been killed and 56% of them were murdered for reporting on corruption.
---
On September 5, 2017, at about 8:00 pm at night, three unidentified gunmen killed the noted writer, activist and fierce journalist, Gauri lankesh. This brutal murder sent shock waves across the country.

Organised and cowardly assassinations of thinkers, writers, intellectuals, academicians and rationalists seem to be an emerging trend in today's India. After India's independence, Jawaharlal Nehru's secular and pluralistic ideals shaped the nation's ethos for around 60 odd years. These ideologies created a safe haven for journalists and activists. But in today's India, everything is different. Journalists and activists fear for their lives every second of the day.

Why should we point fingers at Pakistan and Bangladesh and cringe over their treatment of minorities, murder of activists and journalists, when the same is happening under our very own noses?

Lankesh was known for her fiery speeches and statements, especially against communal forces in India. Her words were sharp; her rage was filled with passion and at times extremely hard to digest. Some of her remarks were made in bad taste and I mostly disagreed with her. But then, we are living in a democratic country and our Constitution allows us the freedom of expression, opinions and ideas and the right to oppose and argue.

As the French ideologue Voltaire said,

"I may not agree with what you say, but I would defend to death, your right to say it!"

What's more unfortunate is how the media chooses to remain silent. Over the past few years, when such ghastly acts of slaughter and murder were taking place, the Indian media chose to remain mute, did not condemn the murders and instead were seen to be cheering on Narendra Modi. They chose to cheer on the very same man under whose rule the number of such killings and murders has increased.

Life has not been easy for Indian journalists over the last 25 years. They have been targeted by right-wing Hindutva groups, Islamic hardliners, the Mumbai mafia and left-wing terror outfits such as the Mao's and the Naxal's.

Lankesh is not the first target, and as much as I hate saying this, but I feel she will not be the last either.

If journalists and activists are not killed, they are made to live in constant fear due to the unceasing threats they receive. Irshad Uppinangady, a TV reporter and film maker, is frequently hounded and threatened. Kanhaiya Kumar, who considered Lankesh a mother, was arrested from his college campus for alleged 'sedition' charges. 

Since 1992, 40 journalists such as Lankesh have been killed in India and 56% of those were murdered because they reported corruption. Below is a list of journalists who fell prey to the actions of such extremists:

1.Rajdev Ranjan

2.Karun Misra

3.Jagendra Singh

4.MVN Shankar

5.Tarun Kumar Acharya

6.Sai Reddy

7.Rajesh Verma

8.Rakesh Sharma

9.Narendra Dabholkar

10.Rajesh Mishra

11.Umesh Rajput

12.Vijay Pratap Singh

13.Anil Mazumdar

14.Vikas Ranjan

15.Javed Ahmed Mir

16.Ashok Sodhi

17.Mohammed Muslimuddin

18.Prahlad Goala

19.Asiya Jeelani

20.Veeraboina Yadagiri

21.Parvaz Mohammed Sultan

22.Ram Chander Chaterpatti

23.Moolchand Yadav

24.Pradeep Bhatia

25.S Gangadhara Raju

26.S Krishna

27.G Raja Sekhar

28.Jagadish Babu

29.P Srinivas Rao

30.Saidan Shafi

31.Altaf Ahmed Faktoo

32.Parag Kumar Das

33.Ghulam Rasool Sheikh

34.Mushtaq Ali

35.Ghulam Muhammad Lone

36.Dinesh Pathak

37.Bhola Nath Masoom

38.ML Manchanda

39.Ram Singh Biling

40.Gauri Lankesh

So much for democratic freedom.

But why exactly has India witnessed an upward trend in such killings?

Since 2013, there have been systematic and organised attempts to eliminate voices of reason in the country. However, no assailant or murderer has been accused or captured. The media did raise its voice initially, but then to keep their ratings in check, they decided to look the other way. A few months ago, eminent rationalist, Narendra Nayak, also suffered from an attempted attack on his life. Why? Because he chose to speak up against such brutality.

Has anyone questioned the lack of efforts taken by the Karnataka government in nabbing these murderers? Will Siddaramaiah go after Lankesh's assassins? I highly doubt it. Congress is supposed to be secular and should have been at the forefront of the fight against such crimes and safeguarding the intellectuals, except they are not, since they have nothing to achieve from this.

Are the lives of precious writers, poets, novelists, academicians, activists and journalists worth a vote in the upcoming elections? Regrettably, no. So instead, we witness investigations being prolonged, police officers pretending to be clueless and inefficiency in hunting down the murderers.

It is highly unlikely that a particular political party will stand up and condemn such killings. And it is due to their deafening silence that we will keep witnessing the death of our journalists and activists.

Lankesh's murder will further silence our brave voices and discourage writers and thinkers from criticising the undemocratic government policies that are harming our nation. The space for freedom of expression is shrinking, as most prominent journalists are on the government's payroll and those who are not, are being hunted and killed.

As the Indian dream starts slipping from our hands and the Constitution is made a mockery of, we can only hope someone steps in to save our country.
Facebook Conversations
COMMENTS (21)
Comments are moderated and generally will be posted if they are on-topic and not abusive.
For more information, please see our Comments FAQ