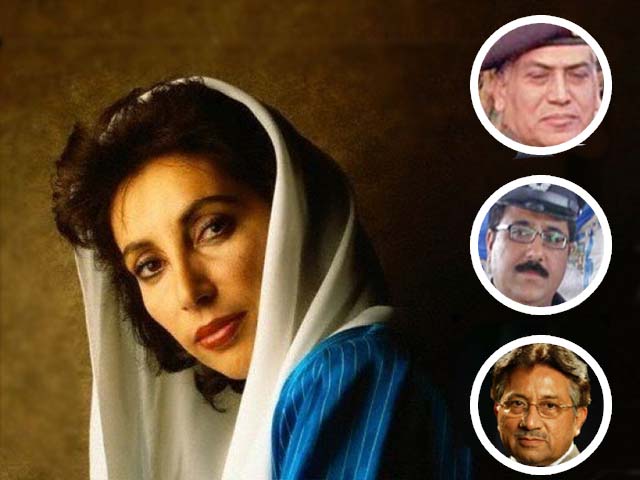 ---
Benazir Bhutto's assassination was carefully planned, politically motivated and amply funded – but who did it?
There were too many winners from this tragedy; you have to be living in a cave not to know who benefitted from this.
---
Every movie buff has their favourite action movie star – mine is Mark Wahlberg. He has acted in several high octane, action-packed and successful movies. For our purpose, I'd like to remind my readers of one of his more subdued films, Shooter. The film follows the story of a sniper living in exile who is coaxed back into action to prevent a plot to kill the president of the US. Unbeknownst to him, the people who brought him in to help them are the ones who were involved in the whole conspiracy to begin with. If you haven't seen the movie, please do. I heartily recommend it.

At the end of the film (spoiler alert), Wahlberg's character, Bob Lee Swagger, hands himself over to the FBI after being on the run for a long time. However, just before he does so, he burns the evidence he has collected which could have proved his innocence in the conspiracy. When his friend FBI agent Nick Memphis protests, Swagger replies,

"This stuff's plutonium. Nobody can handle it without dying. You hand it over to the authorities, it's just gonna disappear, along with us! Unless you want to get buried in the hills outside Terlingua..."

Apologies to my readers for arduously running them through a few lines in a movie but there is a point to be made here. Similar to what was intended by the writer Stephen Hunter, all conspiracies or conspiratorial assassinations have a few factors in common. We have a few well-placed and powerful individuals or a group, a goal to be achieved or benefit to be gained through the dirty deed, and a fall guy or a patsy to pick up the pieces.

Right at the stroke of Eidul Azha, the Anti-Terrorism Court (ATC) announced its verdict on the almost decade-old case of the assassination of Benazir Bhutto.

'The court dismissed charges against five alleged Taliban militants accused of being involved in the killing, while two police officers were found guilty of "mishandling the crime scene", becoming the only people to be convicted in the case'.

The court also branded the former president/dictator Pervez Musharraf, a fugitive. However, the most important omission from this verdict was of course any clarity on who actually carried out the crime.

There are numerous theories abound on who did the deed, as the Bhutto family directly blamed Musharraf for her death. Musharraf's government, which was in power at that time, pinned the assassination on then Pakistani Taliban chief Baitullah Mehsud, who rejected any involvement in the matter. The United Nations (UN) team, which was brought in to investigate, largely blamed governmental authorities for not providing enough security, though they didn't pinpoint any names for possible culprits. The head of the UN investigation team, Chilean diplomat Heraldo Munoz, however said it was ridiculous to imagine Benazir's widower Asif Ali Zardari to be involved in her death.

Sabyn Javeri had it right when she named her awesome novel about Benazir, 'Nobody killed her'. In attempting to solve this conspiracy or at least pointing towards a direction, let's run it through the three factors we identified earlier.

The fall guys

The only two men charged in the case were city police officer, Saud Aziz, and the then superintendent of police, Khurram Shahzad, who were branded facilitators in the crime. These men were held responsible for the security lapse, autopsy issue and the washing away of evidence at the crime scene. The court order, however, did not mention whom they 'facilitated'.

Another important link in this chain was of course Khalid Shahenshah, Benzair's most trusted bodyguard who was acting very peculiar during the whole episode.

The most important questions of note here are, of course, why were the police officers on bail if they were at the centre of such a huge conspiracy? And if they were granted bail, then why weren't the other five acquitted defendants not given the same courtesy? If Shahenshah was the closest bodyguard to the former prime minister, why wasn't he charged with anything for screwing up so badly like the policemen were? Shahenshah was serving as a bodyguard at the Bilawal House in July 2008 when he was shot by 'na maloom afraad' right outside his house.

Another conspicuous absence is that of Naheed Khan and Safdar Abbasi in this whole case. They were physically the closest people to Benazir at the time of her assassination, yet their disappearance from public life and their quietism raises too many questions. I guess only they can answer for their side-lining and subsequent actions.

The benefiters

You have to be living in a cave not to know who benefitted from this whole situation. Bilawal Bhutto Zardari's introduction into politics, the Pakistan Peoples' Party's (PPP) massive win on the back of sympathy votes and a presidency that lasted one full term. Furthermore, even the men who were first to run for their lives from the scene on the day of the assassination became interior ministers and advisors in the upcoming government regime.

Pakistan's participation in the War on Terror continued and Benazir's rhetoric to stem the war and open dialogue fizzled away. Her death also led to the demise of the Musharraf government and brought democratic stability to a politically unstable country. There were too many winners from this tragedy than there were losers.

The powerful cabal

Pointing a finger towards any powerful group in Pakistan, or any part of the world for that matter, is to invite censure, torture and even death. Shahenshah's murder was the winding up of a loose end, whether one agrees with this synopsis or not. Therefore, it is prudent not to point any baseless fingers at anyone. Some things are, however, quite evident. Her murder was not the work of any low level thug living in a cave. It was carefully planned, politically motivated and amply funded. A simple examination of the precise planning of the suicide bombing, meticulously followed by her shooting up close and personal, then the second bomb within seconds would tell any careful observer that this was definitely not random.


I don't know who was involved in this tragedy but former diplomat and analyst Zafar Hilaly, Benazir's close advisor, said something about it on the main stage at the Karachi Literature Festival in 2015. He said and I quote,

"The white house, the black house and the grey house were all involved."

Go figure.
Facebook Conversations
COMMENTS (15)
Comments are moderated and generally will be posted if they are on-topic and not abusive.
For more information, please see our Comments FAQ