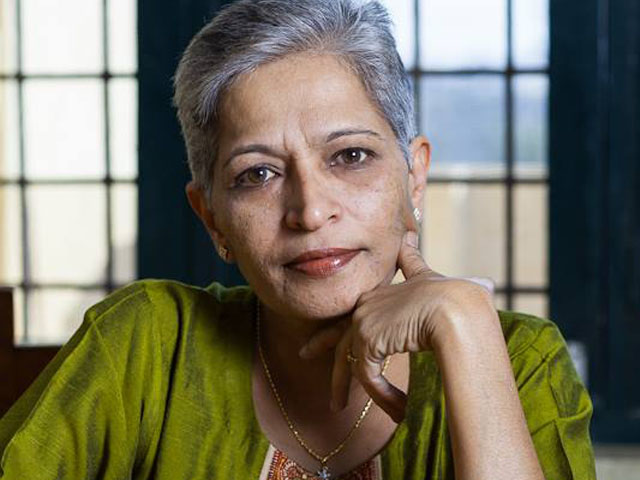 ---
Silencing the ink: Gauri Lankesh, a fearless journalist of courage
Known for her radical views, she was gutsy about embracing ideologies that weren't compatible with the powers that...
---
Gauri Lankesh's Facebook profile picture that features Rohith Vemula, with the caption 'Punish the culprits', gives you an idea of the kind of person she was – fearless.



The 55-year-old senior journalist was shot dead outside her residence in Ideal Home Layout in Rajarajeswari Nagar, Bengaluru, late yesterday evening.

Not one to soften the blows

Lankesh was known for her radical views and was gutsy about embracing ideologies that were not very compatible with the powers that be. She was not one to soften her blows using a velvet glove while her approach to everything in life was unabashedly in the face.

What is shocking about Lankesh's murder is that it is very similar to the manner in which rationalist Malleshappa Madivalappa Kalburgi was killed at his home in Dharwad, Karnataka in August 2015.

Given her outspoken views against Hindutva, it is no surprise that fingers are being pointed at right-wing elements. Add to that, her conviction in the defamation case that was filed by Bharatiya Janata Party (BJP) MP Prahlad Joshi in November last year. Joshi had accused Lankesh of publishing a story defaming him in 2008, for which the court felt she could not produce substantial evidence. She was sentenced to jail for six months, but eventually got out on bail.

However, at this stage, when investigations have just begun, it would be foolhardy and irresponsible to jump to conclusions. What is more important is that the case does not meet the same fate as the Kulburgi murder that is yet to be cracked.

That indeed is the worrying part. That just like in Kalburgi's case – or in the case of noted rationalist and anti-superstition activist Professor Narendra Dabholkar, who was shot dead in Pune in August 2013 – anyone can brazenly decide to eliminate a voice of dissent at point blank range.

A pre-planned attack

Prima facie, it seems the assailants tracked Lankesh on her way home from office, raising suspicion that the three motorbike-borne men could be hired killers. The police say the lights at her home were switched off since she stayed alone and the CCTV cameras would be the only way her killers can be tracked.

Given her work background, it would also make sense to look at the kind of stories she was pursuing in her tabloid in the recent past.

After Kalburgi was gunned down, several editors in Karnataka were asked by the police force if they needed security. It seems Lankesh turned it down, though now her brother Indrajit Lankesh says he wanted security for her.

Karnataka Director General of Police (DGP) Rupak Kumar Dutta has, however, said there was no threat to Lankesh's life.

Her journalism, a product of her DNA

Gauri's brand of journalism was a product of her DNA. She was the eldest daughter of poet and journalist P Lankesh, who is credited with having introduced a new brand of Kannada journalism through his publication. Gauri embraced the same template with the tabloid known for being outspoken. However, after her father's death in 2000, the paper was split between her and her brother. While her brother ran the original 'Lankesh Patrike', she started the weekly 'Gauri Lankesh Patrike', known for its strident anti-establishment line.

Just a day before her death, Lankesh was enquiring from her friend, a Bengaluru-based senior journalist Sugata Raju, what kind of t-shirts she should buy for her 'adopted son', Jawaharlal Nehru University (JNU) student leader Kanhaiya Kumar.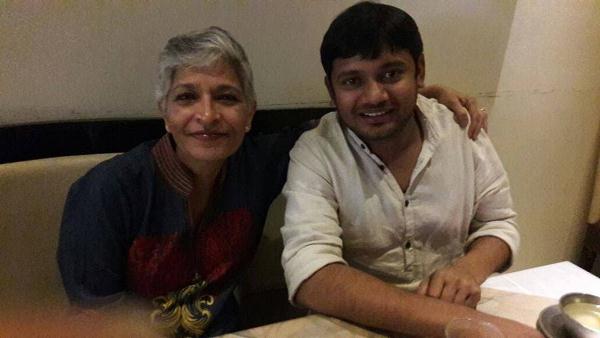 "She would refer to Kanhaiya and others as my children," says Raju.

He also posted on Twitter a screenshot of his Whatsapp conversation with Gauri on August 9th.


My August 9 interaction with #gaurilankesh. RIP my dear friend. pic.twitter.com/2tPuOIpK55

— Sugata Srinivasaraju (@sugataraju) September 5, 2017


The onus now on Karnataka government

What is surprising is that the murder took place on a day when the Bengaluru police was on maximum alert, with almost its entire force on the road. Prohibitory orders were placed in order to foil the BJP's 'Mangaluru Chalo' rally, with the police sealing its check posts at each entry point of the city.

The onus is now on the Siddaramaiah government to ensure that the Gauri case does not go the Kalburgi way. With elections less than a year away, the case will otherwise be used by political rivals to throw mud at each other.

Gauri practiced the journalism of courage and always exhorted others to stand up to what was wrong. The ink in her pen has been drained out, but she would be very disappointed if her brand of journalism also passes into the past tense.

This post originally appeared in The Quint here.
Facebook Conversations
COMMENTS (32)
Comments are moderated and generally will be posted if they are on-topic and not abusive.
For more information, please see our Comments FAQ