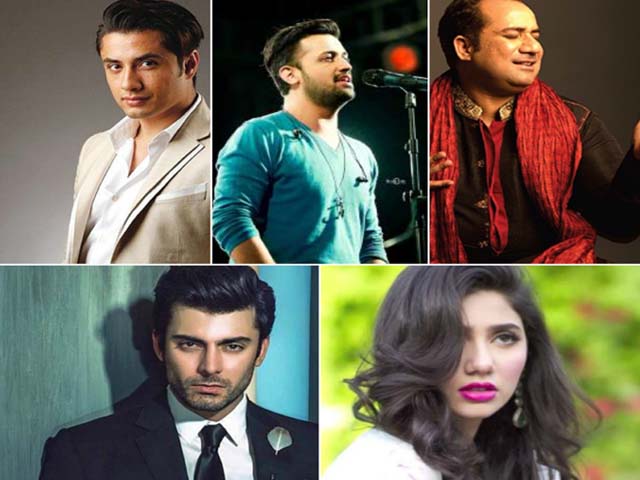 ---
How Bollywood's curtain call became a blessing in disguise for Pakistan
Who knew that such gruesome burning of bridges between the two countries would actually benefit Pakistan's industry
---
This has been a year of reformation and introspection for Pakistan's entertainment industry. After India closed its doors to Pakistani artists in the wake of the Uri attack last year, Pakistani artistes – who were minting a heavy buck from the biggest culture industry in Asia, Bollywood – were forced to come up with a plan B.

Nothing can compare to the attention and recognition a successful project in India can bring. In fact, a lot of Pakistani artistes still bank on that one short role (that nobody remembers) to enhance their portfolio. But as Junoon said in their song, "khwaab adhooray sahi, khwaab saharay toh hain" (while our dreams may be incomplete, at least we have them), dreams are what we live for.

Pakistan's Bollywood dream was officially over the moment Indian Motion Pictures Producers Association (IMPAA) put a ban on hiring Pakistani artistes for new projects. So the cream of Pakistani talent and music, which used to heavily rely on Bollywood, realised that home is where the heart is.

This ban naturally instilled a sense of patriotism; a word that should be defined as hating India in Pakistan and hating Pakistan in India. As an independent commentator, I was moved to see the likes of Fawad Khan and Mahira Khan follow Mahatama Gandhi's guidelines – not respond to filth with filth – something that was being bombarded by the Indian artistes' community under severe government pressure. But we never realised that such a gruesome burning of bridges between the two countries would actually benefit Pakistan's culture industry instead of hampering its growth. Even Pakistanis didn't know that.

Almost one year down the line from the conflict, the biggest names of Pakistani entertainment are engaged in unusually high number of projects in Pakistan, some being financed by corporations, others on their own. This would have been close to impossible had the Bollywood bliss been available.




Fawad Khan returns to music

Well, the new Khan of Bollywood, the guy who was compared to a "juicy ice lolly" in an Indian publication, has returned to music. The Kapoor & Sons actor first came into the limelight in 2002, when his band Entity Paradigm qualified for Pakistan's first Pepsi Battle of the Bands. Seventeen years and a vast portfolio later, Fawad has returned to the same show alongside Atif Aslam, Meesha Shafi of Jugni fame and Vital Signs founding member Shahi Hasan.

Not only was it a delight to watch the biggest star of the country hone fresh musical talent, but his regular appearance on TV, as a judge and mentor, has also managed to bridge the gap between Fawad and his Pakistani fans. His much-awaited Maula Jatt 2 by Bilal Lashari has completed its first spell too. He is expected to resume work on Maula Jatt 2 and kick off the Pakistani pop legend, Alamgir's biopic soon. Thanks to his no-commitments-in-Bollywood status, we will finally get to see Fawad star in a Pakistani film after a decade. Along with Fawad's appearance, we will witness the return of Pakistan's cult Punjabi characters, Maula Jutt and Noori Nat.




Mahira Khan signs three Pakistani films

Like Fawad, Mahira had also found a new home via the immense popularity of Pakistani serials in India. She had the grace, elegance and everything that was needed to become the first Pakistani to debut alongside Shah Rukh Khan. Although the role wasn't as significant as one would imagine, it still managed to raise few eyebrows on both sides of the border. However, she couldn't promote the film in India for obvious reasons so she stayed back home and watched the fireworks from a distance.

As a result, Pakistan's most successful producer/director Shoaib Mansoor (Shoman) announced his next project, Verna, with Mahira in the lead role. Speculation was rife that Kareena Kapoor might end up playing the lead but Shoman had Pakistan's most followed diva on the sets.




The film is now in its post-production. Mahira has also started shooting for yet another Pakistani film titled Saat Din Mohabbat, after long spells of rehearsing for the role while simultaneously training for the labour intensive Maula Jatt 2 – in which she plays the female lead. So, if things go as planned, we will get to see Mahira in not one, not two, but three Pakistani films! And trust me, that's a lot of films for Pakistan.

The Atif Aslam we missed is back!

The biggest music export to India is now back in Pakistan. Yes, speaking of recent times, I would put Atif way above Rahat Fateh Ali Khan or Shafqat Amanat Ali in terms of the influence he has had on Bollywood music. Like it or not, but had it not been for his powerful falsettos both high and low in signature eastern classical and semi-classical melodies, someone like Arijit Singh would have never been welcomed.

After bending the rules on both sides of the border, Atif is finally back home, releasing original music which is not restricted to films. Since the beginning of 2017, he has released three original songs which are not a part of any film. The songs are becoming less filmy and more profound with every passing release.

'Yaad Tehari', the song that he performed on Pepsi Battle of the Bands reminded us of the Atif of the 'Jal Pari' days, one who was as much inspired by Nusrat Fateh Ali Khan as he was from the works of Peter Gabriel. Apart from his fresh music and live concerts, Atif was the second usual Bollywood customer who was judging Pepsi Battle of the Bands in Pakistan.



This deadly combination of Fawad and Atif's star-power combined with exceptional young talent has given the 10th season of Coke Studio a serious run for its money. On the set of Battle of the Bands, someone asked Atif why his music was getting more complicated yet profound with every passing release, to which he responded,

"If I don't do it now, I'll probably never do it."

Now that sounds fresh and inspiring.

Ali Zafar completes shooting his first Pakistani film

He is a painter, singer and an actor. Ali Zafar may not have bagged his dream role in Bollywood but he created quite a stir with his diverse skill set. However, despite being offered a number of Pakistani films, including filmmaker Jamshed Mahmood Raza's (Jami) Operation 021, Ali was yet to appear in any Pakistani films until this year.

Disgruntled and disheartened at how his voice was replaced with Arijit's in the only song he sang in Dear Zindagi, Zafar seems to have closed the Bollywood chapter, at least for now. Instead, he has started working on his Pakistani film debut, Teefa in Trouble, which is an action-comedy being produced by Ali himself and directed by famed ad-filmmaker Ahsan Rahim.




Ali, who returned to Pakistan after wrapping up the shoot for Teefa in Trouble in Warsaw, Poland, is basking in the success of his Coke Studio rendition of the Lollywood classic, 'Jaan-e-Bahaaraan'. While we wait for his much-anticipated original from Coke Studio, titled, 'Julie', the Kill Dill actor has already started working on his next music album. His last album, Jhoom was released in 2011.


Rahat Fateh Ali Khan

A voice like Rahat's finds its way no matter what the political landscape may be. Bollywood didn't really close doors on Rahat. They, in fact, only worked around his previous arrangement of recording in Dubai by getting the vocals recorded in Pakistan.

He went on one of the most expensive world tours of his time, in memory of the late maestro, Nusrat Fateh Ali Khan. From the earnings of the tour that featured almost 50 concerts, Rahat pledged to establish a music academy in Pakistan. He is also actively participating in the soundtracks of Pakistani films and in no time featuring 'a Rahat track' in your film has become as much of a Pakistani formula as it was of Bollywood's. The actor also has a series of concerts lined up in Pakistan apart from his appearance in the ongoing season of Coke Studio.

So the verdict is…

The wave of hatred propagated by groups such as MNS and Shiv Sena may have closed Bollywood's doors to Pakistan but has the move actually dented Pakistani entertainment industry? Yes, Fawad may have lost the Bollywood momentum after Ae Dil Hai Mushkil and Saba Qamar could barely capitalise on the commercial and critical success of Hindi Medium, but has it really stopped them from working? Not at all. In fact, if anything, this red flag by the Indian entertainment industry has helped Pakistani artistes trust their own abilities and muster the courage to believe in their aptitude as they used to before the Bollywood explosion happened – special thanks to Mahesh Bhatt (No pun intended).

After a huge lacuna, the Atifs, the Mahiras and the Fawads are working for Pakistan in Pakistan, resulting in a plethora of locally funded and supported projects. The Pakistani vocalist who had completely become dependent upon a Bollywood breakthrough for mainstream recognition has started jamming again.

Pakistani film producers, directors, and actors have set their eyes on the big screen as the cinema industry saw exponential growth in the past 10 years. We have gone from 27 screens in 2007 to almost 107 screens in 2017 and the private sector is getting more and more interested in cinema as a medium of revenue generation.

However, none of these signs are going to last in the long run, for the progress of both India and Pakistan's cultural industries is dependent on the exchange of talent and ideas and we learnt our lessons the hard way.

Last year, Pakistani exhibitors decided not to screen Indian films until 'normalcy' and the deserted cinemas spoke volumes of our collective, hyper-nationalistic attitude towards culture. It's about time both countries realise that no form of restrictive cultural policy is going to help anybody's cause – love it or hate it but melody finds its own way out.

The cultural similarities between Pakistan and India are such that for a global audience, they are an extension of each other, and rationally speaking, that isn't far from the truth. Let's hope we have better things to talk about on the next Partition anniversary.

This post originally appeared on The Quint here.