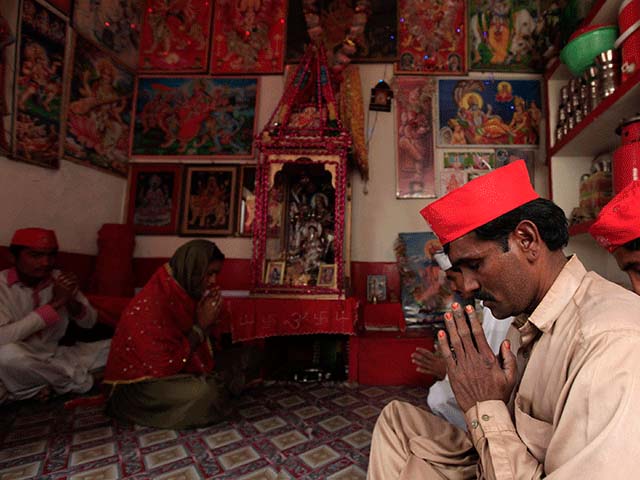 ---
Is Pakistan doing enough to protect its Hindu minority?
Most of the Hindus who migrated don't see any chance of upward mobility in their social strata standing in Pakistan.
---
According to the Pakistan Bureau of Statistics, Hindus constitute around 1.6% of Pakistan's population. During the time of independence, there was a sizeable Hindu population in the areas that eventually became a part of Pakistan, but a majority of Hindus opted for India.

However, thousands of Hindus were still living in the eastern wing of the country, but after the dismemberment of East Pakistan, Sindh became the largest province to house Hindus; it constitutes 6.51% of Sindh's total population. But over the years, numerous Hindu families have migrated from Sindh to India which is the natural destination for Pakistani Hindus as they share religious, cultural and familial ties with the people settled across the border.

The majority of Pakistani-Hindus end up settling in the Indian states of Gujarat and Rajasthan since both these states share a border with the Pakistani province of Sindh. It is not just one blatant factor that has led to this mass exodus, but rather various reasons have contributed to this phenomenon.

The rising religious extremism in interior Sindh is one major factor. Forced conversions of minor Hindu girls have become a norm in these areas. In fact, forced conversions have become the face of cultural and religious persecution in Sindh. The list of atrocities does not stop there. Abductions for ransom of Hindu traders and hate speech are also rampant.

Moreover, Hindus are treated as second class citizens and face discrimination when it comes to gaining admission in educational institutions, getting jobs and availing health facilities.

There are also various economic reasons behind this migration. Most of the Hindus who migrated are poverty stricken individuals/families and don't see any chance of upward mobility in their social strata standing in Pakistan. Thus, they migrate to India in search of better opportunities.

Hindus that are well-off leave for India to protect their business interests as Pakistan does not provide an even playing field in terms of protection and promotion of their businesses. However, the current situation in India has not provided much relief to the migrants either. Since India is not a signatory of United Nations Refugee Convention, the migrants have to live in makeshift camps without any basic necessities such as electricity and water. On top of that, they are suspected for being Pakistani spies with the Indian agencies closely monitoring their each and every movement. Moreover, obtaining Indian citizenship is not as easy since it requires a strict and lengthy procedure.

The migrants have to live a life that is, in short, miserable and difficult. Although the Indian government has taken steps to speed up the process of acquiring Indian citizenship, it is still far from producing the desired results.

The questions that should be put forth here are why this is happening and what the state and citizens of Pakistan should do about it?

Pakistan repeatedly reiterates that Hindus are safe in Pakistan and enjoy religious freedom. They feel the entire situation is mere Indian propaganda adopted to malign Pakistan's image and to divert the world's attention from the atrocities faced by the Indian minorities at the hands of Hindu extremists. But the situation in Pakistan is closer to what India claims.

The matter of forced conversions and abductions is a serious matter and should be looked into. The Sindh Provincial Assembly did pass the Protection of Minorities' Bill earlier this year which sets an age limit for marriage and conversions, and prescribes a harsh punishment for those who do not adhere to it. But due to pressure from religious parties and political compulsions, the bill has been swept under the carpet under the guise of a review. The government should take a stand and the aforementioned bill should be implemented in its letter and spirit.

Moreover, the Federal government should take actions to facilitate the return of willing Hindu migrants from India. Pakistan's High Commission in India can act as a liaison in this regard. The government should take all necessary actions to rehabilitate them upon their return and take steps to ensure their security and well-being.

Furthermore, special task forces should be established with members from the Hindu community and the local civil authorities in order to address the grievances of Hindus. Plans to improve the condition of Pakistani-Hindus should be chalked out as well.

Places in Pakistan that are sacred to Hinduism should be preserved, renovated and open for carrying out religious activities. This will not only strengthen Pakistan's Hindu connection but the national exchequer will also benefit from religious tourism.

It all comes down to the government and us. We have to realise that we are responsible for our minorities, irrespective of their creed and race. The law provides safeguards to our minorities and the government should make it their priority to implement these safeguards.

Pakistanis should realise they are responsible for their minorities and this is the only way through which they can achieve Jinnah's true vision of Pakistan.
Facebook Conversations
COMMENTS (12)
Comments are moderated and generally will be posted if they are on-topic and not abusive.
For more information, please see our Comments FAQ