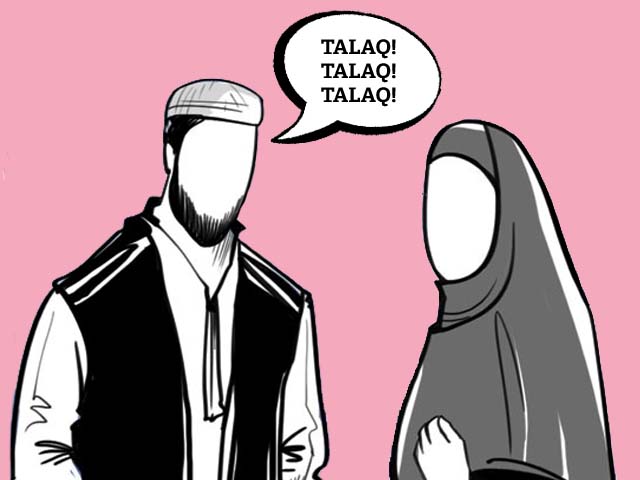 ---
Banning triple talaq is one small step for India but one giant leap for Muslim women
Ishrat Jahan was divorced over the phone from Dubai. For women like her, this was a fight for respect and equality.
---
When five men from different faiths – Hinduism, Christianity, Sikhism, Islam and Zoroastrianism – convened yesterday morning, an entire nation waited to hear their much-awaited verdict on the triple talaq issue in India.

Out of the five judges, three of them were clear in what they wanted. They announced the following,

"What is sinful under religion cannot be valid under law."

Thus, triple talaq (divorce via saying it thrice) was rendered illegal in India and rightfully so.

The landmark judgment stated,

"Triple talaq may be a permissible practice but it is retrograde and unworthy. Since triple talaq is instant, it is irrevocable and the marital tie gets broken, it violates the right to equality."

The judgment gave credence to the arguments of the petitioners who had questioned the 1400-year-old practice. In fact, in recent times, triple talaq has embraced all that is wrong with the world of today and how it made a mockery of the institution of marriage. One of the petitioners had been divorced through WhatsApp.

For some women such as Shayara Bano, the face of the campaign, it's been a long and determined fight. In 2015, the mother of two was sent a talaqnama through Speedpost and was left to fend for herself. She was physically battered during her marriage and went through multiple forced abortions as well. What's worse is that she lives in a society where divorce is still considered a taboo.

While she did have her family's support, she still had to deal with a different kind of pressure – the pressure of her religion. She was told numerous times by clerics to withdraw her case and "sacrifice herself for Islam". Her fight will now give voice to numerous silent Muslim women who have borne the brunt of violent men and their whims in an abusive marriage.

Ishrat Jahan, another petitioner, was divorced over the phone from Dubai. For women like them, this was a fight for respect and equality, but taking the religious discourse out of the debate will not prove to be as easy. The real test will be how things change on the ground. Will conservative families stop accepting this regressive practice? The All India Muslim Personal Law Board, a non-government organisation (NGO) with powerful influence, has been opposing the move to not just ban triple talaq but also polygamy which is illegal in India, arguing that the courts must stay out of matters of faith.

The two judges who differed on the landmark judgement were Chief Justice of India JS Khehar and Justice Abdul Nazeer. They stated that while triple talaq 'may be sinful', it was not right for the court to interfere in personal laws which have the status of fundamental rights under the Constitution. They would have preferred for the Parliament to enact a law to end this practice, but the other judges referred to countries where triple talaq is banned, which included Pakistan as well.

While there has been immense support for these women, there are still some men who have come out against the order, saying if practiced properly, triple talaq needed no such judgement.

Former Indian cricketer Mohammad Kaif has been trolled on Twitter for supporting the landmark ban, to such an extent that some even questioned his understanding of gender justice and women's security. The realms of misuse in triple talaq have been so vast that for gender equality to prosper, many habits will need to change. And change is never a phenomenon that occurs overnight.


Welcome decision by Supreme Court to declare #TripleTalaq unconstitutional. Will give Muslim women security. Gender justice is much needed

— Mohammad Kaif (@MohammadKaif) August 22, 2017
Aside from the religious aspect, triple talaq has not been isolated from the political spectrum of the country either. Shah Bano, a mother of five, became a household name in 1978 when she went to court after being divorced by her husband. The Supreme Court ruled in her favour and granted her alimony. However, sensing the damage it would do to its Muslim vote bank, the then Congress government enacted a law that took away her maintenance after the period of 

iddat 

(waiting period).
From Shah Bano to Shayara to Ishrat, the country has come a long way. But the fight for these brave women is still ongoing. Shayara's family says they will not back down while practices like Halala marriages still exist. Meanwhile, the country continues to debate the uniform civil code, whereby the personal laws of different religions will be replaced by a common set of laws. No political party has been brave enough to take the plunge though.
For now, it's one big step taken by our courts and a giant leap for our Muslim women. Hopefully, this message will resonate across religions and different castes in the country. Maybe it will help others in fighting against other stigmas such as honour killings and female infanticide.
For now, Shayara, who is an MBA student, has taught us one thing – there is nothing bigger than self-respect.