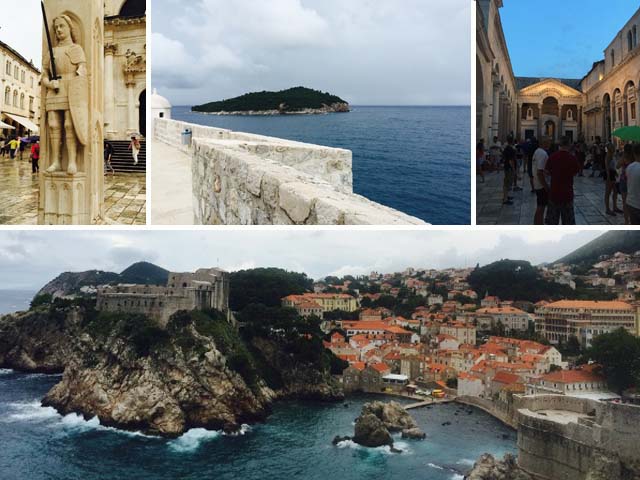 ---
A trip to King's Landing, minus the dragons and the Lannisters
Cersei Lannister passed over this very same bridge and entered the Red Keep during her walk of shame.
---
I am one of those people who belong to the cult of the famous HBO series Game of Thrones (GoT) that has now ventured into the end of its second last season.

Croatia's coastal city, Dubrovnik, therefore, became a natural destination in my travel wish list which is doubled as King's Landing in GoT. Many scenes of the show have been filmed in this picturesque city.

I landed in Dubrovnik on an extremely rainy morning and checked into an all-girls hostel. Since the larger part of my stay was in the neighbouring budget friendly Bosnia, I had expected Croatia to be a money-friendly place as well. However, I was proven wrong. Croatia is relatively more expensive than other parts of Europe as a decent dorm at a hostel costs up to €20-25 per night, which is extremely high compared to other tourist destinations such as Rome and Barcelona. 'Tourist staple food' pizzas are about €6 and the superstores are dearer than in the United Kingdom.

Croatian people, however, are quite friendly and helpful, especially if you try to communicate with them in Croatian. They are extremely generous and it almost appears that the less people have, the more they tend to give. I think that they complement their country's stunning scenery in the truest sense.

Croatian food can be distinguished on the basis of its regions, that is, Dalmatian food and Zagreb food. My favourites included strukli, a delicious pastry filled with cottage cheese and sour cream boiled or baked in the oven, and brudet (brujet, brodet) which is a fish stew flavoured with chilli pepper. Another dish worth trying is the oily fish that represents an essence of the Dalmatian diet. Sardines, mackerels, anchovies, Mediterranean sand smelt, tuna and bonito are also delicious and a common staple around Croatian homes.




Since Croatian islands and GoT-famed Dubrovnik attract a large number of wealthy European tourists all year round, it has niched itself as an exotic holiday destination.

GoT's King's Landing, Dubrovnik, was once a trade capital of the Balkans. During the 16th century, it boasted the largest merchant naval fleet in the world with more than 50 consulates in the world. Dubrovnik was a city of rich merchant villas and wealthy sailor fleets but it has lost its formal glory ever since.

Today, most of the places worth seeing in Dubrovnik are within its 'pedestrian only' walled town. This town was declared as a United Nations Educational, Scientific and Cultural Organisation (UNESCO) heritage site in 1979 and is dotted with beautiful Gothic, Renaissance and Baroque architecture.




I braced the rain with an umbrella and ventured into the old town, and to be honest, it looked like the mall road of Murree at first glance. It is crammed with souvenir shops, museums, empty villa-museums, eateries, tour operators, musicians and dancers. It really pours ice cold water over one's fantasy of a breath-taking perception of Dubrovnik, until one climbs the town walls and takes a detour around the town.




The walk on the Dubrovnik Wall is one of the most beautiful experiences in Croatia. It's a beautiful longish walk over the azure waters of the Adriatic Sea, where the city and sea below actually looks like a vision of King's Landing, right out of GoT.






During the walk, one passes through the east entrance to the old town Dubrovnik, namely the 14th century 'Ploče Gate', which was the Red Keep gate in GoT. Cersei Lannister passed over this same bridge and entered the Red Keep during her walk of shame.

Just across Dubrovik's old town square is the 16th century 'Sponza Palace', where wonderful arrays of painting exhibitions take place regularly. During my visit, I came across a painting exhibition about atrocities of the Bosnian war. Though Croatia has fared economically better than its Balkan neighbours after the Bosnian war, emotional battle scars are still visible through war monuments all around Dubrovnik.

Dubrovnik has a few beaches just outside its city limits that are more laid back and quieter, with Lapad beach being one of them. Here I was able to relax and sip tea while gazing into the sea while snorkelers dive into the water every now and then.

My next stop was the coastal city of Split for a further detour to the island of Brac, which is famous for its olive oil. This oil is a must try for any visitor who plans to visit the island. Being one of the biggest islands in Croatia, it is a little inconvenient to get around the island considering the lack of conveyance. Even though buses move around regularly, I was about to miss the bus to the docks and my subsequent flight out of Split the next day. Luckily enough, my constant waving caught the eye of the driver of the last outgoing bus, who in a show of humanity for a solo traveller, stopped outside his bus route and took me to the dock. Brac, however, did not leave much of an impression on me and I could easily skip it the next time I visit Croatia.




Split was an impressive city with a gorgeous seafood market just near its harbour. Split is a heaven for any seafood lover and since I am one, I devoured a sumptuous breakfast of sardines and other small fish at one of the small local inns.

Roman ruins of the Diocletian Palace remains one of the most interesting features of Split, with its snake-like labyrinth of streets, packed with shops, people and Roman warriors. You find Roman warrior actors around the palace who at a nominal fee will pose with you or even let you pretend to be one.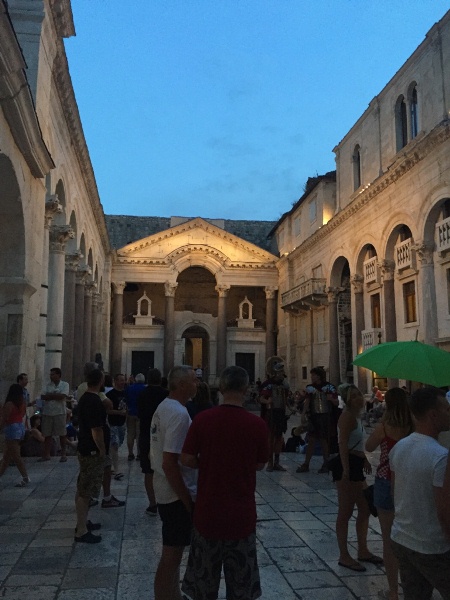 The visit to Split marked the end of my Croatian tour and so I bid my farewell to King's Landing and headed towards other destinations.

For anyone who is a GoT fan, I highly recommend visiting Dubrovnik. It is time and money well-spent.

All photos: Quratulain Fatima
Facebook Conversations
COMMENTS (1)
Comments are moderated and generally will be posted if they are on-topic and not abusive.
For more information, please see our Comments FAQ