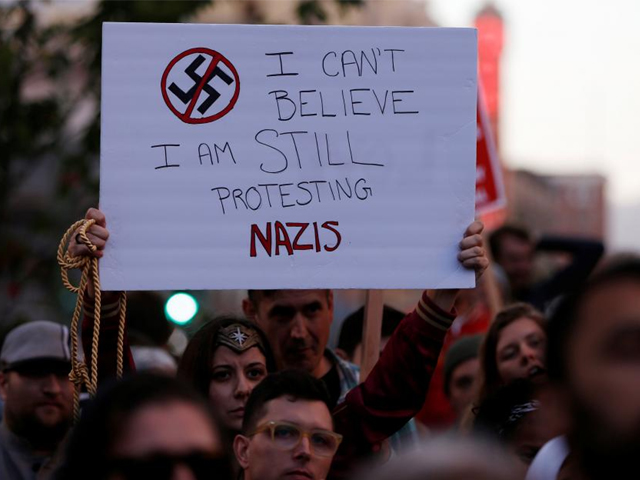 ---
Divided States of America: Donald Trump will not condemn the Charlottesville attackers because they are the ones who voted for him
If Trump continues to remain silent, it won't be long before America witnesses a repeat of KKK's inhumane actions.
---
Donald Trump's vicious win as the 45th president of the United States caused quite an upheaval in the country. He spoke outrageously and millions applauded. However, in wake of the recent Charlottesville, Virginia tragedy, a new wave of hate crimes and violence has taken charge – and it is doing us more harm than good.

The incident in Charlottesville is a perfect example of it. However, this time it shook me to my bones as the tragic event took place in my home state, Virginia. A group of anti-far right protesters gathered in Charlottesville for a demonstration which ultimately led to an innocent civilian's death, and it was no accident. A car deliberately rammed into Heather Heyer and took her life.

Heyer's family and friends described her as a strong and passionate woman, someone who fought ardently for human rights. At a press conference, Heyer's mother, Susan Bro said,

"They tried to kill my child to shut her up. Well guess what? You just magnified her."

She's correct. By silencing her, white supremacists only ended up glorifying what she stood for.


The man responsible for murdering the woman reserved no right to disrupt the peaceful protest, given the first amendment of the United States constitution which grants every citizen the right to protest and free speech. Above all, the right to life was an exclusive privilege violated by the ruthless man. He deliberately breached the US constitution and will be held accountable for it.




This very incident is something we have never seen before until recently. Moreover, Trump addressed the problem in the most careless manner, condemning violence on both sides and avoiding the involvement of the Ku Klux Klan (KKK) and white supremacist groups. 



KKK stands for everything that America has been fighting against – racism, bigotry, slavery and violence. Established in 1866 after the American Civil War, KKK went onto to become a notorious white supremacist group responsible for the bombings of black schools and churches. They began disintegrating in 1925 because its ideology, intimidation and violence, did not resonate with most Americans, as compared to back in the 1800s.

Americans thought that the KKK influence had been quelled, never to return again. But it recently emerged its ugly head in the form of the Charlottesville protests.

In contrast to Trump, however, former President Barack Obama tweeted a heartfelt response saying,


"No one is born hating another person because of the color of his skin or his background or his religion..." pic.twitter.com/InZ58zkoAm

— Barack Obama (@BarackObama) August 13, 2017


The conflicting responses from Obama and Trump clearly indicated their difference of perception amidst a crisis. We have witnessed a rise in hate crimes in the past few months and it will set a dangerous precedent for masses in the future. The minorities, including Latinos, blacks, Asians and South Asians are not the only ones at a potential risk. The white majority against Trump is also under the knife, unfortunately.

Perhaps Trump has consciously refused to acknowledge the culprits of the hate crime – the KKK and white supremacist groups.

Or perhaps he refused to condemn the alt-left protesters because they support him and voted for him. David Duke, a well-known name in the KKK circles, was reported to have said the following in response to the rally in Charlottesville.

"We are determined to take our country back. We are going to fulfill the promises of Donald Trump. That's what we believed in. That's why we voted for Donald Trump, because he said he's going to take our country back."

If Trump continues to remain silent over such grave issues, it won't be long before America begins to witness a repeat of KKK's inhumane actions.   

While he faced backlash and criticism for his indifferent remarks, I for one believe that the US is no longer a safe haven for civilians, especially in presence of Trump and his army of misfits. His words indicated that both the liberals and conservatives were at fault, however, he hinted at the far-left party for a reason.

Trump was in no position to defend the conservatives, hence he blamed both the sides, but in truth, we know who he truly supports. He did not call out the bigots who assumed responsibility for the attacks, when someone else in his position would have done so without a doubt. If Trump wants to redeem an ounce of his long lost dignity, he should rightfully condemn the culprits who instigated violence.

Following the incident, many politicians spoke out against Trump. Jeff Sessions vowed to take vigorous action in view of the Charlottesville tragedy while Mitch McConnell was upset at the president for not denouncing neo-Nazis. Similarly, British Prime Minister Theresa May slammed Trump for failing to call out the far-right supporters


Our thoughts and prayers are with #Charlottesville. The UK stands with the US against racism, hatred and violence.

— UK Prime Minister (@10DowningStreet) August 13, 2017
PM: "It is vital that there is justice for the victims of this appalling tragedy and for their families." #Grenfell https://t.co/zeqrm2ItHv

— UK Prime Minister (@10DowningStreet) August 15, 2017


I was a partial Trump supporter prior to his presidency, but I am no longer one. I could relate to his stance on anti-abortion policy and border security concerns, however, after witnessing fascism and hate crimes every week took me back in history. I personally feel that Trump and his fascist supporters want their space back, evident from Trump's recent tweet:


MAKE AMERICA GREAT AGAIN!

— Donald J. Trump (@realDonaldTrump) August 16, 2017


Last year, when I was in California shooting for my web talk show, I wanted an American's opinion on Trump and hence approached one of his supporters and nicely asked,

"Who do you think will win the 2017 presidential election and why?"

To my dismay, however, the young man gave me a side eye and ignored the question.

Thus, I feel the hysteria has a lot to do with psychology and mind games. That said, the general perception world over is that Trump is unfit to lead a nation as diverse as the US. He is clearly in favour of the KKK and white supremacists and it won't come as a surprise if his actions inevitably lead to bloodshed and wars in the coming.
Facebook Conversations
COMMENTS (3)
Comments are moderated and generally will be posted if they are on-topic and not abusive.
For more information, please see our Comments FAQ