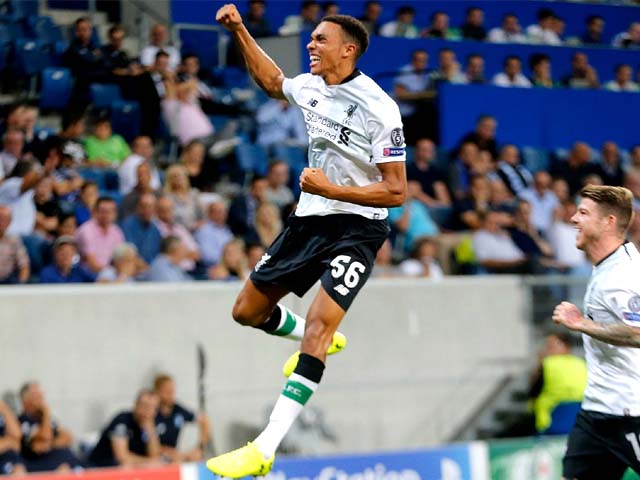 ---
Is Trent Alexander-Arnold the new Steven Gerrard for Liverpool?
You only let a teenager take charge of a dead ball situation with other senior players around when he's truly...
---
Ask football fans to identity their favourite player and majority of the answers would include names who have graduated from the club's academy to become a mainstay in their team's first 11.

In other words, the homegrown star, the local lad who made it big in a sport that has gone global. He's someone who fans can truly claim as their own in today's day and age, where football allegiance can change at the drop of a hat (or with the promise of a few extra millions).

Over the years, Manchester United might have had dozens of superstars play for them, but Paul Scholes – a local boy from Salford – is the one who is revered the most. Similarly, Didier Drogba is arguably Chelsea's best player, but John Terry was the idol that Stamford Bridge worshipped.




For someone like me who is a Liverpool fanatic, Steven Gerrard is the greatest player to have donned the iconic red jersey. His footballing abilities aside, the reason for his legendary status amongst Kopites had a lot to do with his status as a born and bred Scouser.

For two decades, Gerrard was one of the primary reasons why Liverpool remained a relevant footballing force, even during their lean phase. And ever since he left the club, there has been a void that is yearning to be filled.




But after Tuesday night's match, I feel this emptiness might start filling up soon.

After a two-year hiatus, Liverpool made its way back into the European elite – a Champions League two-legged playoff tie which could see the Mighty Reds back in the competition.

Their opponents, Hoffenheim, were under a great deal of pressure on their home turf, the Rhein-Neckar-Arena, when during play, Liverpool was awarded a free kick 30 yards out. It was then that an 18-year-old local defender, Trent Alexander-Arnold, stepped up and the ball was curled over the wall and into the bottom corner of the net with utmost ease.


And with that, a new home grown star was born.

The Reds went on to win the match 1-2, bagging a huge advantage into their second leg home tie, but it was the academy-trained Arnold, who with a fantastic set piece, got the match rolling.

Born in 1998, the same season Gerrard made his debut for the club, Arnold has gone from a youngster with huge potential to a fan favourite overnight. Even the former skipper himself was mightily impressed.




Speaking on a sports channel covering the game, Gerrard gave his verdict.

"Big talent and he's got a huge future. It's great that he's English as well."

It's not just the fact that Arnold is a local lad that is getting the LFC fans excited, it's the amount of talent he possesses which has LFC fans so thrilled.

You only allow a teenager to take charge of a dead ball situation with other senior teammates around when he is truly special. A point that coach Jurgen Klopp was too keen to stress on following the match.

"He is an incredible young player. I told him he had to take it, he can shoot free kicks better than I ever could. But I don't want the credit for it.

I have to say for an 18-year-old, who has the balls to take a free kick like that, it is rather more exciting and interesting for me than a little mistake he makes.

I told him to take it because I watched him many times for the under-23s last season. He took the free kicks then and, by the way, the goal is the same size."

And it wasn't just about the set piece alone; no player had more touches, completed more passes or made more interceptions during the first half. An all-round performance made Arnold the official Man of The Match as well.

In a post-match interview, Arnold said his contribution towards the victory was a dream come true. He said,

"It's a thing of dreams to make your European debut for your boyhood club. Especially to mark it with a goal was very special for me. More importantly, we got the win."


The 18-year-old has consistently talked about how he grew up pretending to be like local stars Gerrard and Jamie Carragher when playing in Liverpool city parks. If performances like last night become a norm, it might be Arnold's name that the next batch of children have on the back of their jerseys when playing football in Merseyside.
Facebook Conversations
COMMENTS (2)
Comments are moderated and generally will be posted if they are on-topic and not abusive.
For more information, please see our Comments FAQ