 ---
Nothing and no one could have saved 'Chain Aye Na' from its unfortunate fate
Since Syed Noor used remakes of songs from his earlier films, it was obvious that this film lacked originality.
---
In 1998, Syed Noor was on a high; his film Choorian had just released and went on to be one of the longest running Pakistani films showcased at a single screen cinema.

He went on to become one of the few acclaimed directors in the Pakistani film industry. It makes you wonder then, how the same director, who delivered cinema greats like Larki Punjaban and Majajan, could stoop to releasing a film like Chain Aye Na.



I don't understand how the movie went so wrong, even though it had big names like Nadeem Baig and Atiqa Odho in the cast. Mustafa Qureshi or even the relations of Behroze Sabzwari, Waheed Murad and Sabiha Khanum couldn't save Chain Aye Na from the unfortunate fate it was headed towards.


From the get-go of the trailer leak to the official trailer release and the cringe-worthy remakes of songs from Noor's earlier film ventures, the film was doomed to be a flop.
Unfortunately, it was inevitable due to the ever-so-hard storyline encompassed within this poor directional comeback. The main reasons behind the ill fate of 

Chain Aye Na

 range from lack of originality, trying too hard to prove something, and definitely not keeping up with the times.
Whilst Noor was hoping to cast Saima Noor and Shaan Shahid in his upcoming venture, he failed to realise the fact that the Pakistani film industry had evolved immensely between the years of his last mainstream release Shareeka and his recent release.
The 'evolution' was not only absent in areas of casting and music but also in more detailed places like the appeal, set design and more importantly, the storyline.
Noor also failed to realise that the Pakistani audience is accustomed to watching films with originality and quality, which his film obviously lacked. The audience of today is not limited to the rickshaw driver finishing his night shift or the dhaba workers of mall road; it is the new working class elite, a social media active audience and a quality expecting awaam.
Not only did Noor cast industry heavy weights who trusted in the 'Syed Noor' brand, but he also launched the film careers of Shehroz Sabzwari and Sarish Khan, instead of the intended Shaan/Saima duo.


When we realised that Noor used remakes of songs from his earlier films, it was obvious that this film lacked originality. Over the past few years, Pakistani films have had epic scores such as Bin Roye and Jawani Phir Nahi Ani. However, Chain Aye Na transports us back to 1999 when we see Shehroz singing Youn Nazar from Billi.



Noor tried too hard to make a film which, according to him, was part of the 'new Pakistani cinema' as opposed to maintaining originality and sticking to his typical style. He wanted to cast new actors, add a dance number and construct a storyline which appeals to the masses, similar to what all the new Pakistani films were doing. But clearly Noor went a little too overboard with it. You can't ask the Pakistani audience to deal with a scenario involving physical abuse whilst Shehroz is serenading you with a saxophone. It just doesn't work.




Let's look at the contrast between Sara Lahore Nachda to Shakar Wandan Re.



There, you see the difference. It is not just the music or the choreography that is objectionable but the physical alignment of the dancers, the music based on the dance steps and the actors' wardrobes.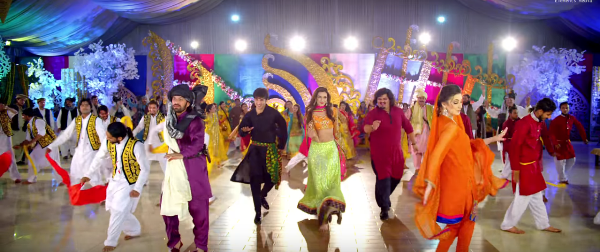 And did anyone notice the fake blood? I thought we got over that phenomenon ages ago. Despite our wish to never have to witness it again, Chain Aye Na takes us back to a time where Adil Murad is seen with thick fake blood smeared all over his face. The worst part is – it looks extremely unreal and just takes away any appeal the film might have possessed. After having seen it for years on Gujjars, Badmaashs and Vehshis, we really didn't need it to make a comeback in 2017.




Furthermore, the film sets look more like something one would witness on the infamous mujra CDs as opposed to cinema. The early 90s bedroom decor is also a big no no.

Noor, who was once the biggest shark in the sea, is now right at the bottom of the food chain. I would like to advise him to stick to what he knows. He needs to learn to progress because hard-hitting social taboos set in the backdrop of a love triangle with Saxo wielding Romeos just won't cut it. Our audience has been groomed by our drama industry and that's 28 episodes, this is three hours.




Noor claimed that his film didn't have a message and it's for entertainment purposes only, well, we definitely cannot disagree with him on the first half.

So dear, Syed Noor, please go back to what you were doing before and be original! Be Majajan, be Shareeka, but don't be Kankar,  a 90s love story with 2017 stars, as the result will only be Chain Aye Na.

All photos: Screenshots